Railroad Avenue runs perpendicular to Holly Street through downtown Bellingham. Walking southbound on Railroad — starting at the king of potato burritos, Casa Que Pasa — you'll encounter several cornerstones of Bellingham's downtown community.

On one side you'll pass through clouds of crepe perfume, walk along windowed-walls housing collections of vinyl records and be offered a surprisingly diverse array of coffee flavors. Along the opposite side you may be compelled to purchase an exotic aquatic pet, give in to a Seattle–style bratwurst with cream cheese and sautéed onions, or feast on food fit for only the most bro-tastic of bros.
Turn down any side-street and you will encounter a vibrant community, whether it's just after lunch or well past your childhood bedtime. After-hour activities abound downtown and a night out can easily be planned on the fly by roaming the crisscrossed streets.
Often I find myself downtown a little earlier than expected, before bars open or bands start playing. If I'm lucky and an errand has brought me to Railroad on a Saturday, I usually make my way south to the Bellingham Farmers Market at the corner of Railroad and East Maple Street. Here, I can indulge my appetite and general consumeristic nature guilt-free by purchasing locally produced food, jewelry and various other commodities.
Usually the walk ends here, with maybe a jaunt over for some local brew or a U-turn back into town. But I've recently started continuing along my route, through an apartment-lined alley at the end of Railroad and out onto the curved end of East Laurel Street. Just half a block up Laurel lies Block 52, known locally as Artist Alley. Here, a unique continuation of Bellingham's incredible creative culture dwells amongst a collection of love-worn buildings, and anchors the south end of downtown Bellingham before the South Bay Trail takes you  to Boulevard Park.
Assuming you have followed a similar itinerary to the one described above, the first piece of Artist Alley that you run into will be at the start of the South Bay Trail off of East Laurel Street. Altility Art Studio, operated by Aaron Loveitt, and Plantas Nativia share this first building, located at 210 East Laurel Street.
These two business tenants are a clear example of the community-driven, artistic culture that allows Artist Alley to thrive. Peacefully absent are the roars of drunken nightly revelers and the throbbing bass from clubs downtown. Instead, 210 East Laurel Street houses people you can talk to, people who create and people who love what they do.
Plantas Nativia, more visible from North State Street, provides everything you could need to craft a perfect native landscape. From more recognizable plants, like Douglas Firs, to lesser known plants like the flowering Showy Fleabane, I've always been amazed by their selection and the depth of their staff's knowledge.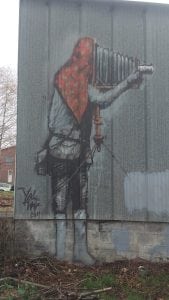 Aaron Loveitt at the Altility Art Studio next door provides the same level of mastery over raw materials that Plantas Nativia does for local plants. Just a quick glance through Aaron's work history shows his ability to craft everything from beautiful sculptures you can find around Bellingham to useful hardware and tools that bring beauty and flare to everyday life.
Past 210 and its loveable occupants, you come across Positive Negative. Easily identifiable by the three garage doors and large photography mural facing the trail, Positive Negative is a community photography studio and darkroom founded by Jason Byal. If you have free time, I highly recommend jumping into one of Jason's courses. Traditional film-based photography and photo development is an art form that all should experience.
Continuing down the trail, right behind the scuba shop on North State Street, you'll see the Hub Community Bike Shop. I guarantee you won't miss its vibrant murals and can also guarantee you will regret not paying the Hub a visit at some point. A non-traditional bike shop, The Hub works to provide affordable quality bikes to the general population while providing amazing services like a DIY workstation and a program to help equip people who may not be able to afford a bike on their own.
Block 52, Artist Alley, that collection of weird buildings or whatever else you want to call it— this area is special. Bellingham's community is better because of these people who work to bring love, cheer and quality services to its community.