We are all a cappella singers. Everyone has sung that solo in the shower, made up that vocal impression of a guitar rift or dropped that mouth-made drum beat.
The lexicon origins of a cappella drives from choral singing performed without instruments. The expression means "in chapel style" in Italian. Centuries ago, religious music composed for use in chapels — which, unlike large churches, had no organs — was usually for voices only.
Today, this style of singing can be placed into several different genres from college troupes like Western Washington University's Major Treble, Rebel Clef and All Aboard, to major music artists like Pentatonix. It also applies to various other styles like Barbershop and the vocal harmony based, doo-wop style.
The human voice, when used with practice and discipline, can imitate any instrument. Which is how beatboxing or b-boxing came to be in the early 1980s, influencing hip-hop in the process. For the most part, beatboxing is a form of vocal percussion primarily involving the art of mimicking drums.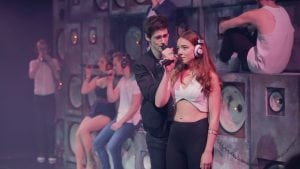 Introducing technology into this instrument-less musical art also brings a completely new depth to a cappella with multi-track live looping. Artists use a device ranging from a computer application to a real recording device, that records a beat they create vocally and repeats (or loops) it over and over again. Then the artist can layer in other instruments, vocally made or not and harmonies. In this way they can add in and take away as they need for their song.
Never heard a cappella before? It tends to thrive on university campuses. Which is where the world's oldest and best-known collegiate a cappella group, the Whiffenpoofs, has survived since its creation in 1909. The "Whiffs" began as a senior quartet at Yale University and have become one of Yale's most celebrated traditions, with over a century of musical excellence.
Luckily, we don't have to plan a trip to New Haven, Connecticut to see excellent a cappella. GOBSMACKED! is coming to Mount Baker Theatre. Audiences can expect to see an energized mastery of a cappella featuring reigning world champion beatboxer Ball-Zee and an international cast of world-class vocalists.
The range of music covered in this show includes the style of doo-wop to drum and bass. The ears of listeners will be absorbed in harmonies and the mind will be stretched with the GOBSMACKED! team's use of live-looping.
Explore and experience the history and the artform of a cappella at Mount Baker Theatre with the GOBSMACKED! ensemble direct from sold-out seasons in London, Hong Kong and Edinburgh. This is a next-generation a cappella show which redefines the limits of the human voice.
Mount Baker Theatre
104 North Commercial Street
Bellingham, WA  98225
Phone:  360-733-5793
Tickets:  360-734-6080
Sponsored