Bellingham's Smoking Crow brings a wellness-based focus to Whatcom County cannabis. On January 20, they celebrated their Grand Opening with a day of education, live music and a ribbon cutting with the Bellingham/Whatcom Chamber of Commerce. Curious customers, local musicians, organic cannabis growers, college students, senior citizens and everyone in between gathered at the quaint, pristine shop on Pacific Highway—located one minute from the Costco on Bakerview Rd.
Managed by Kayla Hall, Smoking Crow's mission is to be a premiere destination with an atmosphere that gives users a more meaningful experience, allowing them to learn something new about the plant they love. Kayla's team is medically endorsed and, as a purchaser, she makes a point to work with growers and processors who believe in the plant's medicinal properties.
This is not to say they only serve patients. People who simply enjoy cannabis can shop at Smoking Crow for the most potent, high-grade, sustainably grown flower, purest edibles and concentrates on the market. For a lot of people, it's not about medical or recreational. It's something in between or a combination of both. Having a place to learn and explore cannabis' potential is a huge part of what Smoking Crow is all about.
The mood at the Grand Opening was light and uplifting. The focus was on education—about the Smoking Crow brand as well as the many uses and benefits of cannabis itself. People mingled and talked to budtenders and growers while local musicians, Matt & Olivia, filled the air with acoustic originals. A customer walked in and said, "This is the way a weed store should be."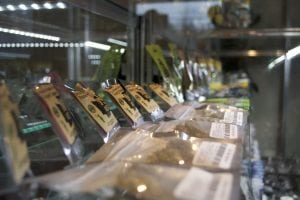 Countertops were dotted with terpene diffusers and information about aspects of cannabis. Here users could learn about topics like terpenes, cannabis' beneficial molecules which give it its various effects, flavors and scents, such as lemon, pine and in some strains, even skunk!
A quick look inside the glass cases revealed brands known for their organic growing methods: Lazy Bee Gardens from Methow Valley, Sugarleaf from Skagit Valley and Cascadia Gardens from right here in Bellingham. Kayla pointed out some of her favorite growers. "I'm really excited about Daddy Fat Sacks, Sweetwater Farms and Raven Grass—all focused on terpenes and cannabinoid content," she said.
Raven Grass, who is developing their own pesticide-free, proprietary CBD strains, had an educational table set up just inside the front door. "We build our own organic soil and stay away from bottled nutrients as much as possible," said Co-Owner Nichole Graf. She and business partner, Micah Sherman, shared what Raven Grass does and how people can achieve the best effects while enjoying themselves at the same time. "Cannabis is supposed to be a positive experience!" Nichole said with a smile.
Budtenders were also busy talking with guests. A brand new budtender, Scott Dransfield, moved to the area from Virginia, hoping to find a way into the industry. He came to the role with virtually zero related experience so getting up to speed on the science and medicinal aspects of cannabis was his first priority. "Before this, I just smoked what I could find," he said, "so my training focused a lot on terpenes and the business side. But there's still a lot that I'm learning. One thing that's surprised me about this industry is the comradery. I've never worked in a field where everybody is friends!"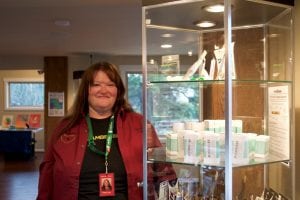 Another budtender, Connie Kellar, has been deeply involved in cannabis for most of her adult life. For the past sixteen years, she's grown medical marijuana and developed her own tinctures, lotions and salves. "I'm living the dream," she said. "I'm part of the generation that brought legal cannabis to fruition. And Smoking Crow—this is the next level."
Connie was in a car accident as a child, which left her with lifelong chronic headaches. She said it would have been easy for her to become addicted to opiates, but she instead sought relief through cannabis—particularly CBD-dominant strains that work well with her type of pain. After experiencing personal success in healing her symptoms, she now wants to help others experience the same. "My passion is really to help people with pain and introduce them to CBD," she said.
Smoking Crow is owned by retail entrepreneur Matt Mills. While a long-time fan of cannabis, he lacked specialized industry experience. He overcame this by relying heavily on Kayla's extensive knowledge and positive vision. Kayla has been a force in the local cannabis scene as a budtender and store manager since Washington's legalization. "It's really all on her," said Matt. "If there's one thing that's made this all possible, it's Kayla's drive and passion for this amazing plant."
What makes Kayla's—and Smoking Crow's—vision so special is their mission to take cannabis to the next level in terms of education and raising awareness. "I want to shift the dialogue away from THC content and focus on terpenes, cannabinoid profiles and growing processes," Kayla said. "High THC numbers don't really tell you anything about a strain. Why do you like this Bubba Kush? Because it's high in caryophyllene [a terpene also found in black pepper, cloves and hops] and helps you relax. We want to get this information out there and partner with growers that share in this vision."
Smoking Crow is located at 4264 Pacific Hwy in Bellingham and they're open from 8:00 a.m. to 10:00 p.m. daily. For more information and to view their menu, check out their website or give them a call at 360-922-0709.
Marijuana products may be purchased or possessed only by persons 21 years of age or older. This product has intoxicating effects and may be habit forming. Marijuana can impair concentration, coordination and judgment. Do not operate a vehicle or machinery under the influence of this drug. There may be health risks associated with consumption of this product. For use only by adults twenty-one and older. Keep out of the reach of children.
Sponsored