Submitted by: Village Books
The first two Chuckanut Radio Hours of 2018 feature authors of books that celebrate resilient women. The Thursday, Feb. 1 event features author Melanie Benjamin and her latest book, The Girls in the Picture. On Thursday, March 8, the Radio Hour welcomes author Kate Moore and her book The Radium Girls. Village Books' Chuckanut Radio Hour is held at the Heiner Theater on the Whatcom Community College campus. Doors open at 6:30 p.m. Tickets are $5 and are available at Village Books and Paper Dreams in Fairhaven or Lynden or online at brownpapertickets.com.
Set at the dawn of Hollywood, The Girls in the Picture explores the friendship and creative partnership between two of Hollywood's earliest female legends – screenwriter Frances Marion and superstar Mary Pickford. The two ambitious young women hit it off instantly, their kinship fomented by their mutual fever to create. But their ambitions are challenged both by the men around them and the limitations imposed on their gender—and their astronomical success could come at a price.
Pickford Film Center Marketing Director Lindsey Gerhard will interview Melanie Benjamin, who is the author of best-selling novels including The Swans of New York and The Aviator's Wife. She lives in the Chicago area with her husband and is currently at work on her next historical novel. The Feb. 1 Radio Hour includes live music from cellists Coral Marchant and David Jones accompanied by advanced students of Marchant's Cello Studio Choir.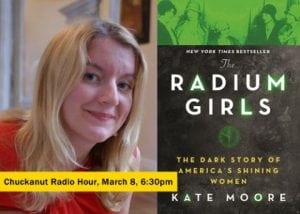 The March 8 Radio Hour celebrates the paperback release of The Radium Girls, a New York Times best-selling account of the young women who were slowly poisoned in America's dial factories starting in WWI and their courageous battle for justice that still reverberates today. As featured on NPR, The New York Times and Buzzfeed, The Radium Girls is a piece of forgotten history that will haunt, outrage and, ultimately, inspire readers.
Author Kate Moore is a Sunday Times best selling writer with more than a decade's experience writing and ghosting across varying genres, including memoir, biography and history. In 2015 she directed a critically acclaimed play about the Radium Girls called 'These Shining Lives.' She lives in the UK. This show will feature live music from local artist Sarah Goodin.
Village Books' Chuckanut Radio Hour is a radio variety show that began in January 2007. Each Chuckanut Radio Hour includes guest authors, musicians, performance poet Kevin Murphy and episodes of the serial radio comedy "As the Ham Turns," not to mention groaner jokes by hosts Paul Hanson and Kelly Evert and announcer Rich Donnelly. Guests receive a free ticket with pre-purchase of the featured book (or, with each pre-paid ticket, a $5 voucher to spend on featured titles at the show). The Radio Hour airs Friday at 7:00 a.m., Saturday evening at 7:00 p.m. and Sunday at 9:00 p.m. on SPARK Radio, KMRE 102.3FM. Co-sponsored by Whatcom Community College Community and Continuing Education, 12th Street Shoes and Westside Pizza.