Rain is falling and the skies are gray, but adults still need to go out and play! Perhaps the wind is too treacherous for a walk in the woods but staying at home each evening can feel stifling during these darker, shorter days. You may know about local bars and eateries, but there are many places for adults to play that are indoor, warm and fun! Check out one of these 10 unique experiences or try to squeeze them all into your schedule before summer opens the outdoors once again.
For Your Inner Child
Your own station with Tony Hawk Pro Skater, a group of friends playing Super Smash Bros and a friendly match of Nintendo's new ARMS game await you at Fairhaven's newest hangout. After 8:00 p.m. the Best Buds crowd is exclusively 18+. If you are over 21 you get the bonus of coming in for free. They have 27 consoles, lots of TVs and 2,000+ games, everything from that old ATARI system you always wanted to the new SWITCH. Come alone or come in a group, Best Buds will always offer a fun time.
While this sounds like a place that might host your nephew's birthday party, it is not exclusively for kids. I personally love coming and jumping around in their big open jump area, the basketball court, their dodge ball court or in the foam pits (where you can practice tightrope walking and doing backflips). All of it is covered in trampolines and you may be surprised at how hard it is to jump for the entire hour you pay for. If your legs feel wobbly, give the ninja course a go. If you go on College night, it is only ages 18+ and you will get a discount if you have a college ID.
This arcade is a total blast. You can dance until you drop, shoot hoops, play retro games, eat ghosts and explore the ever-growing collection of arcade games they have to offer. Make sure to check if there is an exciting event happening, like one of their bi-weekly pinball tournaments. 
For Your Nerdy Side
The board game world is as varied and deep as any other hobby, like movies or music. Yes, you can play Monopoly but you can also play fun group games, deep logic puzzles or intense battling games. The staff here is knowledgeable and loves their board games, so go ahead and ask what they would recommend while you order some appetizers for the table.
Museums
There are so many cool museums in this county that they all had to be listed as one broad category. Pick a subject you like or the one closest to you and try it out! If you have more time, definitely see all of these.
Bellingham hosts the Whatcom Museum, Lightcatcher Museum, Family Interactive Gallery, Mindport Exhibits, Bellingham Railway Museum and the SPARK Museum of Electrical Innovation. You can also check out the Lynden Pioneer Museum or the Black Mountain Forestry Center in Maple Falls.
Library
Really, we have a treasure trove here. Our libraries host different events (like Chair Tai Chi and weaving) for us to attend and learn something new. They also have a variety of music, movies, TV shows and magazines available to borrow and enjoy. I love going to the library and browsing through the non-fiction books, exploring topics I find interesting. Spend some time enjoying the library and pick up a book before you leave. 
For Your Relaxing Days
You could come here and swim laps in one of their eight lanes or you could practice diving in their dive tank. You could also attend the water aerobics classes. But if you really want to relax, you should come here for the hydrotherapy pool. A hot tub of water, restricted to ages 16+, is ideal for de-stressing after a hard day at work or after a long stressful week.
This free, interactive mini-aquarium holds a variety of local creatures to look at and (sometimes) touch. You can walk here from Zuanich Park or park close by on those colder days. Crabs, sea stars, urchins, small fish, octopus, Giant Green Anemones, rockfish and flounders … The list goes on and you may be surprised at the biodiversity in our own shoreline.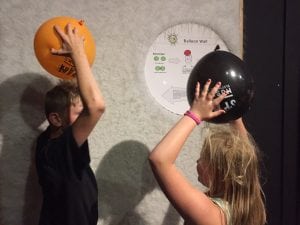 The core mission of the film center is "providing our community with the highest quality movie-going experience possible at an affordable price, while working to foster arts education and visual literacy in our community." You can see one of the specially selected films and enjoy snacks from local companies. Plus tickets are very affordable. 
For Your More Active Days
Try out a new skill and get active without need of a traditional gym. I have found that climbing is almost addictive. You can suddenly climb walls like Spiderman and have a great sense of accomplishment for each route you finish. Plus there is always room to improve and grow with peers around you supporting each victory. Try out the challenge of the slack line or see what a "treadwall" is (hint: it is similar to a treadmill). Come with a friend or come alone and make a new friend. If you get a membership, you can come at any time, 24/7, and attend free yoga weekday mornings.
Bowling
We have three great places to bowl here in Whatcom County – Mt Baker Lanes in Ferndale, Park Bowl/Splitz Grille on Meridian and 20th Century Bowling in Bellingham. Can you bowl a turkey? Or get a strike? Challenge your friends to a game and let the good times roll!
Be sure to enjoy these indoor options for some chilly weather fun. Have a great winter!