There is an incredible event coming to BelleWood Acres this month. "A Man and His Still" will celebrate the distillery and spirits of John Belisle at BelleWood Acres on January 27 at 6:30 p.m. Guests will be delighted with the story of the farm as a Washington state pioneer in the spirits business, along with the history of distilling and local farmers.
The night will be enhanced with owner and master distiller John Belisle's favorite cocktails. From three kinds of vodka to gin, brandy and liqueurs, these award-winning spirits are made from specialty apples grown and distilled on location. "It really is orchard to glass," says Pamela Felke, Events and Marketing Coordinator. "The BelleWood Acres experience really is a regional jewel because of all that it offers to the community."
The tribute dinner will feature a pairing of John's favorite cocktails and four delectable dinner courses prepared by Chef Justin Hawkinson and Baker Karen Duim of Crave Catering and Chef Josh Thompson of BelleWood Acres. "This is a celebration of the business and its owners," continues Pamela.
BelleWood Acres, which was started in 1995 by John and Dorie Belisle, has evolved throughout the years. They opened the farm to the community and then created their distilling business in 2012. Their farm now includes the orchard, a country store, a café, a tasting room and an art gallery, along with a building perfect for hosting events.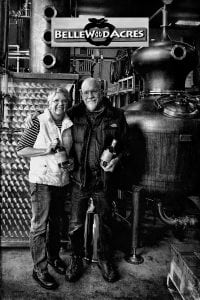 "Our biggest 'A-ha' moment was realizing how much our community wanted to know about the food they eat," says Dorie as she describes how they went from a closed farm, to welcoming the community for apple picking and other activities.
John and Dorie came to and stayed in Whatcom County because of the community. As strong supporters of local farmers, the community has embraced BelleWood Acres with its 21 varieties of apples, and its restaurant and distillery. "We wouldn't be here without the community," Dorie says.
BelleWood Acres has successfully created a venue for family-friendly apple and pumpkin picking, amazing concerts, private parties and special distillery dinners such as the one on January 27.
Dorie tells how John dove into the world of distilling as a way to continue to build the business and support for the farm. In the process, he found a passion for the art of distilling. The endeavor grew. John and his distillers went on to create seven unique spirits including honeycrisp vodka, raspberry vodka, gin, pumpkin spice, bruce and brandy. We are so fortunate to have won awards for every spirit we have entered in taste competitions nationwide," notes Dorie.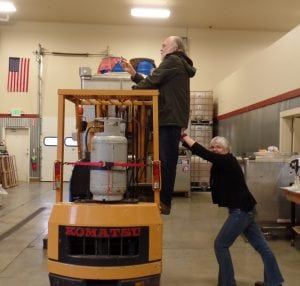 Dorie explains that everything they do is an extension of the farm. Because their spirits are made from their own apples, they have been able to cultivate an incredible taste from the softness of the fruit. The result is wildly popular. "There are thirty pounds of apples in every bottle," she says with a smile. "And we use the big apples."
While the products of BelleWood Acres are seen around town at places like Community Food Co-Op and Haggen Northwest Fresh, stop by their café and store. They are open year-round for you to grab a tasty bite to eat and take home some great spirits made right on the farm.
Following the spectacular tribute, "A Man and His Still," is BelleWood Acres' Valentine Masquerade dinner on February 14.  Come in red and white for this special event. As you enter the distillery room, you will be greeted with a BelleWood Kiss, a special drink created just for this special evening. And, with the incredible four course dinner, your taste buds will be tantalized. A mask will be provided for you or bring your own.
Be sure to join Dorie and John Belisle at these amazing events and discover more about BelleWood Acres. As the only distillery in the state that grows and distills its own spirits, BelleWood Acres is truly a gem in our community.
Reserve your spot for both of these not-to-be-missed events online at bellewoodfarms.com or by calling 360-318-7720. Stay connected to BelleWood Acres throughout the year to catch every amazing event.
Sponsored