On a dark and stormy winter day I traveled to Ben Mann's local art studio in Fairhaven. Tucked away inside a historic building, it is a treasure trove of colorful paintings that would brighten anyone's spirits. Ben was happy to talk to me about his art and some new projects he will be working on. He has been very busy with his recently published book, Friendly the Fox!, as well as commissioned paintings and teaching art classes in local schools. But even at the end of a bustling holiday season, he described how grateful he is to be doing something he loves every day.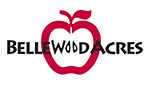 Ben is a Bellingham native who discovered his love of art early in life. As the youngest of seven children, he was given freedom to explore his creative side. He joked that if he had been the oldest of seven, his parents may have said, "Nice drawings, now go be a dentist." When Ben was studying fine art in college his primary focus was drawing. He had an instructor tell him that his drawings were great, but his "paintings will sing." That conversation is one that steered the course for Ben's future artwork.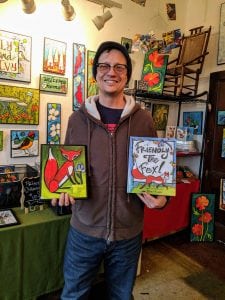 Around Town
I caught my first glimpse of Ben's paintings on the walls at the North Shore Veterinary Hospital and was drawn to them immediately. Once you see Ben's colorful and whimsical style, you can spot his art in businesses all over Bellingham, Fairhaven and Mount Vernon. The mural at Mallard Ice Cream is a favorite in my family.
Ben described an experience he had at Avenue Bread on James Street, where his art hangs. He was listening to two men discuss his art but they had no idea he was the artist. "I was sitting at a table with my coffee and couldn't help but overhear these guys talking about my painting on the wall," Ben said. He got to hear a critique of his work anonymously and was laughing about it when one of the men said, "I figured out why this artist is successful. This painting takes everything we love about children's art and elevates it." Ben said that was one of the most thoughtful descriptions he has heard, and loves to quote these unidentified art critics.
Skagit Tulip Festival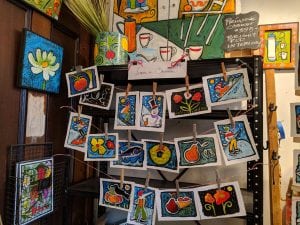 Ben has been selected as the artist for the 35th annual Skagit Valley Tulip Festival poster design. The selection process started two years in advance. Ben will be working with the Board of Directors to finalize his vision, with plenty of time left to finish the painting before the 2019 Tulip Festival. He is excited about this opportunity because people travel from all over the globe to see the tulips. Many of them bring a poster home with them, giving his art a worldwide audience.
Teaching Art in Bellingham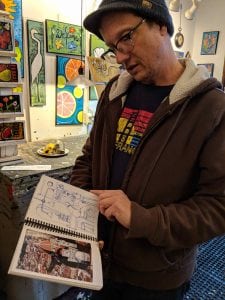 Many elementary school students in Bellingham have had the privilege of taking art classes with Ben. He spent many years driving between schools all over the county teaching painting classes and has many grateful students. Recently he was at a career fair at Bellingham High School when he started having a chat about art with one of the high school students. "The student showed me his sketchbook and we were having a great conversation," Ben recalled. "He was being more chatty than other 14-year olds that I know and he blurted out, 'You taught me in second grade.'" Ben is proud to have made an impact on so many students.
He is shifting focus in the coming year and accepted a position as an adjunct professor at Western Washington University in the Education Department. Instead of teaching art, he said he will be "passing the baton" to students studying to become elementary and middle/high school art teachers. He will teach the future educators elements of design, proper vocabulary and demonstrate a painting lesson plan. He is excited to convey all of the knowledge he gained teaching at local schools, to prepare the next generation of art educators.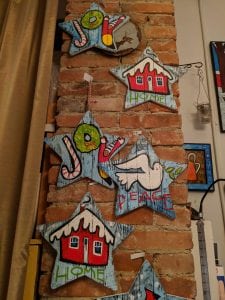 For example, in Kindergarten classes his focus is on quality over quantity in work. And as the kids get older he needs to be encouraging but also relay the importance of finishing a project on time. He warned that there will inevitably be tears shed when someone's project gets bumped or knocked over. These are situations he wants to prepare the new teachers for. "We are all forever students," Ben remarked as he discussed pushing his skills to the next level. I am happy to hear that he is continuing to share his passion for art with our community.
If you would like to continue your education as an art student, Ben offers 90-minute paint tutorials in his Fairhaven studio. And if you want to meet the artist without doing any hard work, Ben likes to host events at his art studio from time to time. He enjoys meeting people, discussing art and really gets a kick out of hearing their first impressions. He laughed as he told me about an investment banker saying, "Your art is not boring." You can't argue with that.
For more on Ben, visit his website ben-mann.com.
This slideshow requires JavaScript.