Submitted by: Sustainable Connections
Shining a spotlight on Bellingham's unique and wonderful businesses, winners from the 2017 Holiday Window Decorating Contest have been chosen. Social Fabric took home the People's Choice Award, The RE Store was the winner of the Local Business Choice Award and Mayor Kelli Linville's Choice Award went to Ideal.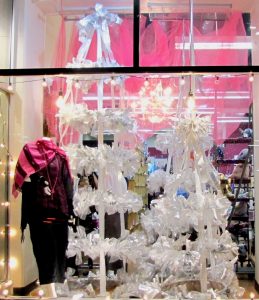 The Holiday Window Decorating Contest was run by local nonprofit Sustainable Connections and was part of their Think Local for the Holidays Campaign. Over 500 residents voted for their favorite window with Social Fabric, a downtown women's clothing boutique, sewing class shop and textile gallery, receiving the most votes!
Owner Renee Sherrer was happy with the win saying "windows are a very important part of the Social Fabric experience. We're not just a boutique, gallery and teaching space. We are a creative force working to make shopping in downtown Bellingham a rich and memorable experience. We are THRILLED that people enjoyed, responded to and voted for our windows!"
Everyone's favorite local spot for reclaimed building materials, The RE Store, won the Local Business Choice Award with four full windows displaying cozy holiday home scenes, replete with a full-size fireplace hung with stockings. Mayor Kelli Linville was taken by Ideal's intricate handmade snowflakes and chic holiday style.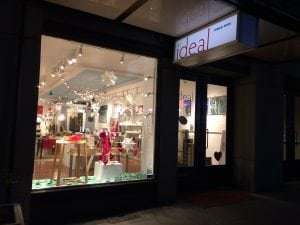 "We have such a special business community here in Bellingham. I'm constantly impressed by the wide array of creativity, entrepreneurship and excellence – not to mention their willingness to give back and participate in community endeavors. This holiday season, I was especially impressed by Ideal's window display!"
Window Decorating Contest winners received a free businesses membership to Sustainable Connections for 2018, a Woods Coffee gift card to treat all staff and of course – bragging rights.
The Think Local First Program is made possible by generous sponsorship from City of Bellingham, Cascadia Weekly, Village Books & Paper Dreams, Whatcom Educational Credit Union, Samuel's Furniture, Bellingham Frameworks, Mt Baker Care Center, Overhead Door Co. of Bellingham, Final Touch Auto Spa, Louis Auto Glass, Bay City Supply, Lithtex NW, Brio Laundry, Steele Financial Services and Fairhaven Runners & Walkers.