Submitted by: Bellingham/Whatcom Chamber of Commerce & Industry
The Bellingham/Whatcom Chamber of Commerce & Industry celebrated another successful year for local businesses at its 13th Annual Awards Dinner on Thursday, November 30, at the Four Points by Sheraton and presented by Bank of the Pacific. This year's awards recognized individuals and businesses for their contributions to the county, as ten awards were presented to deserving winners.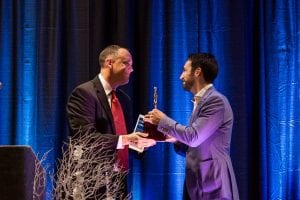 "The 2017 Annual Awards Dinner was a true showcase of our amazing community. The shared stories and the recipients honored truly exemplify the community we want to be. As seen through the videos and heard in the words of the award recipients, our community has such a rich diversity of talent, experience and compassion.
"As the Chamber of Commerce, it is truly a pleasure to share this experience with so many Chamber members, elected officials and members of this great community," said Guy Occhiogrosso, President and CEO of the Bellingham/Whatcom Chamber. As we look back on the evening, I feel honored, for the work we do for this community, and equally excited to continue to work to make the greater Bellingham area a great place to live, work and play."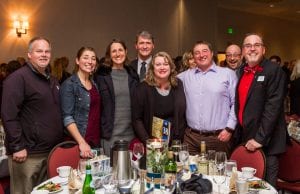 "Some of the guests commented to me that the event left them inspired," said Shelli Jones, Marketing Coordinator for the Bellingham/Whatcom Chamber. "Some of the acceptance speeches were so touching that I saw several people in the audience tearing up. For me, it's a privilege to work with individuals and businesses that are a positive influence in our community."
Tourism Business of the Year winner was presented by Lisa Karlberg of Bellingham Alive/North Sound Life to The Inn at Lynden in the Waples Department Store Building (built in 1914, in the heart of downtown Lynden). Co-owner Teri Treat says that after fire destroyed much of the building in 2008, it sat vacant for several years. In 2013 it was decided to preserve the building and, after a remodel, The Inn at Lynden opened, maintaining the historic feel, with all new interiors.
The Inn offers concierge services and Teri says, "We want to embrace hospitality and be known for taking care of our guests by going above and beyond the norm."
Young Professional of the Year Award was presented by Sydney Sutterfield of Signs Plus to winner Shultzie Willows, Community Engagement Director of Lydia Place. Shultzie loves to promote and connect projects and people that focus on equity, kindness and leaving a legacy of hope for children and others!
The Millie Deford Chamber Ambassador of the Year Award was presented by Peter Cutbill of Skagit Bank to winner, Danielle Rosellison of Trail Blazin' Productions. Danielle is a great volunteer in the community. She has been acknowledged by her fellow Chamber members as being a "powerhouse," "gregarious and kind, and always giving back to the community and the Chamber." Danielle is present at Chamber events such as the monthly Networking Breakfasts, Chamber Speaker Series and the Chamber's large community events including the Spring Showcase, the Jr. Ski to Sea Race, Blossomtime Parade and the Haggen Family 4th of July Celebration. She is the first to step forward to volunteer her time and energy!
Woman of the Year winner is Susan Trimingham. She has been providing community service in Whatcom County for forty years. She spent twelve years on the Bellingham School Board, has been President of St Luke's Foundation and Chair of the Community Health Partnership, Whatcom Alliance for Healthcare Access, the Whatcom County Ethics Commission and the Benchmarks Task Force. Susan's associates say that she does whatever it takes to get it done, and is always ready to support and give her time and energy. Susan says, "Find what it is that you have a passion for. There will be a place in the community. By giving, you'll get so much more back." Susan's award was presented by Lynn Murphy and Pinky Vargas of Puget Sound Energy.
Man of the Year winner is Bob Morse, a third generation Bellingham resident. Bob Morse took helm of Morse Hardware in 1975 and led the company into an expansion of the steel service and rebar fabrication. In the 1990's the company sold its hardware and industrial supply operations in order to focus on its steel service center business. That transformation into Morse Steel Service was successfully completed by Bob's son Mike in early 2000's, enabling Bob to gradually retire.  Bob's associates have commended him for his "immense generosity." Bob says, "Do what you really want to do and put some passion into it. Just see where it goes!" his award was presented by Scott Hume.
CEO of the Year winner, Wes Herman of Woods Coffee, who established his business in 2002, says that he's all about giving back and making a positive impact on the community. Woods Coffee has thrived under his leadership and family values. Starting out as a single coffee shop in Lynden, the Herman family currently has a total of 19 stores in the Pacific Northwest: 14 in Whatcom County, two in Skagit County, two in King County and one in British Columbia.
In the past 18 months, Wes expanded into Bellevue, WA, with two coveted locations – Lincoln Square and Bellevue Square in addition to opening the first Canadian store in Tsawwassen Springs, B.C. Moving forward, Woods Coffee plans to double their store count over the next five years throughout the PNW. Wes's award was presented by John Burns of Four Points by Sheraton.
Non-Profit of the Year winner is Skookum Kids. Founder Ray Deck III was inspired to create a stronger foster care program in Whatcom County when he learned of the extreme shortage of foster families in our community. Their first initiative created a volunteer-staffed facility to care for children entering or transitioning into foster care, making sure that no child would be placed in haste, and that they find the right long-term placement. In their second program, Skookum Kids recruits, trains and conducts home-studies for families wanting to become foster parents. Ray's award was presented by Roland King of Banner Bank.
Green Business of the Year winner, Andgar Corporation, was founded in 1973. Their green practices include recycling materials, using their fleet efficiently and promoting high efficiency heating and cooling systems. Their Out Regenis division builds anaerobic digesters that capture harmful greenhouse gasses from organic waste and turn it into clean energy while killing off harmful pollutants before they reach our watersheds. Their on-going goal is to remain excellent stewards of our lands. Their award was presented by Rebecca Hardee of BP Cherry Point Refinery.
The finalists for Small Business of the Year were:
Launching Success Learning Store
Small Business of the Year winner, Launching Success, was founded in 2003, and has grown into Bellingham's go-to place for educational toys and games: a great resource for teachers, young students and parents. Launching Success encourages children to learn while they're playing. The employees understand the needs of children and teachers, and are dedicated to seeing children grow and flourish. The award was presented by Troy Wills of First Federal.
The finalists for Large Business of the Year were:
Large Business of the Year was presented to Hempler Foods Group. Hempler's has an 84-year history in the industry of bacon, sausage and pepperoni, and they take pride in their employees, their products and their integrity. Hempler's donates to the Bellingham and Whatcom County Food banks on a regular basis, believing in giving back to the community. The award was presented by Kathy Herndon of VSH Certified Public Accountants.
The 2018 Annual Award Dinner will be held on Thursday, December 6 at Four Points by Sheraton. Nominations for those awards will begin on August 1, 2018.