Scott Chreist, founder of Adventura Play, laughs as he says, "All I ever wanted to do was to play outdoors. I loved being outdoors so much, I would wait at the park for people to come and play with me."
Freedom is found through play. Utilizing it to create connections is the purpose behind experiential learning. This is the foundation of Adventura Play, a company focused on team building and recreation play. "There is a lot of freedom being outdoors and just playing," Chreist explains. "It's very fulfilling and helps build friendships because you can just be yourself."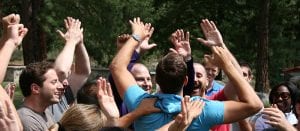 Adventura Play creates developmental and recreational programs that utilize outdoor play and games. This takes adults back to a playground environment to rekindle the ability to connect and understand each other. "We believe that, through play, you can better understand the character of people," says Chreist. "In many ways, this is how we cultivate relationships."
Chreist goes on to describe Adventura Play as a truly unique, one-of-a-kind opportunity for businesses to develop team connections and better communication through play. "Our primary objective is to take adults back to the playground environment to rekindle the ability to connect," he says. "We've lost the ability to see people easily. Going back to the playground, utilizing this approach, can actually change relationships."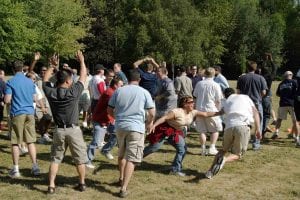 Adventura Play has a team climbing course in Woodinville and is now expanding to Whatcom County. The opportunity for team building and recreation workshops will soon be in our own backyard. These include activities such as Build-a-Boat in which teams literally build a boat. Then there is the True Colors workshop, in which participants work together to understand communication preferences and characteristics of their colleagues. These exercises help participants build healthy team dynamics.
Team building done the Adventura Play way is broken into two primary categories: Recreation and Development. Recreational really focuses on playing together in order to create or strengthen social bonds, fostering a sense of camaraderie. Development dives into root issues like communication and perspective – the foundations of trust in any relationship and organization.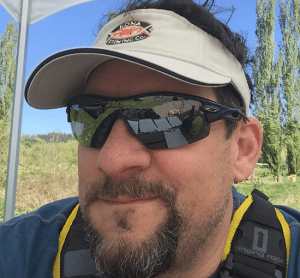 "We work hard to create a unique experience for companies," explains Chreist whose passion for this work resonates throughout our conversation. "We create experiences that stimulate laughter, connections and communication. If we do our jobs, the employees themselves will pick up the torch and run with it."
Chreist explains how important it is for businesses to put worksite wellness as a priority. It is essential to enhance worksite wellness every day by providing information and resources to employees on topics like health, nutrition, life-balance and working effectively as a team. Adventura Play is an amazing resource available to assist with these efforts.
From the beginning, Chreist set out to use outdoor freedom in the development and discovery of human characteristics. He found a very specialized program at the University of New Hampshire in the field of experiential education that was exactly what he was looking for. Classes involved planning very detailed trips to far-away places, river rafting and spending time in the forest.
When he came back to the Pacific Northwest, Chreist set out to work for companies that offered something similar to what he wanted to create. In this way, he expanded his understanding even further. At Western Washington University he met Anneliese Dompe of Bellingham while they worked on an outdoor course used for experiential learning.
Dompe is now the Director of Facilitation for Adventura Play and still resides in Whatcom County. Chreist describes numerous conversations he and Dompe had regarding the company's expansion to Whatcom County. He knew it would be the right move into the right environment. In fact, Chreist says that over 60 percent of Adventura Play employees reside in Whatcom County which makes expanding here even easier.
As a very portable business, Adventura Play has no buildings, everyone works from home and any structures they use are solar powered. They can literally take their workshops on the road to any business looking to invest in worksite wellness. Each employee of Adventura Play has a passion for the outdoors and outdoor play. The company is looking forward to working with local businesses to help them create a healthy and strong work environment through play.
Are you ready to get out, have some fun and learn the best way to communicate and connect? If the answer is yes, then it is time to give Adventura Play a call.
Sponsored