There is an old saying that advises, "Walk a mile in the other person's shoes." It's good advice, but brings to mind a basic assumption – that everyone has functional shoes to walk in. Unfortunately this is not reality for many in Whatcom County.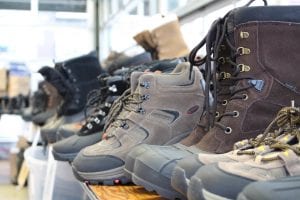 The constant wetness of Pacific Northwest winters affect a part of our population that might go unnoticed if it wasn't for the efforts of orthopedic surgeons and other volunteers from PeaceHealth Medical Group. They participated in the 10th annual Hearts to Soles event in late November, serving more than 420 men, women and children with new socks and shoes.
Dr. Warren Taranow of the PeaceHealth Medical Group Center for Orthopedics has been a part of the project since the beginning. "We saw this as a need," says Dr. Taranow. "As an orthopedic foot medical surgeon, we see the results of people with inadequate care and how an inconvenience and a discomfort can become a medical emergency."
Dr. Taranow trained as an orthopedic foot medical surgeon and did his fellowship in Pittsburg under Dr. Stephen Conti who began Our Hearts to Your Soles with his son in 2004. In 2006, the organization held its first event. The program has since partnered with Soles4Souls. By 2007, Our Hearts to Your Soles took its cause nationally and Dr. Taranow helped bring a version of it to Bellingham.
Every year around Thanksgiving, the Hearts to Soles event in Bellingham helps those in need by providing shoes and free medical foot screening examinations from a team of volunteer nurses and staff. Over the years, the program grew from providing men shoes to providing women shoes, and now children as well.
"I've had people tell me in the past that they've been working in wet sneakers for three weeks," says Dr. Taranow. "We had a four-year-old girl tell us this was her first time getting new shoes. It's empowering for people."
Dr. Taranow explained that PeaceHealth and their partners have been vital to the success of the program. In 2010 Dr. Carter Kiesau, another orthopedic foot medical surgeon, partnered to help manage the medical aspects of the event. Thomas Broselle, who runs Cornerstone Orthotics and Prosthetics, helped bring in medically-trained volunteers and originally provided the devices to help measure people's feet. In the last three years, Superfeet has joined as an essential partner, providing financial support, volunteers and donations of shoes and boots. This year PeaceHealth Wound Care Center nurses will also be pitching in to help.
For almost 20 years, Barbara Lupo has been a volunteer for PeaceHealth, including stints as a member and chair of its local community health board. Lupo was inspired by a presentation she saw by Dr. Taranow a few years ago about the idea for Hearts to Soles. This year she became the coordinator of the event.
"When Dr. Taranow gave his presentation, I felt that was really what the spirit of healing is about. It's outside your box, beyond what you do. The person doing it gets the bigger gift than the person receiving it," says Lupo.
For those interested in donating, Dr. Taranow recommends contacting the PeaceHealth St. Joseph Medical Center Foundation. The foundation has a fund especially for this annual event with all donations going to the purchase of boots and shoes.
In the future, PeaceHealth is interested in expanding Hearts to Soles to all of its healthcare ministries in Oregon, Washington and Alaska. Lupo is currently working on creating a toolkit so the program can be easily expanded to help other communities.
"This event is good for the community," says Dr. Taranow. "It helps empower this population and helps keep them healthier. Think about living outside in this climate today. There are people out there."
PeaceHealth St. Joseph Medical Center Foundation
3001 Squalicum Parkway, Suite 11
Bellingham
360-788-6866
Sponsored