Being part of a locally-owned and operated bank means that the decisions that affect you are made right here in our community. Local consideration, friendly support and trusted guidance is exactly what you can expect when you bank with Peoples Bank.
Founded in Lynden in 1921, Peoples Bank has never gone through a merger or acquisition in its nearly 100-years in business. "We changed our name from Peoples State Bank in 1995, but we have always operated independently as Peoples Bank," says Ali Alsos, Downtown Branch Manager. "This is something in which we take a lot of pride."
Alsos, who has fourteen years of experience in the banking industry, says that having the ability to see decisions made locally was one of the biggest assets that appealed to her when she made the decision to join Peoples Bank two and a half years ago. It is the Bank's connection with its customers that has given Peoples Bank the solid reputation it has today.
We recently asked Alsos about financial planning and what advice Peoples Bank can give with the holidays and new year rapidly approaching. "Financial planning can be very simple, and it can also be very customized," Alsos begins. "It really comes down to an individual's unique situation and goals."
She goes on to say that financial planning can be focused on how to make a paycheck last, to how to invest for retirement. Alsos explains that as people think about financial planning, they need to think about how to get themselves set up to meet specific goals. For example, some customers are thinking about how to pay for holiday gifts without incurring debt, while others are saving for their dream vacation or first home. Others may be thinking about what it will take to save for retirement.
"Staying on track is really important to meeting any financial goal," says Alsos. "Financial planning is about thinking about your future needs and understanding, 'How will I cover that cost?'"
For those thinking about how to pay for holiday shopping or big-ticket items, Alsos recommends setting an amount aside each month throughout the year to avoid creating a large amount of debt. But, if you do find yourself in that situation, be sure to either consolidate all your debt into one payment, or pay more than the minimum each month to get it paid off as soon as possible. Alsos suggests keeping an eye on the prime rate as it may be a good time to consider locking in the interest rate on any variable interest rate loans with a larger balance. She also suggests setting up automatic transfers to savings accounts, so you are consistently building your savings.
Most importantly, if you aren't sure what you need when it comes to financial planning, ask for assistance. In addition to helping with financial planning, Peoples Bank can help with referrals to bookkeepers and other professionals. "Talk to the bank, whether it's the teller, your personal banker or the bank manager," says Alsos. "They will point you to the right resource."
Peoples Bank works hard to help customers achieve financial success through a full range of business and personal solutions to meet every need.
One such offering is Peoples Perks. Included in all Personal Relationship Checking accounts, Peoples Perks provides many benefits, from coupons for local merchants to cell phone protection, fraud protection and roadside assistance. The mobile application will even alert you as you drive by a local establishment that offers a deal through the program.
Peoples Bank's online banking and mobile banking solutions also offer great convenience, and a way to monitor your account as frequently as desired. When it comes to technology and being careful about protecting your personal information, Alsos welcomes customers to ask questions and share their concerns.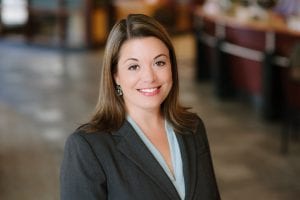 "The team at Peoples Bank is always available to help," says Alsos. "We're a community bank that is truly invested in our community. Our customers and co-workers are our friends and neighbors. We take a lot of pride in that."
As a member of the board and treasurer for the Whatcom Humane Society, Alsos is active in the community outside of her work at Peoples Bank. "I appreciate that the community is always ready to help. It's what makes Whatcom County a great place to live!"
Ali Alsos is Branch Manager of the Peoples Bank Downtown Bellingham Office, Member FDIC and Equal Housing Lender. Learn more on the Peoples Bank website.  
Sponsored