Submitted by: Bellingham/Whatcom Chamber of Commerce, written by Liz Leighton
It's been nearly one year since Whatcom Land Title won the 2016 Large Business of the Year Award. Colleen Baldwin, co-owner of Whatcom Land Title reflected on what it means to be named the Large Business of the Year: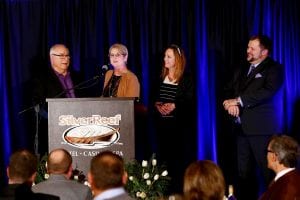 The Bellingham/Whatcom Chamber of Commerce 2016 Large Business of the Year Award has been an incredible honor for us, and has had a very positive impact on our company!
This prestigious award provided visibility and validation to our company on many fronts. Upon receiving the award, we acquired a lot of positive comments from our existing customers, which helped substantiate and reinforce our current relationships. We collected many thoughtful congratulatory calls and cards from community members and associates in our industry. The esteemed recognition brought attention and respect from the community to our company for our commitment to our clients and business, and elicited further invitations for inclusion in community development and social programs engaging us in our company social responsibility.
We have the trophy proudly displayed on our front counter for all of our clients and staff members to see. We posted this award on our website, too. Potential new business clients and potential new employees viewing our website noted the Bellingham/Whatcom Chamber of Commerce award and commented the award provided them with greater sense of confidence in our company.
The award created opportunities for us to foster new business and new community relationships over the past year. It provided a pathway for our community to further meet and connect the names and faces of our company. This resulted in a greater sense of value for our company.
[Winning this award] affected the WLT family in a very positive way. We noticed an immediate greater sense of pride and ownership, as well as accomplishment by our team to have been bestowed with this esteemed award. It was an honor that helped us hold our heads higher feeling recognized for doing our best to take care of our clients in a dedicated, professional and expedient manner.  The award helped underscore our company's core values and served as an additional inspiration to us all.
Our team takes a lot of pride and ownership in the atmosphere and culture that we create for each other and our clients. The award was one more reason to be proud to work at Whatcom Land Title Company.
The whole experience was positive and we believe it helped gain a tremendous amount of respect for Whatcom Land Title Company and our employees.
We are truly humbled and appreciate the confidence and recognition bestowed upon our company!
Many thanks to the Chamber and their members!