Whatcom County has holiday events for everyone – children and adults who are still kids at heart. From reliving classic T.V. shows and storybooks in the theatre to rocking out to Christmas songs on stage, you are sure to have a good time this holiday season. You can also enjoy a stroll through local markets for holiday gifts and help spread holiday cheer with tree lighting ceremonies. This year Whatcom County has loads to offer and all it's missing is you!
Celebrating the holidays theatrically
Simultaneously kicking off the holiday season is The Bellingham Theatre Guild (1600 H Street) presentation of The Christmas Schooner with performances from November 24 – December 10. And the Claire vg Thomas Theatre (655 Front Street, Lynden) presents Scrooge, The Musical from November 24 – December 10. Tickets are $10 – $14.
Mount Baker Theatre presents A Charlie Brown Christmas on December 1 at 7:00 p.m. Tickets are $17 – $49.  Additionally, before the show at 5:30 p.m. MBT will be celebrating its first annual Holiday Lighting Celebration.
Opus Performing Arts presents Winter White at Mount Baker Theatre on December 2 at 7:00 p.m. and Sunday December 3 at 2:00 p.m. Tickets are $10 for adults and $5 for kids under 10 years old.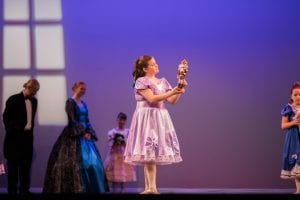 Join John Walton at Mount Baker Theatre for Mostly Magic with John Walton: A Holiday Tradition on December 9 at 11:00 a.m. and again at 2:00 p.m. the same day. Tickets are $7 for all ages.
Whatcom Symphony Orchestra presents Holiday Magic at Mount Baker Theatre on December 10 at 3:00 p.m. Bringing back choral music to the holiday celebration while highlighting local children choirs. The first half includes kid-friendly pieces with an intermission which includes hot cocoa and marshmallows! Tickets are by section and range from $15 – $39.
James and Jamesy from the United Kingdom presents O Christmas Tea: A British Comedy at the Mount Baker Theatre on December 19 at 3:00 p.m. Tickets for this comedy range from $26 – $36.
For the more holiday classics, Ballet Bellingham presents The Nutcracker at the Mount Baker Theatre on December 21 at 7:00 p.m. Tickets are $15 – $20. The next day, December 22, the Northwest Ballet Theatre also performs The Nutcracker at 7:30 p.m. The show repeats December 23 and 24, at 2:00 p.m. Tickets for the Northwest Ballet performances are $12 – $35.
Mount Baker Theatre and SiriusXM present The Brian Setzer Orchestra's 14th Annual Christmas Rocks! Tour on December 28 at 7:30 p.m. Tickets for this rocking Christmas event are $45 – $99.
Lights, Trees and more for thee!
Deck the Old City Hall – Bellingham
Whatcom Museum is ready to get into the holiday spirit beginning November 24, from 12:00 – 5:00 p.m. through the month of December. Hosting a "by donation" event that offers a chance to view 20 decorated trees, a picture with Santa, a visit from Wally the Museum Mouse and more. The museum is closed on Mondays and Tuesdays.
Presented by the Historic Fairhaven Association, Fairhaven Winterfest rings in the holidays from November 24 through December 23. The appearance of Father Christmas and the Grand Tree Lighting heralds another year of festive tradition. And this year Fairhaven Winterfest has a few new events in store for the community!
Ferndale Holiday Tree Lighting Ceremony
Join Mr. and Mrs. Claus for free cookies and hot cocoa on December 1 at 5:00 p.m. – 6:00 p.m. to light the Holiday tree at Centennial Riverwalk Park.
The Bellingham Senior Activity Center invites the public to Winter Wonderland Walk for the Tour of Trees and live entertainment on December 1 at 11:00 a.m at the Leopold Crystal Ballroom (1224 Cornwall Ave).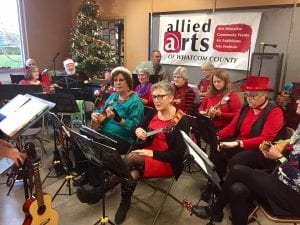 A free family friendly event at the Bellingham Cruise Terminal (355 Harris Ave), this weekend festival includes performances by local musicians and dancers, gingerbread house displays, free cookies and hot apple sider! On select days you can find Santa, horse-drawn rides, kids art activities and winter princesses. The festival begins December 1 from noon until 8:00 p.m. and runs through December 3 from 11:00 a.m. – 5:00 p.m.
Blaine's Annual Christmas Tree Lighting & Holiday Harbor Lights
On Saturday December 2, prepare to sail, shop and sprint! On Friday enjoy homemade arts and crafts at the Christmas Bazaar at the Blaine Community Center (763 G Street). Then on Saturday at 2:30 p.m. brace yourself for the 1.5 mile fun run, Holiday Lights Obstacle Dash, followed by a tasty bowl of chili at the Pastime Bar and Eatery. Finish off the Saturday with the Holiday Harbor Lights Community Tree Lighting at 4:30 p.m. Enjoy caroling and free refreshments and maybe catch a glimpse of Santa at 5:00 p.m.
Beginning November 30, the month-long spectacle of 15 acres covered in Christmas lights begins at Warm Beach Camp in Stanwood, Washington. Gates open at 5:00 p.m. and close at 10:00 p.m. This event has children's activities, food, holiday shopping, music and the largest display of Christmas lights. Tickets for adults begin at $16. There are also "Pay What You Can Nights" on November 30, December 7, 27, 28.
Arts and Crafts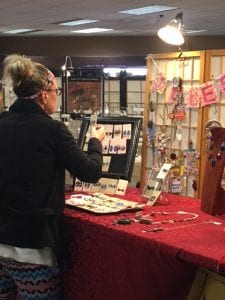 Make.Shift (306 Flora Street) hosts the 2017 Annual Holiday Make.Sale December 1 6:00 p.m. – 10:00 p.m. during the Downtown Art Walk and December 2 noon – 5:00 p.m.
Also supporting a local experience, Essentially Loved hosts Christmas Market: Craft & Vendor Boutique at Bakerview Square on December 1, 5:00 p.m. to 9:00 p.m., and December 2, 10:00 a.m. to 8:00 p.m.
Allied Arts annual Holiday Festival of the Arts is back again with over 100 artisans participating in this five-week-long indoor arts festival. Beginning November 17 – December 24, 10:00 a.m. – 7:00 p.m., this event is held seven days a week!
You can also shop local at Pacific Arts Market (1125 E. Sunset Drive) beginning the weekend of December 1 – 3, 8-10, 15-17 and 22-23 and check out the Bellingham Farmer's Market for even more local goodies every Saturday from 10:00 a.m. – 3:00 p.m. until December 24.
For the Holiday Adventurer
Celebrate your holiday pup with Pet Santa Photos on November 18, 2017. Proceeds support homeless animals at NOAH. Or brave the waters with the City of Bellingham's Resolution Walk/Run & Padden Polar Dip. The Greater Bellingham Running Club has a range of races that vary in experience levels as well.