Hidden away from the public eye on Western Washington University's campus (WWU), underneath the bustling food court of the Viking Union Market (VU), lies the Underground Coffeehouse. Hidden, it turns out, may be a bit of an exaggeration. You can easily find the Underground by following signs on campus that lead you around the south side of the VU towards a set of non-descript concrete stairs. Having trouble finding the signs? You can easily find directions to the Underground on their Facebook page.

I find these stairs myself on a chilly Tuesday afternoon. After graduating from WWU in 2016, I had largely turned my back on the school and its quaint nooks and crannies that house its eclectic culture.  This is the first time I have returned to the Underground in years. Yet, despite the passage of time, the stairs are the same even though the legs that walk them carry a very different person. I was excited to finally return to the place that had taught me so much.
Every Tuesday the Underground hosts an open-mic night at 7:00 p.m. that provides a free and open venue for students to perform anything from solo musical acts to standup routines. Like a growing number of WWU students and members of the public, I took advantage of the Underground Coffeehouse's duel personality as a relaxed café during the day and an open-minded performance venue at night. Those countless nights of unjudged artistic expression helped shape me. There, I found my voice, overcame my stage fright and found a new and loving community.
A member of that community, Michael Henning, sat down with me after one of the open mics to discuss his place in the scene and the importance of the venue. Michael, a 23-year-old Computer Science major, has been going to open mic nights at the Underground since his freshmen year at WWU, five years ago.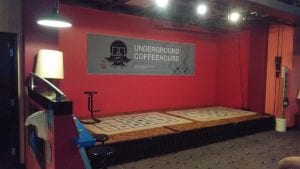 When I ask Michael what he feels he's gotten out of the open mic nights, he summarizes his experience, "I met a lot of people, made a bunch of friends, shared a lot of songs, formed a band with some of the people I met and was inspired to start producing more music."
Michael, who pursues music as a hobby, emphasizes the importance of opportunities for people to express themselves and experiment. The Underground Coffeehouse is one of those unique venues where, as Michael says, there's a, "safe environment with an audience of your peers. If someone wants to perform or share something, or try something new, it's a great place."
This also means that the Underground Coffeehouse is not just a great place for performers but also for audiences. Looking for something new to entertain you on a Tuesday night? You will not find another venue within Bellingham that boasts such a variety of talented musical and artistic acts all in one short night.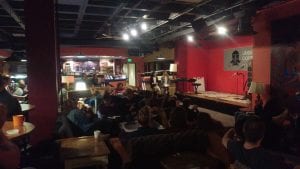 The draw of the Underground is also more consistent than some other open-mic venues so you don't need to worry about showing up and being one of a few audience members to listen to just a few acts. Each Tuesday night boasts a packed house with the audience splayed out around the café. Every chair, from the  private tables along the back windowed wall, to the couches organized around the stage fills by the start of the night so be sure to arrive a little before the 7:00 p.m. start time.
Each act is five minutes or less and there are usually between 15 and 30 acts per night. Want to perform? No need to call ahead and no need to be a WWU student. Just show up 30 minutes before the show and sign a sheet with your position in the order upfront and you are good to perform whatever you want.
Other than providing an amazing opportunity for people to experiment and perform, the Coffeehouse also hosts several other events throughout the week. Mondays can be anything from trivia nights to jazz jam sessions. Wednesdays feature local musical acts and Thursdays host WWU AS club events.
Looking for more information? You can find event times and more details on the Associated Students website or on the Underground Coffeehouse's Facebook event page. I invite you to take a Tuesday night to come enjoy all this local undiscovered talent – to laugh, to cheer and to support people who are searching for themselves in a crazy world.