It's that time of year again! The fall season is upon us, the holidays are just around the corner and it's annual enrollment time for Medicare beneficiaries. VibrantUSA is ready for that annual enrollment period with information, answers and guidance for their clients.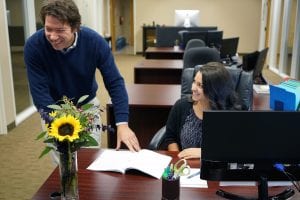 VibrantUSA does things just a little differently for their clients. With a focus on the senior population, they concentrate on Medicare year-round. They are very well suited to answer all of the questions about changes and coverage each year brings.
"Everything we do at VibrantUSA is about serving our clients," says Marsha Neal, VibrantUSA Vice President. "We will always be the advocate for the person sitting in front of us."
The annual enrollment period is the window of time each year that beneficiaries are allowed to evaluate and make changes to their Medicare insurance plans. During this annual election period, which runs October 15 to December 7, it is very important for those on Medicare to review their current plans to ensure that the plan continues to meet their needs.
"Our core base is Medicare," says Kailie Roosma, Operations Manager at VibrantUSA. "We know what the components are and what our clients are asking for when it comes to health care needs."
Neal goes on to explain that the focus of VibrantUSA is strictly Medicare and individual healthcare. They are dedicated to finding the right options to match the needs of each of their clients.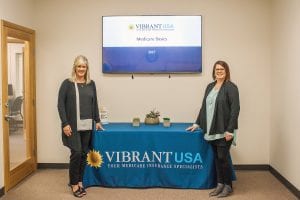 People enrolled in a Medicare Advantage or Part D prescription drug plan should have already received a notice from their carrier describing any changes to their plan benefits, premiums or service areas. All of these changes should be reviewed very carefully to ensure they are understood and that the plan is still the best option for each individual.
"We do a lot of hand holding during this process," says Neal. "There's a lot of uncertainty, but we've got this. We will always be able to help you understand what's going on with your plan."
Change is always in the air when it comes to healthcare as both Neal and Roosma explain. This year is no exception with a new Medicare Advantage plan available. But, not all providers will be contracting with all of the available plans, so it is important for seniors to know all of the options available to them when it comes to health care.
Imbedded in Whatcom County, VibrantUSA is a strong part of the community it serves with many of the agents and staff living here, shopping here and raising families here. The agents that represent the company are dedicated to educating clients and finding the right solution to match their healthcare needs. And, because of this community connection and service-oriented approach, these salaried agents are completely unbiased when it comes to choosing the most appropriate plan for their clients.
"Our agents truly enjoy helping people. They put their clients first," says Neal. "They work from an educational standpoint with clients to ensure they are empowered with information to make the best choice possible for their needs."
Agents participate in a three to six-month training process, which Neal oversees, when they first join VibrantUSA. With this emphasis on education, these agents have the information on health care options to ensure they are doing the right thing for their clients.
The outreach doesn't stop there. Working with medical clinics, VibrantUSA offers Medicare 101 seminars to educate physicians and potential clients on how to navigate and understand Medicare options and processes.
"We do a lot of outreach," says Roosma who also is a board member for Elder Service Providers. "We put a lot of time into our community through involvement with organizations such as the Chambers of Commerce and their events, and sponsoring Meals on Wheels."
Building great relationships and credibility with local clinics and physicians has positioned VibrantUSA for growth based on the need for complete and accurate information about Medicare in these times of ever-changing health care plans and options.
"This is our community," says Roosma. "We create relationships with our clients and help them make the best choices when it comes to their health care options."
It is important for Medicare beneficiaries to remember that all enrollment must be completed by December 7, 2017. For the information you need to make the best decision for your health care, give VibrantUSA a call.
Sponsored