Anyone who has ever visited Whatcom County knows it is home to a vast amount of different birds. The ecosystem in Northwest Washington, and Whatcom County in particular, provides the perfect home for anything from eagles to ospreys, seagulls to owls and even crows to falcons. Unfortunately, nature isn't always kind, and due to human interaction and interference there are now multiple factors at play a bird must navigate when trying to survive in the wilderness. More likely than not, injuries can happen. What happens when an injured bird needs attention? It isn't like they can just phone a doctor or call emergency services. Luckily, there is a solution – Ferndale's Sardis Raptor Center has been helping injured birds of prey recuperate for over 20 years.
What started in 1989 as a rehabilitation center for all species, Sardis eventually transitioned into its current incarnation, specializing in rehabilitation for birds of prey, in 1995. Director Sharon Wolters and her staff have treated thousands of different birds of prey since then. Whatcom County eagles, hawks, owls and falcons have all been treated and released back into the wild by the Sardis team.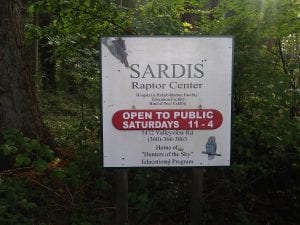 In addition to focusing on providing emergency care for injured raptors, Sardis has made it their mission to rehabilitate birds of prey whose species fall under the endangered or threatened categories. Since human settlement and interference in the state of Washington, raptor numbers have dwindled and Sardis looks to get healthy raptors back out into the wild in order to preserve and increase their populations.
Sardis Raptor Center is also the go-to spot in Whatcom County to get educated on birds of prey and learn about how they help our county's ecosystem. The center offers tours and their "Hunters of The Sky" educational program to the public. Tours of Sardis are available on Saturdays from the hours of 11:00 a.m. to 4:00 p.m. And the "Hunters of The Sky" program, which is one of the most frequently visited of all raptor-viewing programs in the state of Washington happens a few times a year on select dates. The program usually takes place at fairs, colleges and both public and private schools. This year they participated at the Northwest Washington Fair.
During one of the "Hunters of The Sky" educational programs, Sardis volunteers bring birds of prey up close to a public audience creating a sort of wilderness theater. Volunteers then answer questions audience members have a about the birds and educate the participants on raptor identification, anatomy, their specific role in our ecosystem and more.
If you decide to visit the center on a Saturday, you will be able to view the center's resident birds. Birds at the center are ones too injured to yet be released back into the wild. Resident birds consist of raptors of all kinds from owls to eagles, and falcons to hawks. When going on an educational tour of the center on a Saturday you will find out all kinds of fun and interesting facts. Such as the fact that a bald eagle's nest can be as large as a Honda civic, or that baby bald eagles are born with black feathers and don't get their signature white heads until they become sexually mature upon reaching adult plumage, which usually takes five years.
According to a Facebook post published by the Sardis Raptor Center on Sept. 3, they are looking to assist local fishermen in the removal of invasive Atlantic salmon from Pacific Northwestern waters.
At the end of August, thousands of farmed Atlantic salmon broke through nets and waters around Whatcom and Skagit counties. The fish primarily dispersed between waters residing between Anacortes and the San Juan Islands. Sardis writes that their eagles don't discriminate when it comes to the fish they need to eat – the center is more than happy to take the invasive salmon off the fishermen's nets and hooks. The Washington State Fish and Wildlife Department has encouraged fishermen to catch as many as they can, so Sardis is hopeful it amounts to lots of tasty treats for the birds they are rehabilitating.
Whether you are just curious and would like to find out more information on raptors, or want to see the birds of prey up close, Sardis Raptor Center is the place to go for all things raptor-related. It is apparent that the staff and group of volunteers at Sardis care deeply about what it is they are doing. The non-profit organization continues to be a stalwart of change in our Whatcom County community and aims to help these beautiful birds of prey for many years to come.