If you're looking for something fun, physical and entertaining for your kids, look no further than the Sportsplex Youth Activity Camp (SYAC). "We keep our campers as active as possible," says Alyssa Jackson, Front Office Manager at the Bellingham Sportsplex. "Our kids will leave really tired and really happy."
With activities throughout, each child has the opportunity to try a variety of new things as well as take part in traditional activities such as dodgeball and jump rope. Activities range from games to art, skating and even swimming.
"It's like recess all day," says Jackson. "Kids can participate in any activity they wish yet still take some time on their own to relax, do art or read."
As school begins, SYAC is offered all day on Purple Fridays. It is also offered on Thursday afternoons as the elementary schools see early dismissals, providing an incredible support for working parents as well as an opportunity for kids to see friends and stay active. During the winter break, SYAC provides two weeks of fun and activities for kids out of school.
At SYAC, the morning begins with a game such as dodgeball or soccer. The game grows as more and more kids arrive for a day full of friends and fun. During break time, kids have the option of bringing snacks from home or grabbing a bite to eat from the concession stand and vending machines.
During free time each camper has a number of opportunities to try something new such as ice skating or roller blading. They even have the opportunity to take advantage of some quiet time or participate in arts and crafts if they need to recharge their batteries for the afternoon fun. Lunch can be purchased or brought from home depending on the needs of each family.
Working hand in hand with the other programs offered by the Sportsplex, SYAC creates an environment for kids and their parents that encourages participation in the various skating and hockey programs such as Learn to Skate and Learn to Play, as well as the soccer programs. "We all work together," says Keri Ferguson, Skating Academy Director. "We encourage and offer the flexibility to go between programs."
Ferguson goes on to say that a sense of family and community is something that is important to the Sportsplex. With diversity in the types of programs they offer from skating to soccer and kids camps, they offer a great deal to Whatcom County.
"We are so diverse in what we offer at the Sportsplex," Jackson says, adding that the Sportsplex also offers birthday parties and special events. One such event is the upcoming Halloween Public Skate Night on October 27 from 7:00 to 9:00 p.m. This special family event will feature trick-or-treat candy and a fun costume contest.
Interested in having your next birthday party at the Sportsplex? You can celebrate the way you want by renting the ice rink, field and even the bouncy house. "There's just so many options," says Jackson. "We even have bubble soccer."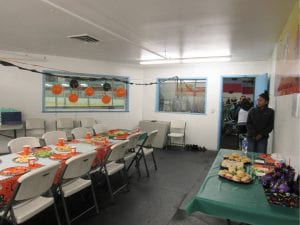 And with unique programs, such as the brand-new cheer program, the Sportsplex is creating even more opportunities for kids to participate in activities they are interested in exploring. The new cheer program creates a spirited youth group who will be trained to provide fun and support on and off the ice for both soccer and hockey games.
The Bellingham Sportsplex is a community supporter in the truest sense.  As a not-for-profit organization, their emphasis is on creating an environment where there is something for everyone in the most affordable way possible. "Serving our families is important," says Ferguson. "We want to know the people walking in the doors at the Sportsplex."
As such, the Bellingham Sportsplex supports many local organizations and schools through the donation of items used in auctions and raffles. They also provide scholarships for various Sportsplex programs. "We're keeping fun affordable," says Jackson. "We put back into the building, the staff and the community."
The Sportsplex Youth Activity Camp is a great way for kids and families to participate in a variety of activities, not to mention a relief for working parents on those days when schools are not in session. Stop by the Bellingham Sportsplex and check out the latest in activities offered. Take a spin around the rink at a public skate session and catch an ice show. You will discover a plethora of great opportunities for local family fun.
Sponsored