By day, Mike Hiestand is a free speech lawyer. By night he is the co-founder and volunteer director of Bellingham's Center for Mindful Use, a nonprofit which provides a safe, free and fun place to talk and learn with others about thoughtful use (or non-use) of cannabis.
Hiestand had tried cannabis twice in college, but walked away both times with just a hacking cough. It was his struggle with depression – first as a law student at Cornell and again many years later – that brought him to practice mindful use of cannabis. "When I was in law school I had gone the traditional treatment route," he said. "I went to a school pyschiatrist and got the pills, and it worked. It might have even saved my life, but it left me feeling like a zombie."
Over about the next two decades, Hiestand went on to become an accomplished First Amendment attorney and youth advocate, but then his depression resurfaced. "Everything was going great, but for whatever reason about ten years ago I felt it coming on again," he shared.
This time Hiestand decided to try something a little different, starting with meditation. "I got into meditation and I got into it in a big, big way," he said.
He also tried cannabis again, and this time he noticed a change in his mental wellbeing. "It was powerful," said Hiestand. "The meditation and the cannabis for my depression was a surprising mix."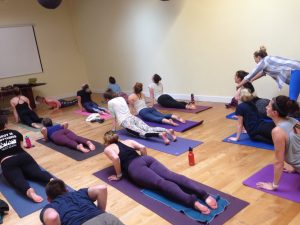 But because he was a product of the "Just Say No" era of America's War on Drugs, Hiestand didn't feel comfortable sharing his experience. "There was so much guilt packed into all of that," he shared. "It didn't kill me and it didn't fry my brain. In fact, quite the opposite. It was a transformational experience, but I kept it kind of quiet."
But all that changed in 2013 as Hiestand traveled on a cross-country bus trip he had collaborated on with free speech activist Mary Beth Tinker to promote student expression of free speech. Somewhere in the middle of the 25,000 mile journey, Hiestand found himself caught in a freak rainstorm in Boise, Idaho. He didn't have an umbrella, so he popped into a used bookstore to escape the rain. Inside he found a copy of Smoke Signals: A Social History of Marijuana – Medical, Recreational and Scientific by Martin A. Lee. This unexpected book opened his eyes and changed his life.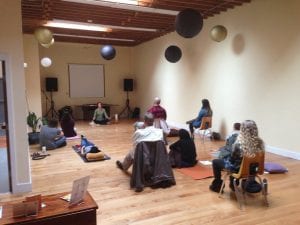 "There's so much deliberate disinformation and misinformation about cannabis," Hiestand explained. Impassioned about changing the conversation around cannabis, he came up with the idea to start the Center for Mindful Use. "In putting the center together I am trying to create the kind of resource that I would've liked when I started using it," said Hiestand. "It was very intimidating and it was the kind of thing you didn't talk about."
But Hiestand is hoping to reduce the stigma around cannabis now that recreational use is legal in Washington State and a growing number of other places. A big part of healing that stigma is listening to people's experiences. "Sometimes I feel a little bit like a priest hearing confessions because people want to tell their cannabis story," he shared. "It's important to let people bear their souls a little bit and be the kind of place where they can share that safely and openly."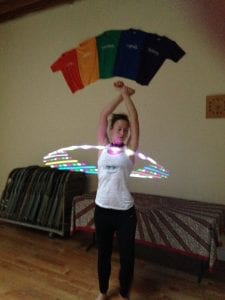 After sharing his idea for the Center with others and letting it simmer, a series of interesting events led to a meeting with Quinn Sharpe, an owner of Satori cannabis boutique, and brought Hiestand's dream for CMU to life – almost overnight.
"The owners had purchased an historic downtown Bellingham building for Satori that had most recently been a charter school called – get ready – 'Anything Grows,'" Hiestand laughed.
But the store only took up half of the buidling. The other half – which included the school's old classrooms and a beautiful mini-gymnasisum (now CMU's Forum de Freedom meeting space) was not being used, Hiestand said.
"I handed them my plan for the Center and we all just laughed. Some things just seem meant to be."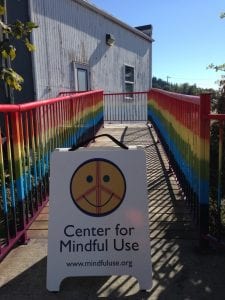 While CMU and Satori remain separate entities, Sharpe donates the space to CMU and is officially the center's co-founder.
Pretty much all of the offerings at the Forum de Freedom at the Center for Mindful Use are what Hiestand calls "Canna-Friendly," so folks can come as they are to enjoy everything from yoga, meditation and dance to discussions about cannabis use, research and policy (though on-site use is not currently permitted). Topics for discussion include the social, medical, spiritual, cultural, recreational, legal and historical foundations of cannabis and its reintroduction into modern society. Non-cannabis users are always welcome to join discussions and classes as use is not explicitly encouraged.
"We don't advocate cannabis use because it's definitely not for everybody," he explained. "Sometimes mindful use means no use. But if you're going to use it, it does make sense to know about it and to do so mindfully. Let's get it out of its secrecy and just talk about it in a factual, honest way so people can make their own decisions about it. After a long time of 'Just Say No,' we're more about 'Just Say Know.'"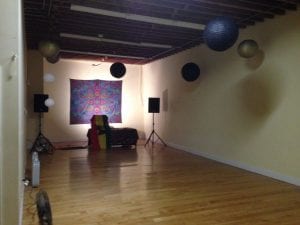 The Center for Mindful Use and the Forum de Freedom is located at 100 Maple Street, Suite B, in Bellingham behind Satori Cannabis Boutique (just over the Rainbow Bridge via its Cornwall Avenue entrance). All events are free unless otherwise noted, though inspired donations to support their teachers and mission are gratefully accepted. You can keep up with the center's events by joining their Meetup group at www.mindfuluse.org or liking their Facebook page.
Sponsored