About ten years ago my in-laws sent me the perfect gift for Christmas—a fly rod and reel combo. It was a simple setup, everything neat and tidy in the box. And by everything I mean the rod, the reel, the fly line and leader. I'd just need to grab some flies from a fly shop, maybe a case to store them in, a pair of waders and wading boots, some extra leader… actually, maybe not so simple after all. The initial investment into fly fishing can be overwhelming. But it doesn't have to be.
I was lucky to have the help of my brother-in-law Erik, an ardent fly fisherman, who, it turns out, had helped pick out the Christmas gift. He had been teaching me the basics for months. Over the course of that summer and fall I had developed a decent cast, I could tie a solid blood knot, tie my own tippet or replace the whole leader, spot a fish rising and sometimes even recognize a hatch as it was happening. That winter I was proud to graduate from rod borrower to rod owner and wade in on my own.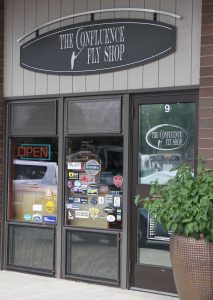 Many people are inspired by the placid scene of a fisherman, thigh-high in the waters of a meandering stream, fluidly casting a fly rod. But most people do not have a brother-in-law like Erik who is willing, even eager, to guide you down a river, teaching you how to read conditions, select flies and tie knots. Most people do not have a brother-in-law with enough patience to row against the current while you attempt to retrieve your fly from a tree branch, a river bank or a submerged rock over and over again. And I'll bet no one has a brother-in-law cool and calm enough to urge you to continue casting while he simultaneously rows and frees the hook you have embedded deep into the scalp on the left side of his head.
Brother-in-law or not, we are all lucky to have a local specialty fly shop here in Whatcom County run by perhaps one of the most approachable fly fisherman in the business. The Confluence Fly Shop is owned by Scott Willison, who has turned a lifelong passion into his work.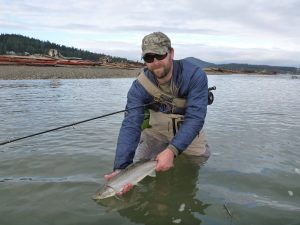 Scott has been fly fishing since he was 11 years old. While neither of his parents fished, he credits his mom with guiding him. "From the second I saw somebody fly fishing in a mountain lake it was like this epiphany as a kid, 'That's all I want to do. I want to be that guy.' And so my mom signed me up for a fly-tying class. A week later I was taking an intro to fly fishing class." Since she didn't know much about fishing, Scott's mom turned him over to Renton's now-closed local fly shop, The Royal Coachman, where the proprietor became his mentor. Within a year and a half of stepping foot in the shop, Scott was working there, tying flies commercially for them and joining fishing trips as far away as Montana.
"Part of the passion of fly fishing that I see in so many people is sharing it with others," Scott says. "I've always had this desire to pay it forward and continue that." And so he does. Every other Wednesday during the summer months the shop hosts free casting clinics on the Nooksack at Nugents Corner. It is common to see seasoned anglers and novices lining the banks of the river trying out the latest and greatest gear available, gleaning some tips, or even casting a rod for the first time ever. When the colder months arrive, the clinics give way to informal fly-tying gatherings every other Wednesday evening at a local establishment, oftentimes Brandywine Kitchen or Chuckanut Brewery. These are not so much instructional events as social affairs. Some of the participants have been tying flies for two weeks and others for ten years. For Scott, this sort of gathering builds community, ushering in new fly fishing enthusiasts. "Without some level of mentorship I think it's really hard for people to either find the motivation or direction they need to get out there and do it," he explains. And I agree.
I never would have picked up a fly rod if it hadn't been for Erik's guidance.
I am fishing much less these days, changing diapers rather than flies. Erik, however, has managed to merge fly fishing and career. Several times a year Erik partners with Scott and The Confluence Fly Shop, hosting his own casting clinics. I went to one last winter on the Nooksack at Nugents Corner along with my husband, kids and father-in-law. Sticky snow covered the smooth rocks of the riverbank, delighting my kids as we gingerly made our way to the water's edge. There were a dozen or so people lined up in the water, undeterred by the cold conditions, swinging flies. As my daughters attempted futile snow angels on the pebbly bank, I watched as Erik worked from one end of the line, Scott the other, doing what every experienced fly fisherman does best—helping a newcomer build confidence with their cast.