Submitted by: Bellingham TheatreWorks
Bellingham TheatreWorks was founded in 2014 by Western Washington University theatre professor Mark Kuntz, who assumed the role of artistic director, and producing director Steve Lyons.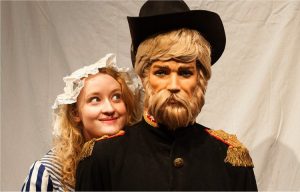 With a commitment to celebrating stories of significance to the Pacific Northwest, utilizing local actors and local playwrights, the productions of Bellingham TheatreWorks have been enjoyed by nearly 6,000 patrons over the past three seasons. Bellingham TheatreWorks keeps tickets prices low, usually under $20, making theatre more affordable for everyone.
Bellingham TheatreWorks produced Border Songs in Bellingham and Lynden, based on the best-selling novel by Olympian writer Jim Lynch. We next premiered Steve Lyons' The Ghosts of Tonkin, about Oregon Senator Wayne Morse. We opened The Ghosts of Tonkin in Bellingham and then toured the show to Portland, Eugene and Seattle. In Seattle our production was co-produced by ACT. We debuted Marina by local playwright Sandy Wolf. The musical, with full orchestra and twenty-five actors, premiered at the Mount Baker Theatre in May 2015.
This past season we produced Quality: The Shoe Play (produced at 12th Street Shoes), The Gun Show by Oregon playwright EM Lewis and Steve Lyons' comedy Peaches en Regalia.
Our work has garnered the attention of both local and national media, including American Theatre Magazine, Bellingham Herald, WhatcomTalk, Bellingham Wins, Playbell, Entertainment News Northwest, Cascadia Weekly, Northern Light, The Oregonian, Portland Monthly, Bellingham Alive, Willamette Week, Eugene Weekly, Lynden Tribune, as well as radio stations KIRO, KMRE, KLCC, KXRY, KPSU, KBOO, KBAI, KEXP, and Oregon Public Broadcasting.
This fall, Bellingham TheatreWorks will continue its commitment to celebrating stories of significance to the Pacific Northwest by premiering Steve Lyons' comedy Mrs. Bave Presents the Pig War.
Subtitled "The almost true story of a play that nearly happened about a war that never occurred," at the center of this comedy is the Pig War of 1859, which was a border dispute between the United States and Britain over ownership of the San Juan Islands. This war is significant because ultimately there was no war! Peace was chosen over war.
This comedy is inspired by the wacky, true tale of Emilia Bave and her "San Juan Saga." Mrs. Bave's play was originally presented in 1959 on San Juan Island in celebration of the centennial of the Pig War. The premier of the play featured local acting talent. However, when she wanted to re-mount the play the following year, she found no one wanted to be in her play! Undaunted, she re-wrote the script to be a narration with the reluctant actors replaced by mannequins.  Using her mannequin cast, she presented her play to unsuspecting visitors for nearly 20 years.
In our comedy, Mrs. Bave's cantankerous Pig War mannequins spring to life, and take over the telling of the Pig War tale.
The Pig War is one of the few examples in our country's history in which diplomacy triumphs over war. Although tempers flared, the Americans and the British ultimately resolved their dispute over the ownership of the San Juan Islands peacefully.
The world needs more examples of peaceful resolution of conflict. And we have a beautiful example of that in our own back yard.
Likewise, the spirit of Mrs. Bave is an inspiration. Writing plays is all about tolerating countless rejections. Emelia Bave would not take "no" for an answer, even when no one wanted to be in her play! No problem, she hired a bunch of mannequins!!  This is a playwright driven by the need to tell her story!
For Mrs. Bave Presents the Pig War, we have commitments from the following funders: The Honeywell Foundation, Washington State Arts Commission, The Bellingham Lodging Tax Fund and The Floyd Jones Family Fund.
Bellingham TheatreWorks partners with local businesses and organizations for all of our productions. For Mrs. Bave Presents the Pig War, our partners include the San Juan Island National Historical Park, Village Books, The Pickett House, Washington State Historical Society and the Whatcom Historical Society. Business sponsors include Zane Burger, City Dogs Grooming and Salon Bellissima.
Our audience engagement programs include a "meet and greet" reception with Mrs. Bave's actual mannequins (and the stuffed boar) used in the San Juan Saga and post-play discussions with Marsha Bave (daughter of Emelia Bave) and Mike Vouri, Chief Historian of the San Juan National Historical Park.
On September 13, Village Books will hold a book tie-in reading of The Pig War: Standoff at Griffin Bay by Mike Vouri.