Whatcom County is home to generations of commercial fishermen, boat builders, fish processors and others associated with our vibrant maritime industry. Supporting several thousand jobs, our amazing local waterfront resources provide an incredible legacy that enhances our community strength and growth.
September 22 and 23 mark the second annual Bellingham SeaFeast celebrating our waterfront's history, lifestyle and community benefits. This year it is stacking up to be even bigger and better than before. It is designed to address all maritime aspects with something for everyone.
"We in Bellingham and Whatcom County are truly blessed with abundant marine waters," says Debbie Granger, General Manager for Bellingham SeaFeast. "I firmly believe that by getting people down to the waterfront – offering folks a chance to feel and learn how precious and magical it is – that's how we preserve and enhance it so that it will endure and continue to bless our families for generations to come."
Through presenting sponsors City of Bellingham and the Port of Bellingham, providing grants and access to facilities, this event has been made possible beyond expectation. Haggen Northwest Fresh also shares the Bellingham SeaFeast vision through their three-year sponsorship commitment, joining dozens of other community partners. "There's nothing that speaks to our Bellingham roots more than seafood from the Pacific," says Haggen Northwest Fresh Marketing Event Coordinator Kaily Hetherton. "We love to connect face-to-face with our fellow seafood lovers. We hope to help people understand that there's so much more to good seafood than just the taste. Understanding where it comes from and how it was caught is crucial to all of our continued enjoyment of this incredible bounty."
Friday night, Bellingham SeaFeast 2017 kicks off this spectacular weekend with not-to-be missed experiences that take you into life on the waterfront. You will be mesmerized by the FisherPoets-on-Bellingham Bay telling stories of life at sea. You'll hear original poems, watch fascinating videos and experience sea shanties inspired by those who have lived this life.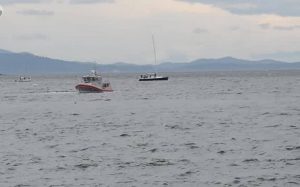 New to Bellingham SeaFeast this year is the fabulous SeaFeed at the Square, a ticketed event highlighting Friday night ($50 in advance online). Imagine enjoying local craft beer or wine at the Depot Market Square while savoring raw and grilled oysters from Taylor Shellfish Farms and Drayton Harbor Oyster Company. You'll also dine on melt-in-your-mouth salmon, and an old-fashioned crab boil with locally-grown corn and other ingredients prepared by Crave Catering. Bornstein Seafoods has donated the salmon and Dungeness crab.
On Saturday, Bellingham SeaFeast will offer engaging opportunities all day (11:00 a.m. – 8:00 p.m.) centered on our vibrant marine industry and waterfront activities. At the new SeaFeast Wharf containing over 90 booths, you'll have hands-on educational activity, enjoy a maritime-themed Art Walk and other vendors. This Explore Some More experience is much more than handing out pamphlets; these themed non-profit and maritime related booths are challenged to create interactive fun.
Listen to live music until 8 o'clock. Step aboard a working commercial fishing boat and discover the different aspects of life at sea. Then take in demos of net mending and knot tying during a Dock Walk. You are sure to find this experience full of wonder and excitement.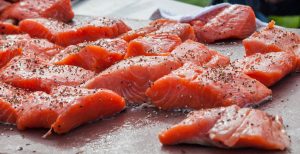 Taste the Sea: A Sustainable Seafood Experience is another new, ticketed dining activity on Saturday at the Squalicum Boathouse ($10 adults/$5 kids online). This event features samplings of salmon, cod, mussels and other types of seafood from global brands, prepared using different methods. As you weave through the tables, you will learn from chefs, caterers and fish buyers a lot of vital information, including origination and preparation. "We are excited to share our passion for sustainably harvested seafood with attendees at the Taste the Sea event," says Hetherton. "The bounty of the ocean is precious and finite, and it's more important than ever to use fishing methods that preserve the diversity of species and habitat – so that SeaFeast can continue for generations to come."
As you follow the crowds flocking to the water, you'll become a part of the excitement witnessing a dramatic and true-to-life Coast Guard rescue at sea. Check out a real Coast Guard cutter and experience first-hand the daily environment of those serving in this maritime military branch.
In addition to the incredible dinner and tastings, sample the salmon and cast your vote in the new "People's Choice" category at the second annual Salmon BBQ Grilling Championships. In this ticketed event ($1 per sample, on site), you watch as 10 teams compete and are judged by members of the seafood industry.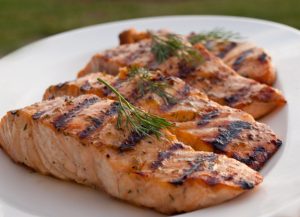 Tying all of this together are two harbor boat rides and tours – one to Bellingham Cold Storage ice house and Home Port Seafood Inc. processing plant, and the other cruising the harbor. Get your ticket online ($10 adult/$5 kids) for a firsthand look at how seafood is harvested, prepared and readied for distribution, and a guided view of the waterfront redevelopment project.
Ready for more food after all of those activities? With 16 food vendors and traditional Lummi Nation open-pit grilled salmon in the food court, you are sure to find the perfect meal. Wash it all down with a beer from the Brews with a View Beer Garden, presented by Boundary Bay Brewery & Bistro (also one of the FisherPoets' four venues on Friday).
Bellingham SeaFeast is a celebration of our historic maritime industry and a celebration of our community. This feast of seafood takes place along Bellingham's working waterfront which is ever-changing, developing with the times and local needs. It is an event that brings us all together to learn and thrive as a community.
With several thousand expected to attend this year's Bellingham SeaFeast, this community gathering will continue to grow. Become even more involved in this spectacular event by becoming a sponsor, a volunteer, or even a FisherPoets presenter. "We want attendees to gain an appreciation for the amazing bounty of our precious waters and all these waters have to offer our community," states Granger.
So eat, play, explore … and eat some more! It is time for Bellingham SeaFeast 2017.
Sponsored