Serendipity. The word used by Diane Reinsch, owner of Fairhaven's nautical-themed shop 1 Paperboat, to describe landing in Bellingham after owning a retail store for over 30 years in Mill Creek. "The first place I always ask Royal to take me when he is traveling north is Fairhaven," Reinsch says as she explains her husband's family connections to the area.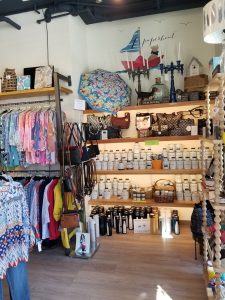 "We've always loved this area."
Diane and Royal Reinsch were ready for a change. Their lease was coming to an end at the home décor and import store they previously owned and it was at this moment in time that Diane had a serendipitous conversation with another business owner from Bellingham.
"I just so happened to have a conversation about available space in Fairhaven," Reinsch says. "And it just so happened that our current location happened to be under construction. It was perfect."
Conveniently located in historic Fairhaven right next to the Fairhaven Village Inn and just off the trail leading to Boulevard Park, 1 Paperboat offers products with a nautical flair. You will see name brands such as Ugg, glassybaby, Brighton, Mer Sea and even Not Your Daughter's Jeans all under one roof. Also included in the array of products is Chalk Paint by Annie Sloan, a favorite among those creating new looks or reinventing old items in their home. Beautiful tiles from Sid Dickens line the walls, adding to the warm and inviting atmosphere of the store.
As you walk into the store, you are immediately greeted with a "Welcome!" from Diane, the face of the store as Royal describes. And, you might even catch a glimpse of Chief, the shop dog. "See our logo?" asks Diane as she points to the 1 Paperboat logo. "The dog in the boat is Chief, he's always in the store."
The comfortable nature of the store sets the stage for fun browsing and easy conversation. Diane describes their process of finding the right niche to fill as they created the concept of 1 Paperboat. She explains that the look you can find at their store is "American Classic," a casual yet comfortable style for women. "She has a good eye for buying," says Royal of his wife's ability to choose the right theme and products for their store.
After only two years in what they refer to as the perfect location, 1 Paperboat feels like an established business. "We're seeing more return customers as well as our old customers from Mill Creek making the drive north," says Diane.  "We also get many out-of-towners and those walking in from the trail."
With family connections and summers spent in the area, Royal describes the bond he feels with the community. "I've seen a lot of changes in Bellingham growing up summers here. I have many good memories," he says, "and when you feel a connection, you feel more comfortable and you fit in."
It is that connection that has also led the Reinschs to become more deeply involved in their Fairhaven community. "Part of owning a business is you're not just a standalone," Diane explains. "You're a member of the community and it's about what you can bring to the table."
As active members of the Winterfest Committee, a part of the Historic Fairhaven Association, they participate in the planning of the community winter holiday activities. "Most of the activities within Fairhaven happen because of volunteers and the merchants themselves," says Diane.
In fact, Royal helps out as needed to water the hanging flower baskets around the Fairhaven district and pitches in when there is an event that needs setting up or a beer garden that needs manpower.
The upcoming holiday season brings the prospect of having lights professionally hung throughout Fairhaven for the first time, Diane shares. The project, called Light Up Fairhaven, is an effort to support local businesses through creating an amazing experience for all who shop, live, work and visit Fairhaven. The Winterfest Committee has already identified a local Bellingham business willing and able to hang the lights, but will require the community's help and support to cover the expense.
"We are so proud to be a part of Light Up Fairhaven," says Diane. "I know others in our community would be proud to support this wonderful project as well. And to that point, we haven't even started to roll out the campaign and already we have donors just by word of mouth. It's incredible to see what this Fairhaven community can do. So be on the lookout for more information on how the community can help support this fun experience."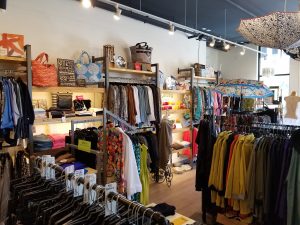 With all the changes in the retail industry, the Reinschs are proud to have been able to change with the times and continue to see success with the establishment of 1 Paperboat in Fairhaven.
"We've seen people at different stages of life and from all walks of life," says Royal with a smile. "So many customers have ended up becoming friends."
Diane goes on to describe her passion for the industry in which she has chosen to make her mark. "All the years we've been doing this, we have this chance to make this connection. The passion is there … I value the relationships. Sometimes you help people and sometimes they help you. That's the real gift."
Venture into Fairhaven and stop by 1 Paperboat. Say hello to Diane, Royal and Chief. You'll discover the perfect gift for a loved one or a great piece of clothing for yourself. And you're sure to make some wonderful new friends while you're there.
Sponsored