Submitted by: Peoples Bank
Peoples Bank launched "Pigs in Parks," a contest designed to raise awareness about the importance of saving and to encourage people to get outside and enjoy their community parks this summer. Throughout August, 250 softball-sized piggy banks will be hidden in parks across Washington state in Chelan, Douglas, Island, King, Skagit, Snohomish and Whatcom Counties. Clues for where the pigs are hidden will be shared on the Peoples Bank Instagram account (@peoplesbankwa). When found, the piggy banks can be returned to a local Peoples Bank branch for a prize and to be entered in a drawing to win one of six Grand Prizes featuring a swag bag full of great products donated by local area businesses.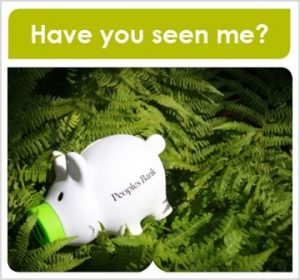 According to data released last fall by GoBanking Rates, nearly 70 percent of Americans surveyed had less than $1,000 in their savings account. In Washington state, 26 percent reported having no money at all saved. Another survey by BankRate released in May of this year revealed that most American's biggest financial regret is not saving enough money.
"With rising costs of living, along with new trends like mobile payments making it easier for people to spend money, we understand that saving money can be a real challenge," said Michelle Barrett, Executive Vice President & Director of Retail Banking and Human Resources at Peoples Bank. "We always encourage customers to have six months in expenses saved in case of unforeseen circumstances, such as a large medical expense, auto repair bill or change in employment. Our Pigs in Parks campaign is a fun way to raise awareness about the importance of saving and to show that there are reasons to save all around you – even in your neighborhood park!"
The Hunt is On!
The Peoples Bank Pigs in Parks contest runs from August 7 to August 28, 2017. Search #pigsinparks on Instagram and Facebook for up-to-date information about the contest. More information and contest rules can be found at http://www.peoplesbank-wa.com/pigsinparks.
About Peoples Bank
Peoples Bank is a locally owned and operated, independent community bank with almost $1.6 billion in assets. Headquartered in Bellingham, Washington, the Bank was founded in 1921 and operates 25 branches located throughout Washington. In its most recent rating, Bauer Financial, a leading independent bank rating firm, awarded Peoples Bank a superior rating of five stars. This rating recognizes Peoples Bank's strong financial management practices, dedicated employees and long-standing customer relationships.