It's common to walk into one of The Mount Bakery's two locations and be greeted with pleasant aromas that instantly induce mouth-watering hunger. It's safe to say The Mount Bakery appeals to the sense of smell. But upon entering the new Fairhaven location, your sense of sight will join the same party your sense of smell is currently dancing at. Vivid and vibrant landscape paintings by Seattle artist Edward Praczukowski grace the walls at the restaurant in preparation of Fairhaven's Fourth Friday Art Walk.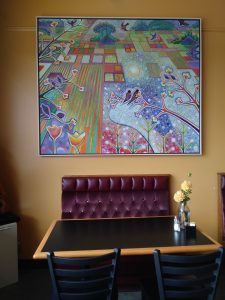 Praczukowski, 87, is a former professor of painting and drawing at The University of Washington who hasn't featured his art publically that often in recent years. But due to a special connection with The Mount Bakery owner Vince Lalonde, Praczukowski has allowed his plant painting series to be a part of Fairhaven's new Fourth Friday Art Walk. Lalonde has known Praczukowski for 45 years dating back to his first day of third grade where he befriended Praczukowski's son, Konrad.
Lalonde, an artist and avid painter himself, said Praczukowski and his wife Anne, a former metalsmith who taught at the Cornish College of the Arts, have been the greatest inspirations throughout his life due to their commitment to art, craftsmanship and approach to life. "My whole life I grew up in awe of them. They showed me you don't have to make a million dollars from your craft in order to love it. They taught me that art is a way of life," Lalonde says.
Lalonde remembers being a child and watching Praczukowski paint and work on art projects. He says he never thought that one day he would have his art hanging up in a restaurant he owns. Lalonde says it is a pleasure he gets to share these paintings and they are the kinds of works that could even be hung up in large well-respected art galleries. Currently, Lalonde and Praczukowski's sons are working on getting him a bigger retrospective for his art.
As if the delicious food at The Mount Bakery wasn't reason enough to check out the new Fairhaven location, Lalonde says customers have been coming in just to see the artwork. "A whole number of people have said they will come back into the restaurant just to be surrounded and immersed in the paintings," Lalonde says.
Praczukowski's plant painting series was the result of going on a drive through clear-cut areas of the Skagit Valley in the 1990s. The valley was getting deforested at a remarkably fast pace during the decade, and Praczukowski says in a statement that he wanted his art to encourage people to protect the trees and plants around them. By painting the natural landscapes in vibrant and lush colors, Praczukowski looked to tie together the themes of plant growth and energy. Lalonde says Praczukowski, even at 87, remains an avid painter to this day.
Although the art walk will take place when The Mount Bakery is normally closed, Lalonde assures the Fairhaven location will be open for business during the events. These take place from 5:00 p.m. to 8:30 p.m. on Friday, July 28.
The Mount Bakery will be one of 18 participants in Fairhaven's first Fourth Friday Art Walk. The art walk will continue to take place on the last Friday of every month from July to November. The first event will be on July 28 and the final art walk will be on Nov. 24. The art walk is meant to shed light on the artwork of both budding and veteran artists.
Lalonde says Praczukowski's work will be featured in the July art walk and may even still be up during the event taking place in August. In addition to art demonstrations, there will be entertainment and beverages at many of the participating businesses.
Currently, paintings in Praczukowski's plant painting series displayed in The Mount Bakery are not for sale, Lalonde says. "Ed is the perfect representative of what it means to be a craftsman. He truly has embraced art and craftsmanship as a way of life. I am so touched and honored to be able to help share these paintings with the Bellingham and Whatcom County community."
Sponsored