SpringHill Suites and TownePlace Suites by Marriott in Bellingham pride themselves on connecting with local businesses and individuals through community involvement in Whatcom County. From donating meeting space and gift certificates to local nonprofits, to offering complimentary overnight stays to cancer patients, staff at SpringHill and TownePlace Suites look for opportunities to build meaningful relationships with businesses and organizations of all sizes.
Business Built on Meaningful Relationships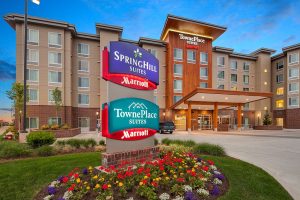 So much of the business that happens in Whatcom County occurs because of relationships. People here like to shop, eat and play where we feel a personal connection. Because locals like to support people they know, Director of Sales, Elisa George and her team seek opportunities to build authentic connections.
"I'm responsible for the revenue generated at SpringHill Suites and TownePlace Suites," shared George. "Of course I don't control 100 percent of that. Probably about 40 percent of our traffic flows in naturally because of the Marriott loyalty. Myself and the two people on my sales team are focused on the local corporations here, building relationships with people who book travel for their organization."
"I used to work in Bellevue and Seattle before I moved up here and everything was so transactional," she explained. "It's so much different here in Bellingham because we don't have those large tech companies up here. It's not me picking up the phone and telemarketing. Instead it's me showing up at a Chamber breakfast or going to a networking event and meeting that person. It slows down the process and it is so much more rewarding."
Building community relationships is engrained in the culture of SpringHill and TownePlace Suites and that begins at the top with the properties' General Manager, Keith Coleman.
"I feel like he's on every board," shared George. That's not surprising since Coleman sits on the Bellingham/Whatcom County Tourism Board, Bellingham/Whatcom Chamber of Commerce Board, Tourism Commission, Lodging Tax Advisory Committee, Whatcom Community College Hospitality Advisory Board and he serves as the Washington Hospitality Association Ambassador to the 40th and 42nd Districts.
"He really understands that it's not just running the hotel but that this business is about building relationships in the community," said George.
In addition to serving in leadership roles on boards, the team members at SpringHill and TownePlace Suites look for ways to support local nonprofits by offering their unique resources. "We've been able to partner with local nonprofits, like Blue Skies for Children, to sponsor their monthly board meetings by providing a meeting space for them," shared George. "We're not going to just let a space sit empty when there's a need in Bellingham … Offering a complimentary room night doesn't bring in revenue, but yet the relationship defined from offering that has brought in so many more contacts," said George. "It's about building trust."
Helping Businesses of All Sizes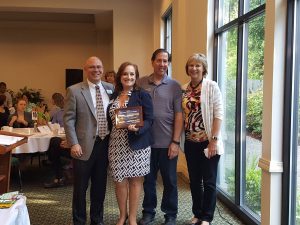 If you're a small business owner, you might not realize that you can reach out to George and her team to chat about discounts if you travel throughout the year. "You don't need a ton of travel," she explained. "There's a handful of big businesses we work with but 75 percent of the businesses we work with are small businesses. We work with a ton of accounts who bring in maybe 50 room nights a year and offer a discount for that partnership. There are opportunities to save money on hotel stays by partnering with us."
Developing a rapport with smaller businesses can be a bit more work to start with but George and her team find that the resulting relationships are well worth the investment. "While it takes more time and energy to make connections with all the different small companies, it equals what you would see from a large company," said George. And while this approach has made her goal of bringing revenue into the hotels easier to achieve, it's the relationships she's built that are most valuable to her. "I really feel like most of my clients are my friends," she said.
SpringHill Suites by Marriott
4040 Northwest Avenue
Bellingham, WA 98225
360-714-9600
www.marriott.com/hotels/travel/blish-springhill-suites-bellingham
TownePlace Suites by Marriott
4050 Northwest Avenue
Bellingham, WA 98225
360-714-9700
www.marriott.com/hotels/travel/blits-towneplace-suites-bellingham
Sponsored