When you enter the office of Jennifer Leigh Couture Veils and Accessories, you immediately know you are not in a typical business office. Hanging plants, large flowers and succulents fill the space. Big open windows flood in natural light. Two parakeets sing songs in the corner. The walls are painted cream, pink and black and are lined with framed magazine covers and articles. You spot quirky items like a giant ball of yarn for sitting and a massive golden-framed mirror. And hanging all around this beautiful art studio are bridal veils made right here in Bellingham.

Jennifer Leigh began designing and making these head pieces for a few close friends and family members who were getting married. It's come a long way, with an expanding inventory of designs, since then. Cascading veils with ribbon, lace, gems and pearls and beads, a material called "horse hair" that causes a beautiful ripple, applications from gingerly placed lace – each veil is unique.
Jenny and her husband, Jeff, have been able to partner together since the very beginning, turning this from a fun way to be involved in loved ones' weddings, to a thriving business helping brides feel special and beautiful. It was 1998 when they decided to pack up and move back to Bellingham, where they both had attended Western Washington University and where Jeff was born.
"We decided to pick somewhere to really grow our business and start our family," Jenny told me. And that they did. They now organize orders from as far abroad as Japan, make business trips around the U.S. for fashion weeks or trunk shows (where Jenny brings or sends a "trunk" of her veils to a shop or boutique for a special viewing) and have expanded to eight extra people helping them produce their veils. They also have two wonderful children, Lily and Julien, who are 14 and 12.
"This business comes with a lot of travel and before I had Lily and Julien I would go either alone or with Jeff on most of our trips," Jenny said. "Trunk shows or our twice-a-year expositions in Chicago and New York City became a little too hard for me leaving the kids, so Jeff kept it up. Both Lily and Julien have had the opportunity to travel with Jeff and me throughout the years on these great adventures."
The magazine covers and articles framed on her walls all feature Jenny's veils. "We send samples out to magazines for photo shoots," she told me when I first started sewing for her. "They'll send them back after a bit, most of the time without notice of if it'll be in the magazine. Once, when I was sent an issue that I had given some veils, I tore it open and went through every single page – nothing! I was disappointed, holding the magazine, when Jeff smiled and said, 'Hey, you're on the cover!'"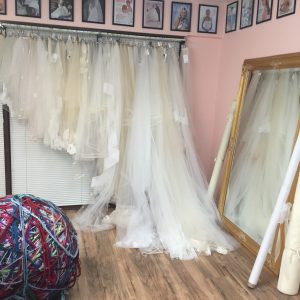 Now there are many covers and magazine spreads with Jenny's veils, even though it is still a small, local operation.
Jenny still sews veils for friends and family getting married. When I got married in July of 2016, Jenny had me bring in my wedding dress and she helped me pick a veil to match it. Funnily enough, it was one that had been named after me!
Working with Jenny and Jeff really does feel more like a family than a business. There was one day when I was working late and Jenny brought me a sandwich from her home. The kids come in and hang out or bring odd things in like that giant ball of yarn. Jeff buys lunch for all the people sewing each Tuesday, just to be kind. We name the veils after our sisters, mothers, aunts, cousins and friends. And they always keep the kitchen stocked with little goodies like energy bars, fruit or chocolate candies.
If you are in the market for a wedding veil or hair piece, ask your bridal stores if they carry Jennifer Leigh Veils. They are handmade, local and lovingly made. Of course, if you aren't looking to buy bridal accessories in the near future, you can still smile knowing that we have such a special item being made here in Whatcom County.