If you're a local, you know there is no better place to be than in Whatcom County during the summer months. With the warm weather comes fun events like the Saturday and Wednesday Farmers' Markets, Flicks in the Park, Downtown Sounds and, to wrap up the season, the Ferndale Street Festival. This will mark the Festival's 14th year and the Ferndale Chamber of Commerce has been busy planning everything you know and love, plus a bit extra. On Friday, August 25, from 6:00 p.m. to 11:30 p.m. and Saturday, August 26, from 10:00 a.m. to 11:30 p.m., come celebrate summer before school starts back up!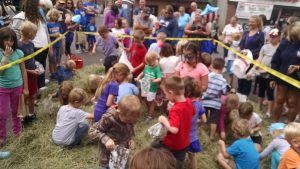 Audrey Audette, the Chamber's Event and Program Coordinator says, "We shut down Main, 1st, 2nd and 3rd and it branches out from those streets. There are about 10,000 people that visit over those two days."
You know a town means business when entire streets are blocked off to anything other than dancing, eating and shopping. There will be live music all day on the main stage, featuring everything from blue grass to classic rock. You'll even be able to listen to local bands such as Blind Fate and Marlin James from the beer tent, which is sponsored by Phillips 66. Stay tuned to find out what fun theme the tent will be this year, as it is yet to be decided.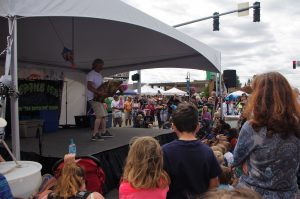 In addition to music, the main stage will also be hosting something new and exciting – a pie-eating contest sponsored by Haggen Northwest Fresh. There will be three separate age brackets that include ages 10 and younger, an 11 – 18 bracket and an 18 and up bracket. Contact Audrey  to sign up before the festival weekend so you don't miss out on a chance to compete against your significant other or watch your little ones stuff their faces.
However, if pie isn't necessarily your chow of choice, there will be plenty of other meal options. All down Main Street there are going to be local Bellingham and Ferndale food trucks available. "We have more signed up than last year so far, so lots to choose from," says Audrey. And while the beer tent is sure to be a hit, there will also be some outdoor venues for the over 21 crowd at local restaurants.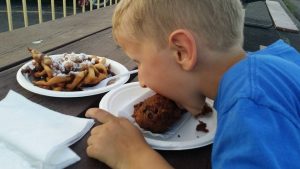 This year the festival is partnering with Sustainable Connections and participating in the Toward Zero Waste program. Audrey explains, "We are doing it on the food street, which is where most of our waste is produced." The program helps businesses and events, like the Ferndale Street Festival, to reduce their waste by promoting the implementation of recycling and the use of compostable products. Volunteers dedicated to reducing waste will be around during the festival to help out with this specific program and make a noticeable difference.
If you are interested in being involved with the Toward Zero Waste program, or just helping out with the festival in general, volunteers are still needed and would be much appreciated. Please contact Audrey if you are interested in helping out for a couple of hours.
The Festival of Fenders Car Show is also happening at the Street Festival again this year. In fact, it has become so popular that it is going to fill up an entire block of its own! If you have a classic or antique car you want to show off, apply online and join all the other car owners and lovers. Maybe you'll even win a trophy!
The car show will be happening from 10:00 a.m. to 4:00 p.m. on Saturday, followed by a duck race put on by the Rotary Club of Whatcom County North.
Kids attending the Ferndale Street Festival will be well taken care of, as they have an entire street dedicated to them with their own attractions and stage. Reptile Isle, a show done by a zoologist who specializes in exotic animals, will make an appearance on the kids' stage. "He brings reptiles the kids can play with," Audrey explains. "They love him." There will also be a bouncy house, a petting zoo, kid's zumba and music, just to name a few of the happenings. "We are putting together the whole nine yards," she says.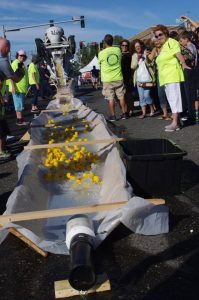 Your furry friend is welcome as well. This event is pet friendly and there will even be two-hour pet sitting available at the local groomer. Don't leave anyone at home!
The Ferndale Street Festival claimed the titles of 2011, 2012 and 2016's "Ferndale's Best Community Event," and with all that is in store for this year, you wouldn't want to miss out. Downtown Ferndale is only a 15-minute drive from Bellingham. You don't have to travel far to celebrate the last bit of summer with everyone else in the area.
For directions, more information and contacts, visit the Ferndale Street Festival's website.
Sponsored