Holiday Inn Hotel & Suites-Bellingham is the area's newest full service hotel. Conveniently located just steps away from the Bellingham International Airport terminal, this upscale hotel boasts easy access to Downtown Bellingham, Bellis Fair Mall and Western Washington University.
In addition to being close to fun local attractions, Holiday Inn Hotel & Suites-Bellingham offers generous park and fly packages perfect for locals looking to get away.
Peace of Mind with Secure Parking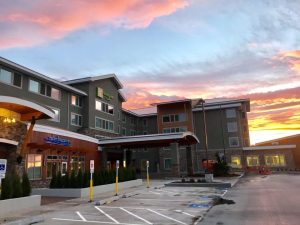 "Parking is secured at the hotel by use of a key card that is provided at the front desk when checking in," shared General Manager Ragan Humphrey. "That is the only way to access the secure, climate controlled, 108-stall parking garage underneath the hotel." You'll travel comfortably knowing your vehicle is well protected.
In addition, Bellingham International Airport is just steps from the hotel if you'd like to walk to the terminal or you can take advantage of their Mercedes Sprinter van shuttle if your luggage needs a lift. The hotel's generous Park Stay and Go rates include a room and up to 15 nights of parking. Additional parking is available for only $9 per night.
Quiet Comfort for a Good Night's Sleep
It's reasonable to assume that a hotel next to an airport and a major interstate would be loud, but travelers will be pleasantly surprised by Holiday Inn Hotel & Suites-Bellingham's blissfully quiet rooms. No rumbling take-offs or loud truck noises here – just peaceful rooms that have been expertly designed for a restful night's sleep. Plus the 1,000 square foot fitness center, steam room, sauna and accessible indoor spa and heated mineral pool mean year-round recreation and relaxation regardless of the weather.
Find the Perfect Room for Your Needs
Holiday Inn Hotel & Suites-Bellingham offers a smorgasbord of attractive and comfortable room types. The King Bed with Comfort Hideaway room type features a trundle-type bed which doubles as a sofa during the day and can pull out into two twin beds at night. The room design is perfect for families with kids and teens, giving each member a comfortable place to sleep and play. And unlike the spring-loaded pull-outs of yore, every bed, trundle or sleeper sofa is built for a truly comfortable sleep.
Solo or business travelers will rejoice with spacious rooms that feature a separate space to work or to relax and unwind. Plus there's a suite on every floor perfect for romantic getaways or peaceful, solo hideouts. The northwater suite on the 4th floor is particularly sumptuous, complete with a roomy jetted bathtub and glass marble fireplace. It'd be the perfect place for a restful solo retreat before an early flight, or a romantic preamble to honeymoon travel. Or maybe you just need an impromptu getaway? Alaska Airlines offers lots of direct flights from Bellingham International Airport. There is even a direct Alaska Airlines flight between Kona and Bellingham!
Holiday Inn Hotel & Suites-Bellingham is located at 4260 Mitchell Way in Bellingham. Reservations can be made now on their website or by calling 360-746-6844.
Sponsored