Whatcom County community members are especially indulgent of each other's unique interests. We are a region of movers and shakers often fortunate enough to be able to pursue what we choose because of overwhelming support in even the most unconventional subjects. The Bellingham Circus Guild, for instance, is a circus arts collective made up of a variety of jugglers, aerialists, clowns, acrobats, stilters (and anything else you can come up with) that might not otherwise be here without the combination of passionate artists and supportive community.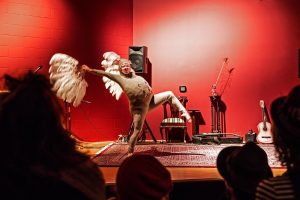 Their mission? "To assist and support the circus arts community of Whatcom County, to promote circus arts to the community at large and to radically proliferate delight at every opportunity." I don't know about you, but I am 100 percent sold on radically proliferating delight.
The group puts on Vaudvellingham, a monthly community variety show, and offers a variety of classes to the public. According to Dream Frohe, one of the founding members of the guild, the group began nearly 10 years ago. "We came out of Dream Science Circus which was a preforming group that was in the area before us," she said. "Through them we rented a space for the first time and realized we all enjoyed having a place to train in."
Today, the guild's Cirque Lab is located off of Harris Street between downtown Fairhaven and Marine Park. "This is the 5th space we've occupied and with each move our space has gotten bigger but our support has gotten bigger as well," guild member Della Moustachella elaborated.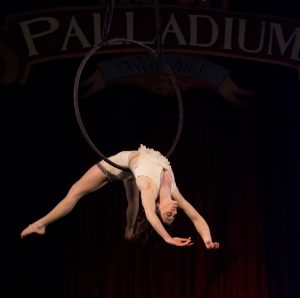 After talking to both of these amazing women it's clear that it is not so much the space that the guild occupies, but the inviting and joyous atmosphere created by the collective that allows people like Dream and Della to pursue their passions full-time.
Dream is an aerialist. "I specialize in apparatuses that are not attached to the ground," she explained. "Gymnastics was my passion growing up and I love the physicality of that but there is not as much room for art there, or at least it is not cultivated in that way. So in a similar way that dance does, aerial has a creative component to it and you can do really cool things."
As a founding member, Dream has watched the guild evolve over the last few years. She stressed how it is all based on consensus and that not one single person is in charge. "I think our growth has been really nice and organic," she said. "Because we are run on consensus, we can't do anything fast. I think that has ultimately been in our favor, even though sometimes it is frustrating."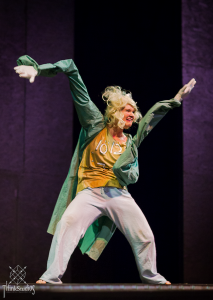 This system is unusual but as a tight knit group unwilling to compromise each other's wants and needs, this has worked well. It also means that members often have multiple roles within the guild and take on positions that need filling to make sure things keep running.
Della, for instance, has acquired new skills as needed. "I was super excited about Vaudvellingham, doing an act in it almost every month, and was wanting to be more involved so I started asking, 'Can I make the posters? Can I advertise it?' It's this cool thing,'" she explained.
She eventually found herself as the show's organizer, "I did it for three years but in the beginning was still really new and we were trying to find an emcee and sometimes I couldn't find one so then I would have to do it. It was a gradual but very natural progression to performance."
Della is a juggler and preforms comedy acts. Through collaboration with Community Food Co-op she has also been involved with The Real Food Show, an act that her and fellow juggler, Jason Quick, do to promote healthy eating in schools. "We've been to Olympia and Seattle and Mt. Vernon," Della said. "The Co-op usually pays for 20 schools a year. It's so fun and high energy. It is a huge part of what my life has been the last three years and it is awesome what the Community Food Co-op has given back to the community." This is only one example of how the guild has been an excellent resource to our community. There aren't many places that have such a unique and talented group willing to share themselves in such fun and educational ways.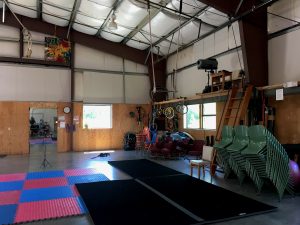 You can experience the guild's radical proliferations of delight in many different ways. It should be noted that Vaudvellingham is uncensored and open to community participation. Nearly anything goes. The guild describes it as a way to, "promote new art, give performers a venue to try out new material, inspire creativity, encourage new performers and enhance growth in artists and performers."
There are two shows on the 15th of every month- one at 7:00 p.m. and another at 9:00 p.m. Admission is by donation.  If you have yet to experience this Bellingham gem, be sure to make time for it this summer.
For more information about The Bellingham Circus Guild and what they have to offer, check out their website.