From the age of 17 I have been running to keep healthy. It is normal for me to do, on average, four miles a day five times a week. It is also normal for me to do zero miles a day seven times a week. My mileage has always been a direct reflection of both my work status and the weather. If I am home and it is nice, I'll head out for a jog.
At my peak performance, I could routinely complete 13-mile jogs at a pretty good clip, always on my way to that half-marathon goal. I have, however, never actually entered a half marathon. I have not run a race since 7th-grade track and field when I would be physically sick every time I stepped up to the start line. But training like a racer is a great motivator for me even if I never pin a number to my running shirt.
Currently, my fake-half-marathon training is being replaced by long walks pushing a stroller to get my baby to sleep, short sprints to catch my two-year-old as she breaks free of my hand in a busy parking lot, and scrambles over playground equipment to maintain relevance with my four-year-old. It's been months since I stepped into my running shoes. But lately it feels like everyone around me is talking about the Lake Whatcom Triathlon, which is being held for the first time this year, and I was inspired. Plus, I am always home now. And the weather is starting to improve. So I started running again a few days ago.
Ouch. I only got halfway into what was meant to be a relaxed mile jog followed by a brisk mile walk home. I am not at peak performance. I am also nowhere near 17. I am 37. I think my training is going to be a little different these days and I wonder if there are ways I could be more careful with and kind to my body.
Who better to talk to about protecting your body during training than an avid swimmer/cyclist/runner? I called up Marc Blake, the lead organizer of the Lake Whatcom Triathlon, which he was motivated to start due to the popularity of the Lake Padden Triathlon, the absence of any Olympic-distance event of its kind in our area and, mostly, his love of organizing a community. I think we can all agree that a guy who spends time not only competing in, but organizing Olympic-distance triathlons is an accomplished athlete.
So I asked Marc what he does to keep his body safe and strong for intense training and competing. Turns out, he's also self-deprecating. "I'm an older athlete now and recovery is important to be able to train for the next event," he tells me. In addition to plenty of rest, he explains that most competitors will seek out recuperative therapies. Many of Whatcom County's athletic set turn to restorative therapies at Still Life Massage and Float to aid in race recuperation.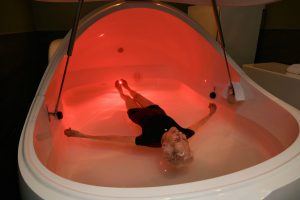 A sponsor of the Lake Whatcom Triathlon, Still Life's owners Shannon and Tim Fuller are fully rooted to the community's wellness. Their livelihood is inextricably linked to the physical activity of our community. They want to help you exercise healthier, longer and with confidence. Whether you need simple relaxation, a meditative float or a vigorous massage to aid injury treatment, Still Life has the highly trained, skilled staff to help you. "We are 90 percent medical massage," Shannon tells me.
This is the draw for an athlete like Nick Kelly, a competitive paddler, who frequents the clinic as a "pre and post-race thing." He tells me that often after a race it can feel like he's been beaten up—there are just so many parts at work. For Nick, Still Life "speeds the healing."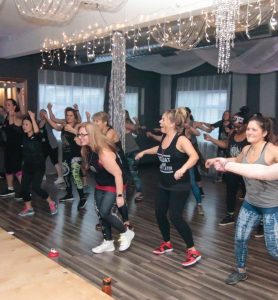 But Shannon and Tim want to be clear about something. Still Life Massage and Float is not only for triathletes and marathoners recuperating from an event. They help people like me too. Shannon is quick to tell me that many of her clients come from the popular Love to Move Studioz, which offers Zumba, yoga, Pound, belly dancing and personal training to teens and septuagenarians alike. "We work them out and they relax them," says owner and personal trainer Alicia Kennemer, who is a regular for both massage and float treatment at Still Life. There is a reciprocity from these area businesses. They fuel each other. And their missions are remarkably similar — "To work our bodies in an intuitive and focused way," as Alicia puts it.
And as this "older athlete" sees it, there is no excuse for not lacing up those running shoes today. A little discomfort in the name of health and wellbeing can easily be fixed with a restorative session at Still Life.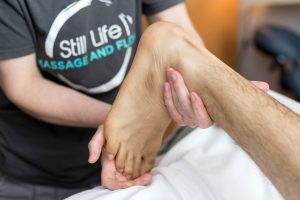 Still Life Massage and Float
19 Bellwether Way #101
Bellingham
stilllifemassage.com
Sponsored