Ask little 4-year old Ava about her favorite part of the Haggen Family 4th of July Celebration and she squints her big blue eyes, scrunches her little nose and belts out a loud, "mooooo!" Her mom laughs and explains that Ava was fascinated by the miniature cow at the Haggen booth at last year's festival.  "July 4th is traditionally a community celebration and we wanted Ava to be exposed to community celebrations at a young age.  And you can see that it made an impression," said her mother with a proud smile.
The Bellingham community is once again gearing up for the annual 4th of July celebration, which has been a staple for nearly thirty years. This annual event features a 3×3 basketball tournament, festival, children's games, live music, a beer garden and fireworks thanks to a partnership between The Bellingham/Whatcom Chamber of Commerce, Haggen Northwest Fresh and the Port of Bellingham.
Zuanich Point Park at Squalicum Harbor in Bellingham is the hot spot for fun activities starting at 11:00 a.m. on the 4th of July. The event begins with the Haggen Hoop It Up 3 x 3 basketball tournament.  Anyone 8 years old and older can compete. The entry fee ranges from $100 – $140 depending on age and talent level.  Anyone interested in signing up can do so at haggen.com/hoopitup.
"We're really excited to announce that we've added a Special Olympics division to Hoop It Up this year," said Shelli Jones, Marketing Coordinator for the Bellingham/Whatcom Chamber of Commerce. "It's our goal to make the tournament accessible for anyone who wants to participate."
From 11:00 a.m. – 5:00 p.m., there will be Olde Time Games for kids including potato sack races and Hula Hoop races. Kids of all ages will enjoy these timeless games.
Starting at 11:00 a.m. – 10:00 p.m., there will be vendor booths and food trucks including Delicious Mischief, Street Dogz, Jeckyl & Hyde BBQ and Ale House, Excellent Kettle Corn, Reeds Reindeer Dogz, Lindsay's Crazy for Kettle Corn and so much more!  "There's more food choices than one person can eat!" Jones said.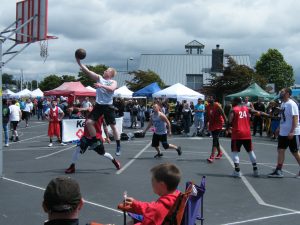 The live music program will include the great sounds of the Bellingham Youth Band at 12:30 p.m., the Chris Eger band at 2:30 p.m., Baby Cakes at 5:30 p.m., and the 133D Army National Guard Band "Full Metal Racket Rock Band" at 8:30 p.m.
For those looking for an adult beverage, the Boundary Bay Brewery beer garden opens at 2:00 p.m. in the Squalicum Boathouse.
Attendees are encouraged to walk, bike or use the free passenger shuttles that will be available from 1:00 p.m. to 11:00 p.m. Bellingham High School is the Bellair Charters shuttle pick-up with the drop-off at the CityMac parking lot by the entrance to Squalicum Harbor. You can then walk over to the event using the pedestrian path.
The event closes with the anticipated fireworks show scheduled to begin around 10:30 p.m. Featuring Port Gardner/Wolverine West Fireworks and Head Pyrotechnician John Fisher for the 27th straight year, the fireworks will be another amazing display of dynamic color and showmanship.
"Stop by and bring your family for a day of fun, food and fireworks." Jones encouraged.
See you at Zuanich Point Park at Squalicum Harbor for the annual Haggen Family 4th of July Celebration!
Sponsored