I have long considered myself ecologically minded. I have also considered myself frugal. And from childhood, I have been urged by my parents to buy American whenever possible. This makes shopping for pretty much anything an affair wrought with indecision, consideration and, often, guilt. I am not a "one-click" shopper.
My husband is the same way. We make decisions over the long term and carefully weigh our options. It took us years of actively searching to find our property, two years to build "the house we will live in while we build a house" and it'll likely be a few more years before we even break ground on the main living quarters. I do not regret my decisions. Because of them we have found our own personal paradise.
Nearly every time visitors first see our property and its 180-degree southerly views, they quip, "You should really think about going solar."
Finally, after five years of quips, the decision process begins and I have found myself digging into the notion of "going solar."
Solar power is a renewable energy source, which speaks to the part of me that leans "eco." The sun is a constant, boundless source of energy. And the use of this energy can lessen our dependence on and help abate the pollution caused by burning finite fossil fuels. I'm in.
Another, perhaps more broadly attractive, aspect of solar energy is that sunlight is free. We do not need to buy it from another nation and transport it to our own. We do not need to mine, dig or drill for it. According to the U.S. Department of Energy's Website energy.gov, "173,000 Terawatts of solar energy strikes the earth continuously. That's more than 10,000 times the world's energy use." It is there for the taking, we just need to harness it—which is not free. And this is usually where I get hung up. The upfront costs of harvesting solar energy can soar.
For a little perspective I spoke with Markus Virta at Western Solar, a Bellingham solar installer. He explained that while the upfront cost of getting your home fully solarized can reach $20k, the payback far surpasses that. "You're tripling your money over the lifetime of the panels," he explains. "This is the cheapest deployable energy technology in the world right now. There is no technology out there that can get electrons to the grid cheaper than solar."
So I do some simple math. My typical monthly electric bill is $150. That's $1,200 per year, $24,000 over 20 years. So, the panels will pay for themselves in 20 years from electricity savings alone. But let's not forget the incentives. Include the federal Solar Investment Tax Credit, the Washington State Production Incentive and local incentives from your area's energy supplier and you're looking at earning your money back in an average of 7 years. Sounds good to me.
Like many people, I thought solar panels, or modules as they are called in the industry, were made somewhere far, far away and shipped on a giant freighter. And, in some cases, they are. But not for us. We can buy local. And this would make my parents proud. Not only can I buy an American-made product, but I can buy a Washington-made product to help run my Washington home. Itek Energy is a solar photovoltaic (PV) module manufacturer located in Bellingham. Since beginning production in 2012, Itek has shipped enough clean, renewable energy to power over 4,000 homes.
"I still talk to people that are pretty surprised that we have one of the few domestic solar [module] manufacturers right here in Whatcom County," says Dana Hickenbottom of Itek. Dana is a technical support engineer and sales professional for Itek and he clearly knows what he's talking about when it comes to harnessing sunlight. But what I am most struck by is not the particulars of the groundbreaking engineering of the modules or even their cost effectiveness. What I am struck by is that Dana is proud of his company. Proud of making something in and for a community. Proud of creating living-wage jobs across the spectrum for all walks of life within our working community and helping to train the next generations that will propel the industry forward.
Dana explains that Itek has worked closely with Bellingham Technical College by creating a clean technology program which uses hands-on education to ready students for jobs in the renewable energy sector. "We see it as an investment in our future because now, not only are we hiring locally but we are educating locally, educating a future workforce," says Dana. And with more and more people looking to solarize their homes and businesses, there is more demand for modules, thus more jobs at Itek and its vast supply chain.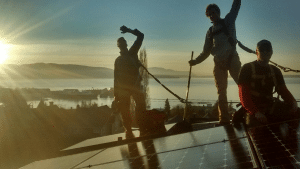 Solar power is a job generator. Whatcom County is ranked fourth in the state for jobs, while Washington is ranked 18th for number of solar jobs nationwide, according to the Solar Foundation's annual solar census. Nationally there was a nearly 25 percent increase from 2015-16 in solar jobs.
Statistics can be easy to gloss over so, in short, you can go to school in Bellingham to train in solar energy technology and land a good-paying job in Bellingham when you're finished.
And while it is very important to Itek to keep solar local, I would be remiss if I didn't point out that Itek is a growing company. Dana notes that, "The majority of the market up to this point has been in Washington state, but we've got sales crews in Oregon and California." Itek has shipped modules as far as New York State. They hope to keep growing and broadening their market while maintaining their community-first commitment to Washington and Whatcom County.
As a potential customer, I am most impressed by the social ramifications of my decision. I can solarize my home using a local installer like Western Solar, who uses panels made by a local company like Itek that employs highly-skilled people trained by a local college. I will be powering my home with clean energy and enjoying a clean conscience as a real contributor to my community.
So my decision is made. It's time to go solar.
Sponsored