Writing has been my preferred form of expression since childhood. I remember learning the word "livid" in the first grade after our classroom was vandalized with supplies from the neighboring art room. I felt the weight of that word as I wrote a scathing letter to the high schooler who admitted to squirting red paint on Matt Trombley's shoes and heartlessly destroying reams of construction paper. This was the first time I used writing as therapy, as consolation, as power.
I've been writing diligently ever since, whether term papers, letters to my grandmother, emails to my mom, articles for this publication or streams of consciousness in my personal journal. I had a professor once tell me that a "real" writer wakes up in the morning and the first thing she thinks about is writing. That's not me. Never has been. But I'm still a real writer. And if you're reading this, you probably are too.
If you would like to enhance your skills, meet other writers, get some professional advice or simply surround yourself with all things literary, think very seriously about attending the Chuckanut Writers Conference, which is back for its 7th year. The event will be held June 23-24 at Whatcom Community College's Syre Center.
This collaboration between Whatcom Community College and Village Books continues its mission to inspire writers of all levels and genres. Paul Hanson, co-owner of Village Books, refers to the event as a, "craft-centered conference," intended, "for writers to come out of their caves and make connections." In addition to workshopping with peers, participants will benefit from the advice of an impressive lineup of established writers including Washington State Poet Laureate, Tod Marshall, and New York Times best-selling author, Jonathan Evison.
According to Hanson, what started as an extension of Whatcom Community College's continuing education program has become, "very much a Bellingham entity." The entire Bellingham community gets involved in hosting this popular, yearly mainstay from the resident students and authors directly involved in the literary details to the restaurants and hotels providing support for guests in town for the event.
There are several aspects of the conference, both expected and unexpected, that attract writers. "What initially draws people to the conference is [a chance] to hone their craft," says Hanson. But while the focus is, "to get some tools for their toolbox," as he puts it, attendees have much more to gain.
Perhaps most exciting is the access to the conference instructors. "The faculty are right there with everybody," Hanson explains. This inclusive, comfortable atmosphere is a point of pride for Hanson and the other conference organizers, which they believe allows for the possibility of "magical connections." You may find yourself eating lunch next to an author you have long admired. An introduction may turn into a chat, then perhaps even a conversation. Maybe you'll get some stellar advice or an idea will hit you. Magic.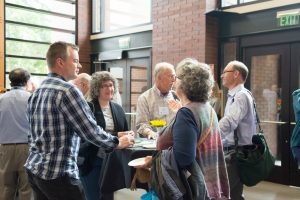 Each day of the conference will offer plenary sessions followed by concentrated breakout sessions. The renowned faculty has devised myriad topics to pick and choose from. Jonathan Evison will discuss Elements of Plot and Kathleen Dean Moore will explore Moral Dilemmas as Narrative. You may want guidance on a daily writing routine with Susan Colleen Brown or how to involve social media in your craft with Ijeoma Oluo. These are just a few examples of the vast agenda. There really is something for everyone.
In addition to sharpening poetry and prose skills, writers will have an opportunity to pitch ideas to literary agents. Agents on hand include Sean Fletcher (Andrea Hurst and Associates) and Andy Ross (Andy Ross Literary Agency) who will provide insight into what genres they look for and help familiarize writers with the pitch process. The first breakout session of the conference will also include an Agent and Marketing Panel Discussion and Q&A featuring agents, an editor and a marketing consultant. If you know you want to pitch, be forewarned—you must sign up for pitch sessions before June 15. And be prepared. You will have only one shot per agent, time allowing.
Preconference events will begin the afternoon of Thursday, June 22 with comprehensive Master Classes featuring Priscilla Long and Tod Marshall and will extend into the evening with a special Chuckanut Radio Hour featuring conference faculty alumna Claire Dederer, author of the recently released "Love and Trouble." Friday, the first official day of the conference, will culminate with a reception, faculty reading and book signing. And the entire conference weekend will end with open mic opportunities at various Fairhaven locations Saturday evening.
Bring your finished pieces and rough drafts, ideas and an open mind. All writers are welcome.
For more information and to register for the Chuckanut Writers Conference please visit www.chuckanutwritersconference.com.
Chuckanut Writers Conference
June 22*-24, 2017 (Preconference Events on June 22)
www.chuckanutwritersconference.com
Sponsored