The Holiday Inn & Suites-Bellingham is the area's newest full service hotel. Just a stone's throw away from the Bellingham International Airport terminal, hotel guests could easily walk to catch their flight. And because the Holiday Inn brand promises to champion the joy of travel for everyone, the new hotel has been developed to create a guest experience that is comfortable for anyone.
"We offer a smorgasbord of room types," shared Director of Sales & Marketing, Randi Axelsson. Some rooms can sleep up to six with clever convertible sofas with trundle beds, perfect for families or getaways with groups of friends. Finally, plenty of comfortable sleeping space for everyone. "And you don't have to get connecting rooms," shared Sales & Catering Manager, MegAnne Offredi.
Nestled between Interstate 5 and the Bellingham International Airport you might think that the hotel would be noisy but you'd be mistaken. "I can't believe how quiet it is," said Axelsson. "You don't hear the highway at all."
"I haven't even heard an airplane once," added Offredi. And she's right – while I visited I didn't hear a single takeoff or landing.
Business travelers will delight in well-appointed rooms with plenty of space for sleeping and working. Separate seating areas allow guests to keep their sleeping area separate if they want to host a meeting in their room. "Every room has technology incorporated," said Offredi. No matter the configuration, each room has at least five dedicated points of power for all of your device charging needs. Back-lit vanities in every room help travelers make sure they look their best without the harsh light.
Every room offers a mini fridge and microwave, while some have kitchenettes that allow guests to eat-in to save on costs or meet specific dietary needs. Desks, dressers and other small furniture pieces are on wheels, allowing guests to customize the room to their own needs. "This modular furniture really allows guests to make the room their own," said Axelsson.
The modular furniture and technological features make the space efficient and convenient, but the hotel's commitment to relaxed design makes sure the space is comfortable and relaxing.
"Our rooms bring the outdoors in," shared Axelsson. Earth elements abound, making each space in the hotel reflect the best of the region's natural splendor from northwater's water features to the warm fireplace in the lobby.
Plus there's a suite on every floor perfect for romantic getaways or peaceful, solo retreats. The northwater suite on the 4th floor is particularly sumptuous, complete with a roomy jetted bathtub and glass marble fireplace. The 1,000 square foot fitness center, steam room, sauna and accessible indoor spa & heated mineral pool mean year-round recreation regardless of the weather.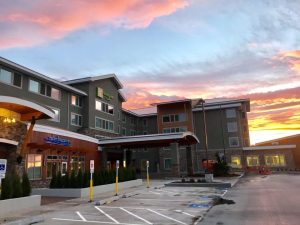 With 153 guest rooms and more than 7,500 square feet of meeting space, guests of all types are sure to get their needs met at Holiday Inn & Suites-Bellingham. "We have a room for you," said Offredi.
The Holiday Inn & Suites-Bellingham is located at 4260 Mitchell Way in Bellingham, conveniently located just a step away from the Bellingham International Airport terminal. Reservations can be made now on their website or by calling 360-746-6844.
Sponsored