If you know someone looking for prime office space, Regus is offering a wonderful gift of gratitude for your referral. "Our referral program is a great way for people to earn money while they're also helping to grow business," shared Regus Barkley Village's Mike Roe.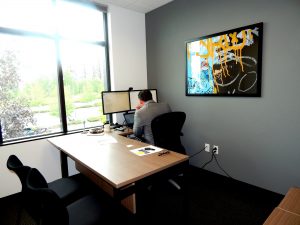 That growth could be symbiotic. Not only is Regus' high-end, all inclusive office space an investment in social collateral, a $500 American Express gift card is a nice reward for the word of mouth networking most businesses do already – both to survive in Bellingham's interconnected market and to flourish into the long term.
Many new, local and virtual office clients are signing up. Regus recently had a client appreciation day where they hosted lunch for their entire Bellingham client base. They also gathered everyone at their center for a meet and greet. Roe recounted, "It's nice because Regus is very community driven and very much about knowing each other and having our clients interacting on a semi-regular basis throughout the center." Regus' clients help each other, while Regus facilitates those continued interactions through gatherings, special offerings and programs.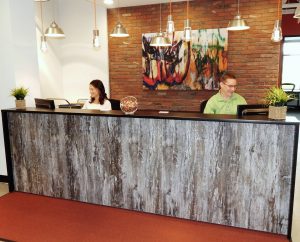 Anybody can benefit from the referral program, not just Regus members. And for facilitating one signed twelve-month office agreement, a person becomes part of Regus' greater business culture. One of Regus' side programs also pays commissions to real estate brokers, however, any person can qualify for this specific limited time offer. "Anybody, even without a real estate license, can still earn up to $500," Roe explained. "Not only does Regus work with local real estate agents to utilize our center but also anybody out there who knows someone that can benefit from renting office space from us."
Mike Roe has recently been promoted to Area Manager of Regus' Barkley Village Bellingham location. "I'm now in charge of signing new clients, doing tours and launching new programs," Roe said.
He will continue to be the Community Manager but in this "hybrid role" Roe will be wearing more hats while interfacing with Regus clientele. "Being that I'm from Bellingham and Bellingham is a unique market in itself, they [Regus' management] feel it's good to have someone local who knows local agents and businesses and can represent Bellingham."
To explore the Regus location and receive a tour, call or stop by and talk to Mike Roe. "Anyone can come for a tour and I'll show them all the amenities," Roe said.  And if you want to try out a fully furnished office space for a day, there's another tantalizing reason to stop by Regus' Bellingham offices this month. A free test drive gives local businesses and entrepreneurs a peek into Regus' benefits and the overall experience of working in a convenient location with all the bells and whistles of a professionally managed office.  "If someone wants to come see what Regus is all about and come try out an office for the day, I'll offer a free test drive of any of our single-station, day offices for any one individual," Roe said. Use the facilities for the day and see how Regus provides all the comforts of a home away from home office.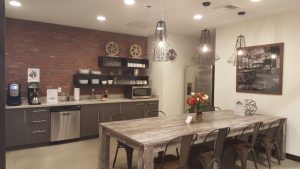 Regus offers many levels of business service. A free Business World Blue Account gives access to day office rentals. "If someone wanted to come in and use our offices for a day, we would sign them up for a Business World Blue Account which basically gives them access to renting day offices. Normally, with the World Business Blue Account, a day office would run $25 an hour or approximately $100 a day," Roe elaborated. For a limited time, however, test-driving the office is free for the entire day.
Saving $100 and the chance to make $500 per referral are a few of the ways Regus is coinciding their special offers with their June 1 Barkley Village Open House and Ribbon Cutting Ceremony. According to Roe, "The Bellingham Chamber of Commerce and Barkley Village are doing a ribbon cutting for the building we reside in and renaming it the Jim Talbot Building."
There's a lot to see and do and much to be celebrated in Barkley Village.  You can send someone in the right direction for launching their business success. Or you can simply hang out with other cool entrepreneurs in a purely pleasing and altogether unique business environment. So stop by and experience Regus for yourself today.
Sponsored