Submitted by BP Cherry Point Refinery
Welding students and enthusiasts from across the northwest and beyond gather each spring at Bellingham Technical College (BTC) to transform scrap metal into art masterpieces at the popular Welding Rodeo Sculpture Competition and Skills Challenge. This year's event will be Saturday, May 20 with amateur, professional and artist welders creating around a common theme – the Salish Sea.
BP has been title sponsor of the Welding Rodeo since its inception in 2002 and this year BP has donated nearly 10 tons of scrap metal to the event.
"BP supports BTC and the welding program because their success is important to our success. It's wonderful to have a strong foundation for welding and other trade skill development in our own community," said Pam Brady, Associate Director of Government and Public Affairs at BP and a member of the BTC Foundation Board of Directors.
BP is a proud supporter of BTC and their partnership extends beyond the upcoming BTC Welding Rodeo. Since 2004, BP Cherry Point Refinery has donated more than $275,000 to BTC. BP has two endowed scholarships established which annually provide more than $6,500 in student scholarships.
"Here at BTC, BP Cherry Point Refinery has made it possible for countless students to attend college, upgrade their workforce skills and obtain jobs, all of which contribute to a healthy economy and vibrant community," said Dean Fulton, Executive Director of the BTC Foundation.
In addition to annual sponsorships and scholarships, BP Cherry Point Refinery donates items that directly benefit various programs, including scrap metal, program equipment, and specialized clothing.
BP has a direct interest in joining forces with BTC to educate and train future workers for jobs needed at the refinery including Process Technology, Instrumentation and Control Technology, Electronics, Electro-Mechanical Technology, Welding, and Engineering. "As a former BTC student, I'm proud to be able to give back to the institution that trained me to be part of the workforce," said Tim Mark, General Shop Foreman BP Cherry Point Maintenance Department.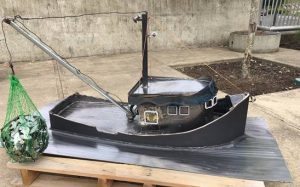 BP Cherry Point Refinery has also played a significant role in helping BTC obtain a state-wide designated Center of Excellence in Advanced Manufacturing.
"The fact is that countless lives have been changed for the better, critical jobs have been filled, and the local economy has benefitted tremendously because of the generous support of BP Cherry Point," said Fulton.
The public is invited to join and watch the sparks fly at the May 20 Welding Rodeo as each team designs and fabricates a sculpture in eight hours. The winners of the competition will receive cash prizes and then the welded art pieces will be auctioned at 4:45 p.m., giving spectators a chance to bid on unique art for their home or garden. Auction proceeds will provide scholarships for BTC welding students.