Luke Burbank wears a lot of imaginary hats. A panelist for 10 years on National Public Radio's Chicago-based "Wait, Wait…Don't Tell Me!" news quiz show, Burbank also hosts Portland, Oregon's "Live Wire Radio." Maybe you've heard of a little television program called "CBS Sunday Morning"? He's a correspondent there, as well.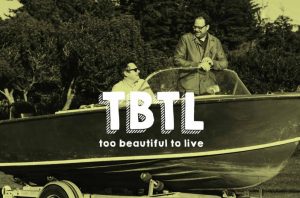 But the hat worn most frequently is for his "imaginary" radio show, "Too Beautiful to Live"—aka TBTL—a podcast beamed each weekday from the Burbank Springs Broadcast Center perched atop Alabama Hill, right here in Bellingham. It boasts hundreds of thousands of listeners from all over the United States.
Originating on Seattle's KIRO Radio in early 2008, TBTL had a unique sensibility, undoubtedly on the weird side for the somewhat staid station. The program ran weeknights from 7:00 p.m. to 10:00 p.m.
Intended to pull a younger local audience to KIRO, TBTL's over-the-air ratings failed to rise, so it wasn't a surprise when it got the boot in September of 2009.
"In the back of my mind, I always thought, 'We'll probably get fired from being a radio show, but I bet we can make this work as a podcast,'" says Burbank.
He was right.
The program garnered a solid following through daily downloads, so Burbank and original co-host Jen Andrews took it to the podcast masses. Andrews would eventually leave the show, replaced by Andrew Walsh, a TBTL listener with a production background in public radio.
No topic is off limits for Burbank and Walsh—who joins the show from his Seattle home and handles all the back-end production. They cover everything from their daily lives to pop culture, current events to Seattle sports, in a witty, fast-paced, self-deprecating manner that's deeply endeared them to their fans. The show is now part of American Public Media's Podcast Network.
More than 2,300 episodes in, the show's "tens of listeners"—fans, dubbed "The Tens"—are a loyal bunch, traveling far and wide to see occasional live shows and donate to annual TBTL-a-thons, which keep the program afloat.
Burbank keeps plenty busy traveling to Chicago, Portland and other cities nearly every week for "Wait, Wait…Don't Tell Me!" or "Live Wire Radio." He also ping-pongs across the country for "CBS Sunday Morning" assignments.
I recently sat down with Burbank at the Cabin, where we shared a couple drinks and talked a mile a minute while the jukebox spit out some of our old college radio favorites.
I began by asking Burbank about his experience on "Wait, Wait…Don't Tell Me!" which—if my Facebook friends' enthusiastic responses to the news I'd be interviewing him is any indication—is what he's best known for.
"The experience is: You walk onstage, see 400 people who realize you're not Paula Poundstone, or Peter [Sagal], or Bill [Kurtis] and then they're sad," he deadpans.
He downplays his celebrity but the last time he was at the Cabin, a listener recognized him sitting at the bar.
"I was talking to the owner about the jukebox and this guy pops a squat next to us," his tale begins. "He says this very bold statement, 'CDs are so much better than vinyl. The sound is better.' And I'm just horrified. The owner, a former audio engineer, is horrified. The guy was right on the edge of getting belligerent. Not belligerent, but on the spectrum. Then he looks right at me and goes, 'Are you Luke Burbank? I'm a TBTL Ten.' He was so excited."
Burbank laughs at the memory.
"It ended fine but the tension was ever-so-slightly building and I was ready for us to move on—and by move on, I mean I was ready to drink my drink and stare forward," he continues. "I almost had a moment of getting a bit brusque. I'm glad I didn't because he turned out to be, other than you, the only person in Bellingham who's aware of my show."
Burbank was born in Northern California on a religious commune and grew up in Seattle, the oldest of seven children. During his junior year of high school, he and his girlfriend found out they were expecting.
"It was time," he jokes. "You just get to a point where you've done the whole junior year thing, and you're ready for parenthood." (Watch Burbank's "CBS Sunday Morning" commentary about his experience here.)
Another big thing happened around the same time: Luke's evangelical Christian high school shut down.
"I think the two things were unrelated?" he jokes. He transferred to Seattle's Nathan Hale High School. His daughter, Adelaide, was born February of his senior year.
"My daughter was born at Northwest Hospital," he remembers. "I held her, was really freaked out and then I had to go to school because I had a Spanish test." He'd told no one at school about the impending arrival. "I already felt like a weird, new kid. 'Hey! Sidenote: I'm going to be a dad soon.'"
But Burbank met a classmate years later who said, "You were the guy with the secret baby, right?"
"So, I guess that wasn't super under wraps after all," he says.
East Coast colleges appealed to Burbank but his parental responsibilities steered him to the University of Washington. (He and Adelaide's mother never married.)
Burbank ran through an array of part-time jobs during college, including a work-study stint at public radio station KUOW.
"I weaseled my way into different jobs there where I got closer and closer to talking on the microphone," he says. He also worked as a traffic reporter, juggling calls from 10 different stations at once. "It was like boot camp for talking on the radio, doing it in different formats and having to think incredibly fast on your feet."
After college he worked on conservative talk radio, then as a producer on KUOW, before moving to Los Angeles for a spell as a booker for NPR's "Day to Day."
His lucky break came a year later when he landed a coveted three-month NPR reporting internship that sent him to Washington D.C. with side work at WNYC.
NPR, looking to create a "Morning Edition" for the younger crowd, asked Burbank to help launch the Bryant Park Project, which he co-hosted with Alison Stewart.
While working on the show's pilot for several months, Burbank was sent by NPR to guest host "Wait, Wait…Don't Tell Me!" and eventually became a panelist. His "CBS Sunday Morning" gig came thanks to a suggestion from fellow "Wait, Wait…Don't Tell Me!" regular, Mo Rocca.
His time at the Bryant Park Project was short; Burbank didn't feel like a good fit for the show and New York City was too far away from his daughter. He returned to Seattle, jobless.
"This is going to sound like gloating, because it is," Burbank says, taking a sip of his vodka soda. "The Bryant Park Project, which had a budget in the millions of dollars, died after six months. TBTL, which had a budget of hundreds of dollars, celebrates its 10th anniversary this year."
TBTL came about when Burbank's longtime friend Jen Andrews learned KIRO was looking for a new nightly show, something different. The duo pitched what would become TBTL.
"We had a week to put it together," Burbank says, "and we didn't want to do any of the normal talk radio topics."
The name's origin?
"We were like, 'This could be too beautiful to live,'" he says. "This could be the Arrested Development of radio and get cancelled because it's too good."
The show lasted less than two years.
Burbank would return to KIRO a year later for "The Ross and Burbank Show," followed by "The Luke Burbank Show," while he continued TBTL in podcast format. He chose to move on from KIRO in 2013.
No longer tied down by a daily radio show in Seattle, Burbank and his wife, Carey, moved to Port Townsend—a city they loved and visited often. Burbank could fly off to his regular gigs, which now included hosting "Live Wire Radio" in Portland.
But Port Townsend proved a smidge too sleepy for the couple. Carey is a Western Washington University grad with family in the area, and the couple felt a tug north. They moved here in late 2015 and have fallen hard for Bellingham.
Adelaide is a senior at Western Washington University, where she also reads the news on student radio station KUGS. "She's really good at it," Burbank says, beaming. "I'm so proud of her."
Burbank and his wife bought a mid-century modern home, which they're remodeling. "I love it," he gushes. "I'm never leaving that place."
He and Carey have also found several favorite restaurants, including Rock and Rye, The Fork, Ciao Thyme and Hundred North.
"I am the biggest fan of Bellingham," Burbank says. "It just feels like there's an influx of creative people here. If it's up to me, I'm never living anywhere else."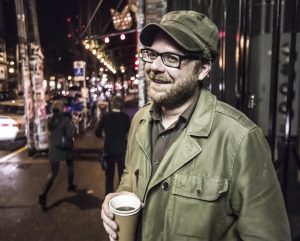 TBTL continues to trundle along thanks to its loyal listeners. Burbank and Walsh will drive a 30-foot RV from Everett to Austin in June, podcasting along the way as part of their annual TBTL-a-thon and culminating in a live show. Tens will travel from across the United States to join them.
Burbank can visualize a future of not juggling flights and hotel rooms and radio jobs, but he can't quite see letting go of TBTL.
"For a lot of people who like the show, it's a really big part of their day," he says. "And not to be grandiose, but I think it would be a really big bummer for them if it went away."
And so, Burbank and Walsh shall continue podcasting five days a week, leaving their trail of twisted tales, odd observations and funny audio drops for as long as their audience will have (and support) them.
"Here we are, 10 years later," he says. "I'm constantly amazed that people listen to it."
And sure, he'd like to travel a little bit less because, he says, it's so much fun when he's home. But the convenience of the Bellingham airport takes the sting out of his treks.
"I always fly out of Bellingham," he says. "I actually think it's faster to fly to Seattle and be inside of security."
Burbank chooses his seat purposefully on his frequent flights in and out of Bellingham, promising the best vantage point of the place he now calls home.
"When I fly in, I always make sure I sit on the right side of the plane, so I can see," he says. "I love it when that little prop plane enters Bellingham airspace and I look over and see Edgemoor, and Alabama Hill, and Lake Whatcom is all twinkling. I'm always like, 'Yeah, I'm home. This is awesome.'"
Main photo credit: ©Jennie Baker for "Live Wire Radio."