Whether it's a first date, double date, just-friends date or a weekly date night, everybody wants to have a good time when they go out. Unfortunately, dating can be expensive. And while it's fine to splurge every once in a while, it isn't necessary to have a unique and fun experience – especially in this area, with raw natural beauty, weird and quirky places and a variety of local, budget-friendly eateries and bars. So buckle your seatbelt and let's get exploring with Bargain Bellingham's Date Nights under $20.
If you really want to feel the buzz of excitement and fun in a world where $10 is almost too much to carry, then trade in your crisp bills for a bag of quarters and get ready for old-school video games. My husband and I love to head out to Reset Games' arcade. This all-ages, game-filled room has graffiti Mario on the walls and lots of bright lights. Try a new, weird game with your date, challenge them to a duel of Dance Dance Revolution or see who can survive the longest in the Pac-Man arena. If pinball is more your speed, head over to the Racket, a bar in Bellingham, and their pinball room for a great night. There is also a new arcade opening on Railroad Avenue in Bellingham.
Sometimes, the crowded areas and bright lights are really fun but my inner nerd would rather have one game in the comfort of my own living room. That's how my collection of small, cheap board games has expanded so much in such a short amount of time. Really, for $20 you could pick some fun, creative and hard (or not!) board games that could serve for multiple date nights! Dark Tower Games in Bellingham, Heroes Resource in Lynden and Wishes in Bellis Fair Mall all sell board games. Bellingham also offers Rook and Rogue, a board game pub where you can come try board games for a small fee. Instead of spending $60 on a bigger game, why not try it out here?
Movie nights are also a classic date night. During the summer, take a trip to Fairhaven on a Saturday night and watch a free movie on the grass. I like to pick up some frozen yogurt, ice cream or other snacks before grabbing a spot. If you can, rent a DVD at Film is Truth for about $3. They have everything – old classics, foreign movies and new releases. Our public libraries also offer a great variety of DVDs including TV shows. This option just requires some pre-planning to get the disc. The Pickford also offers great films and seeing a daytime matinee at Regal cinemas will save you 3-6$ off a nighttime showing.
Perhaps going out sounds more fun. Well, bars offer much more than liquor. Head to downtown Bellingham to throw darts at Uisce's Irish Pub (free), play shuffleboard at Bellingham Bar & Grill or shoot pool at The Local Public House. Check out some open-mic nights to hear some free live music, stand-up comedians or other acts that want to perform on stage. And if you are up for it, go for Karaoke or a trivia night!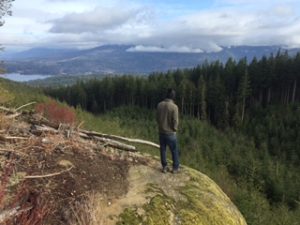 If you'd rather leave the competitive side and work together, dancing is another great option. There are $5 line dancing classes at Ferndale's Kickin' A Saloon & Dance Hall, Café Rumba offers Salsa lessons and dance nights or try general club dancing at one of the many bars in town.
Laughter is always good on a date and The Upfront Theatre knows how to get you to laugh until you cry. For $10 each, you can spend the night watching improv comedy.
Let fresh air and sunshine draw you outside. And while you're at it, pack sandwiches and go on a hike. Easy hikes include North Lake Whatcom and the Stimson Family Reserve. In Ferndale you might check out Lake Tennant. Harder hikes with beautiful views for picnicking could include Raptor Ridge, Lily and Lizard Lakes, Burnout or Stuart Mountain. There's a bonding satisfaction of completion when you reach the end of a hard trail with someone. Then you get to rest and enjoy the fruits of your labor. When the wind picks up in fall and spring, I love going to locust beach to watch the wind surfers, sitting on the sand enjoying some snacks while they fly around.

Walking tours are another great idea and the city of Bellingham has some self-guided tours around Sehome and Bellingham. Free Holly Street tours are offered by the Good Time Girls Tours, who also offer other creative and fun tours like the Gore & Lore Tour and the Sin & Gin Tour.
Rainy days might mean we need to look inside for fun- why not try something new? While these two are slightly over 20$, they are too fun to not include in this list: Vital Climbing in downtown Bellingham and Trampoline Zone on Meridian. Vital Climbing offers day passes and lets you rent shoes to try the challenging (mentally and physically) sport of bouldering. If you get in to it, once you have the shoes and a matt, outdoor climbing becomes a free and fun date as well! Trampoline zone is $12 an hour if you are taller than 46 inches. It is an absolute blast.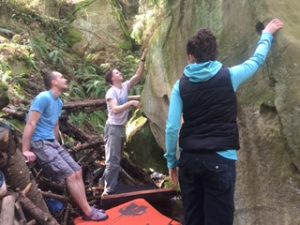 Sports equipment is easy to pick up and packs a lot of fun: soccer balls, Frisbees or footballs are all under $20 and are easy to carry and turn into fun dates. My husband and I purchased disc golf discs a few years ago and we take our discs out when we travel. There are a lot of cool parks to explore with this. Bellingham, Ferndale and Lynden each have at least one course (9 holes). These discs might put you a little over $20 but they last for multiple dates.
Finally, try out a recipe! Spend $20 on ingredients for something you've wanted to try and go for it. Over winter, I made mushroom Vietnamese sandwiches with pickled vegetables and marinated mushrooms instead of meat, with delicious artisan bread for less than $20 (and fed 5). You can work together to make creative meals, or make it ahead of time to really impress your date. Up the challenge and try to use local ingredients- meats from Bellingham's butcher shop, Carne; cheeses from one of our local dairies or fruits and vegetables from the Bellingham Farmers Market (open spring-fall, depending on the year). If you would prefer, you can also take a class. The Co-op offers classes like finding Wild Spring Greens for $10. Keep an eye on those classes. They are always new and prices vary.
So there you have it, dates for under 20$. Lots of options for great fun. Enjoy your dates!