Submitted by: Drizzle Lynden's Chef Andy
I first got in touch with Alex of Cascadia Mushrooms back in 2011. Ever since then Alex and his 'shrooms have been a vital part of my culinary journey. I remember working up the courage to ask if I could come by and take a tour of his farm and of course he graciously didn't hesitate. I remember pulling into the farm and walking into the farm, and I was just amazed at what I saw.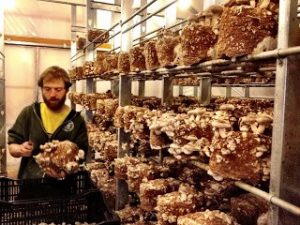 It was just astonishing to see the process of cultivating mushrooms. I'll never forget I was looking for Alex and he was in the back just cutting away, checking for the perfect mushroom at the peak of its growth before he cut them with one clean cut. It was a Chef's dream to be able to see such pride and respect to the product. He also turns the mushrooms into wonderful mushroom compost that sells out very fast, if you need some.
Over the years we have collaborated and tried to help each other out in any way, shape or form, the mentality of all his staff members are great, everyone is always so upbeat, chipper and genuinely enjoys doing what they do and for me, as a Chef, I get to reap the benefits!
When I transitioned to open Drizzle Lynden located in the Waples Building in downtown Lynden, Washington, with owners Ross & Dana Driscoll, Alex was the first farmer I knew I had to reach out to. The only downside was no one was using his mushrooms in Lynden nor was he delivering. But working around our schedules, we make it work. Alex sets aside my order each week in the cooler and I come and pick it up. It's very rewarding to go out and pick up your own product right off the farm. One – you are eliminating any disturbance to the product, i.e. sitting in a warehouse, going from truck to truck. Two – I get to connect with my farmers on a weekly basis face to face. Does it take extra time? Yes, but as a chef I wouldn't have it any other way. It allows me to offer the best product to our guests.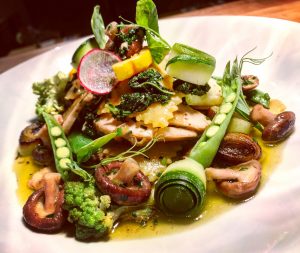 At Drizzle you may know a lot of dishes are named right after the farm the product comes from. We love to highlight our farmers. I always give credit where it is due and I always say farmers make my job easy. I just cook the food they provide me. In a nod to our friendship I actually named a dish "Alex's Mushroom Ravioli" after Alex. To this day it's one of our most popular ravioli dishes. I think it's a combination of making the fresh ravioli by hand and using the best ingredients. It incorporates David's chicken from Oak Meadows Farm, Barrett's greens from Davine Aquaponics, butter made from Larry's cream, Twin Brook Creamery. All of our dishes evolve throughout the season. Last summer Alex's mushroom ravioli had seven different farmers' products in that single dish. It was amazing.
Cascadia Mushrooms was one of my first farmers starting out in my career and it has just "spored" into an amazing friendly relationship. We appreciate all the efforts they make and are happy to be utilizing and educating our guests on the great farm they run.
-Chef Andy & the Drizzle Team