Originally from Vancouver, BC, Karen Mittet began her career working at The Royal Bank of Canada. But everything changed when her mother died two weeks after her 46th birthday. Karen was 23 years old.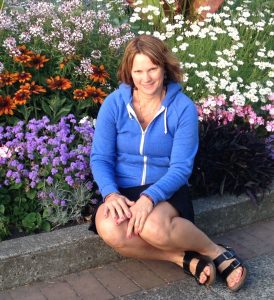 "The void I felt when my mom died was immense," she shared. "My mother was my best friend, my hero and role model. She taught me how to love, how to persevere even when life isn't going your way. She taught me how to treat everyone in society equally, that everyone is special, everyone has a story and everyone has the right to be heard and listened to."
Karen's mother also taught her the hardest lesson of all: How to die.
"She planned her funeral. She picked out her burial clothes, her casket, the songs at her funeral. She was sad to die and leave us behind but she also had a faith and knew where she was going."
More than 25 years later those lessons have inspired Karen to open Luminescence Creative Grief Support: A companioning service for individuals who are struggling with the death of someone they love.
A Journey through Grief
Karen's mother's death transformed her life. She left her job at the bank to go back to school to become an elementary school teacher. Karen taught grade one until her first son was born.   Her husband's business brought her family to Bellingham 18 years ago, where they've raised their three sons.
"I wish [my mom] didn't die, but because she died, I've become the person I am. I learned a lot from my grief. It brought me to Hospice, which led me to this work," Karen said.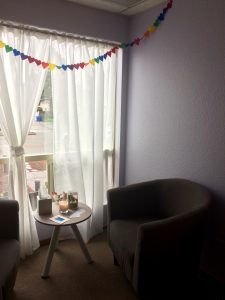 Karen remembered the nurses who helped care for her mother in the Palliative Care Unit at Vancouver General Hospital while she was battling with ovarian cancer, and she felt compelled to give back. So she began volunteering at Whatcom Hospice House six years ago. She still goes in every Friday morning to make breakfast for the patients, homemade soup and cookies for the families and nurses, however, it was her training as a grief facilitator which opened the door to leading support groups at Hospice and for Our Treehouse.
Whatcom Hospice brought her into contact with Founder and Director of the Center for Loss and Life Transition, Dr. Alan Wolfelt. Karen was introduced to his bereavement caregiver trainings when he came to Skagit County to speak to a group of funeral directors and hospice caregivers.
Dr. Wolfelt's teachings changed her view of grieving. She came to understand that when someone dies you can't go back to who you used to be because the grief changes you.
"That liminal space is between the life that you once knew and the life you are going to move forward to," she explained. "And your relationship with the deceased will never end. It will always continue. It just transforms and changes."
Karen saw an opportunity to help others through mourning at their own pace. "I felt there was a need for people to be heard in their grief away from counseling," she shared. "I'm not a counselor. As a companion, I allow the mourner to be the expert of their grief. Grief is chaotic, not linear. There are really no set stages in grief. Grief oscillates. It is a journey that involves emotional bursts when you least expect them, and that is okay."
Karen traveled to Dr. Wolfelt's Center for Loss in Fort Collins, Colorado, several times. After completing 150 hours of study, she received her Death and Grief Studies Certification. This year, Karen also certified with The Creative Grief Studios and with The Vancouver School of Narrative Therapy. In March, Karen was asked to speak on Grief Companioning at the Vancouver West End Community Centre for their End of Life Series. This coming November, she will take part in Simon Fraser University's End-of-Life Matters Expo 2017, the first event of its kind, at SFU Downtown Vancouver.
Creative Grief Support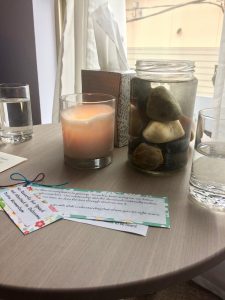 Karen doesn't offer judgement or advice, just time and space to be heard or to sit in sacred silence. Opening up about grief reveals your vulnerability, yet confronting those emotions is a way of caring for yourself.
Luminescence means "moving towards the light," and with her companioning services, Karen offers grieving individuals ways to move from darkness into light. "It's a slow and honored process," she explained.
To illustrate, she placed a jar in front of me and filled it to the top with water. The jar, she said, is your body. The water, grief.
"When someone you love dies, it feels like your grief is filled to the top, like nothing else can fit in. The traditional way of dealing with grief is to vent all your grief and then throw away the water, like all the grief is gone."
But instead of getting rid of the grief, she models another way. "You may want to start a new job," she says as she drops a stone into the water. "You may want to do yoga." Another stone.  "Perhaps you want to join a community grief group, make new friendships or explore a creative hobby." She lists a multitude of things people may want to nurture, dropping a stone into the water with each one. "As you welcome these wholehearted things into your life, you can see that the grief, or water, isn't gone. It becomes displaced. The grief becomes the connective tissue."
Karen's practice provides a safe, compassionate and understanding environment for those who are grieving to process their emotions. She helps the bereaved navigate that connective tissue in ways that work for them, while giving an ongoing voice to the loved one who has died.
"I'm open to other ways of expression," Karen said. "There's more than one way to grieve."
Reach out to Karen Mittet of Luminescence Creative Grief Support for companionship along your journey through grief by calling 360-224-6882 or emailing luminescencegrief@yahoo.com.
Sponsored