Ever wanted to feel like Indiana Jones? Well look no further than the sport of adventure racing. Although you won't be facing any dastardly foes, you will be navigating a secret wooded-course by way of mountain biking, sea kayaking and trail running.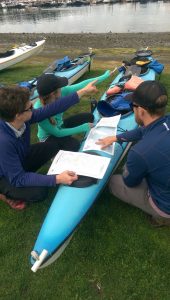 Kulshan Quest is Whatcom County's own adventure race and takes place May 13. Created by Brent Molsberry in 2014, this year will mark the third Kulshan Quest. Molsberry started Kulshan Quest a few years after he started Island Quest, an adventure race that takes place on the San Juan Islands.
A graduate of Western Washington University, Molsberry wanted to expand adventure racing to Bellingham, the place he loves so much and calls home. Molsberry said there wasn't any adventure racing in the upper Northwest part of Washington until he created Island Quest and Kulshan Quest.
"Bellingham is a spectacular area. When I design adventure race courses I want to make them specific to that area by showcasing the area's natural beauty," Molsberry said. "I really try to bring to light the recreational opportunities in the area."
Kulshan Quest has both a 12 hour and three-hour race. Molsberry said the number of participants has grown since the inception of the race, even though last year he couldn't host the race because he was in paramedic school in Seattle.
Unlike a relay race, adventure racing requires the whole team to finish together, going at one unified pace. Teams are made up of two to four members. "It really is the definition of a team sport," Molsberry said. "Team members should ideally be within 10 meters of each other for leg sections and 25 meters for biking sections." Molsberry races with his team, "Quest Racing," but because he is the course designer for Island Quest and Kulshan Quest, he cannot compete in those races with his team.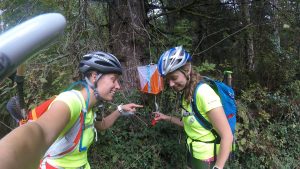 At Kulshan Quest, participating teams receive their course-specific maps 30 minutes before the race begins. The only navigational materials you can use in adventure racing are the given map, a compass and watch. Molsberry said teams start drafting strategy immediately after they receive the maps. The topographical maps Molsberry hands out show where the checkpoints are. The objective – find the checkpoints as fast as you can.
Kulshan Quest's 12-hour race will be the Pacific Northwest qualifier for the US Adventure Racing Association National Championships. The national championship this year will be taking place in Lake Harmoney, Pennsylvania on September 21-23.
Molsberry said Kulshan Quest does have prizes from their sponsors for the event's top three winning teams. But the biggest part of Kulshan Quest is placing and getting points toward your Cascadia Adventure Race Series total, he said.
The Cascadia Adventure Race Series is a series of 10 different adventure races. Teams competing in the race series earn points based on their placement in the races. At the end of the 10-month season teams choose their top five races to create their point total for the season. The top three teams at the end of the season split $3,000. First place receives $1,500, second $1,000 and third $500.
Any team that does any of the qualified races is entered into the point system, Molsberry said. And you want your team to do as many races as they can to receive the most possible points. In addition, your team gets more points if you place first in a race with more participants than if you place first in a race with less participants.
Molsberry said he wouldn't be able to host Kulshan Quest without the help of Recreation Northwest. He said Recreation Northwest helps with a high amount of logistics on the back-end, such as sponsorships, web page design and registration assistance.
Molsberry encourages anyone to sign up for Kulshan Quest, and is hoping to get people of all skill levels to participate in the race by offering both the three and 12-hour race.
He recalls his own story of how he got into the sport, "A lot of people get into adventure racing the right way, starting off with short races, but I didn't decide to do that when I started," Molsberry said with a laugh. He did the complete opposite and went right into a sponsored race in 2004, called Primal Quest. Despite his whole team being inexperienced and the race being challenging, Molsberry said he really enjoyed it and fell in love with the sport.
"The sport is eye-opening and truly pushes your limits," he said. "With adventure racing, anything goes."
Sponsored