As a parent in Whatcom County, you may have struggled to come up with birthday party ideas for your child. "Bellingham only has so many options for kid's birthday parties. There really isn't a lot," said Launching Success co-owner, Jen Zimmermann.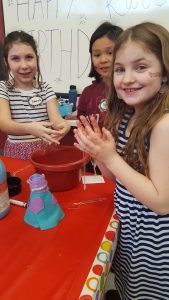 Especially in the wet months, playing at the park is not exactly an option. "Nobody wants ten mucky kids running around their house," co-owner Kristen Krumdiack added.
Jen and Kristen are joint owners of Launching Success, a toy store and educational resource for parents, teachers and children. Even if you are familiar with the business, you might be surprised to know that they also offer in-store birthday parties.
The wonderful staff at Launching Success plans activities, decorates and sets up everything needed to provide a memorable and unique party for kids in a wide age range. They offer pretty much everything but cake and refreshments. Some parties even include craft-based activities. Save your home from glue, paint and glitter and leave it to Launching Success.
When asked what kind of party themes they offer, Jen responded, "We can plan any party." She pulled out a scheduling paper for a previous party they hosted showcasing the birthday child's multiple unrelated interests. She explained that even though they get similar theme requests, it's never the same twice. "Different ages make a difference. A princess party for a 5-year-old will be different for a 10-year-old."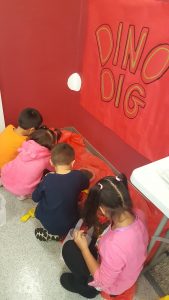 The staff at Launching Success has a lot of experience being creative and knows what has worked and what doesn't. "At first it was trial and error but we've done enough now, we know the activities and the time allotted," Kristen said, explaining that there are usually four to six activities per each hour and a half party. Some of the activities that were mentioned during my time in the store were musical chairs, scavenger hunts and an assortment of different crafts and science experiments.
I was shown the party room at the back of the store, neatly strewn with costumes and streamers from a previous party. "We decorate based on the child's favorite color," Jen said. Parties, however, are not necessarily limited to this room. "Scavenger hunts around the store are really popular," Jen said, showing me a sheet of themed images that staff cut out and paste around the building for the children to find. There is also a roll-up door that leads out into the parking lot and provides more space when the weather is nice.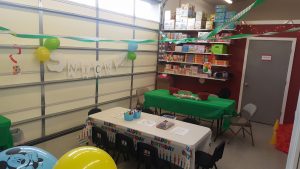 Another thing that makes Launching Success parties special is their vast assortment of party gifts and the free wrapping service they offer. "People show up early before parties to buy presents and we wrap for free," Jen said. After walking through the colorful aisles, it's obviously not just out of convenience that partygoers purchase their gifts here. There is everything from educational puzzles and science experiments to baby dolls and Legos. You can tell quality is highly important to Jen and Kristen.
"People know we have quality products and the staff is experienced," Kristen explained. The pair often employs students from Western's education program, so parents can rest assured their children are given the utmost care and that parties are well planned.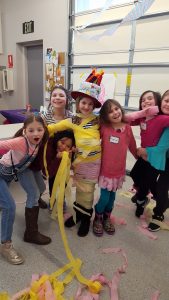 Local parent of two, Monica Guffy, is very impressed with the quality of her children's parties at Launching Success. "Absolute best place for our kids to have a birthday party," she said. "Staff takes time to customize each party for each kid. They take time to research, come up with creative ideas and customize everything to the child. I have a boy and a girl. They've done Frozen and Human Body parties- those are extremely different but perfect for our kids. The experience has been wonderful."
If you are looking to schedule a party for a child you know, make sure you book at least two weeks ahead of time to allow for planning. A month in advance will assure you get the date and time you want. Also note that children under the age of 12 can join Launching Success' birthday club! Being a part of the club means receiving a 20 percent off coupon to the store to be used during the child's birthday month and the option for the birthday girl or boy to choose an item out of the birthday bin.
For more information on scheduling parties or the Launching Success birthday club visit https://www.launchingsuccess.com/.
Launching Success also has their own blog on their website where you can read guest quotes and product reviews. Make sure you take advantage of all the helpful resources this great, local business has to offer!
Sponsored