Scratch and Peck Feeds, a local supplier of Certified Organic, Non-GMO Project Verified chicken and other animal feeds, connected with the Whatcom Humane Society almost immediately after opening their facility in Bellingham in 2010.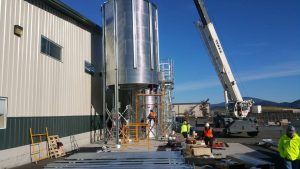 "I've always been an animal lover," says Diana Ambauen-Meade, owner and CEO of Scratch and Peck Feeds. "It made sense to help where we can."
As sponsors, the Scratch and Peck Feeds staff are often seen at community events such as the annual Whatcom Humane Society gala and the recent Four Courses with the Horses at the Humane Society's farm facility in Everson.
Ambauen-Meade describes some of the great moments she has experienced being a part of these events, not to mention the effects of wildlife rehabilitation efforts. "We've seen hawks who have been rescued and rehabilitated actually brought out and released into their natural habitat."
The involvement of Scratch and Peck Feeds with the Whatcom Humane Society doesn't stop with their participation in the events. As a part of the desire to connect with the community and to reach out, especially to the animal community, Scratch and Peck works with the Whatcom Humane Society on a variety of initiatives and projects, all to benefit the animal and wildlife rehabilitation efforts in Whatcom County.
From providing feed for the farm animals that are kept at the Humane Society's farm facility in Everson, including wildlife, to building a chicken coop for the new facility in town, the staff at Scratch and Peck is working to meet the needs of the community.
"It is so great to participate in this kind of care," Ambauen-Meade states enthusiastically about her involvement with the humane society.
The Everson farm facility sees all kinds of farm animals, some that are starving and others not receiving care or neglected. Scratch and Peck is able to provide feed and other treats to many of these animals including, "piglets all the way up to the gigantic adult pigs," says Ambauen-Meade.
Ambauen-Meade describes the great opportunity to meet the couple who act as caretakers for the Everson facility and even having the opportunity to have one of them work with Scratch and Peck Feeds for a short time.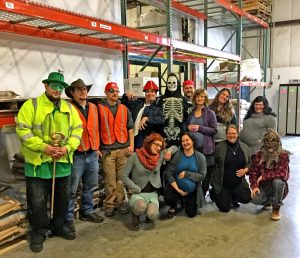 She goes on to describe working further with the Whatcom Humane Society on creating Chicken Keeping 101 classes to help people understand what they need to know about chicken care before they jump into acquiring chickens. "It's important to know what you're getting into before acting on a whim," she says.
As a result of the commitment to community and participation with the Whatcom Humane Society, Scratch and Peck Feeds was recently honored at the Human Society's annual "Woof and Whiskers" awards luncheon for, "generously supporting the domestic, wild and farm animals that are in the care of the Whatcom Humane Society." Because of the commitment to the animal community, this is recognition that Scratch and Peck Feeds was honored to receive.
"They have been supporters of the Whatcom Humane Society and the animals in our care from day one of their business," says Whatcom Humane Society Executive Director, Laura Clark. "They support our mission with in-kind donations of food and supplies as well as financial support of our programs and services. They have been life-savers in so many situations including invaluable help with our barnyard animals, especially chickens, ducks, geese and other fowl. We love and appreciate them so much."
The Woof and Whiskers luncheon was held on March 24, 2017 at the Bellingham Golf & Country Club.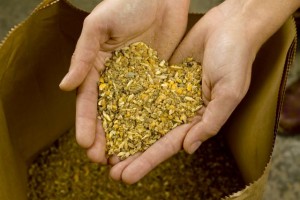 Connecting with the community and creating a positive impact is something that is very important to Scratch and Peck, along with locally sourcing their ingredients and creating quality, non-GMO verified and organic products.
Scratch and Peck Feeds recently received its B Corp certification, a business dedicated to the community, the environment and sustainability. "It's not all about the bottom line," says Ambauen-Meade of the purpose behind becoming a B-Corp.
B-Corps must meet tough standards of social and environmental performance that are certified and reviewed by a non-profit organization, B Lab.
With just over 1,600 companies in over 40 countries, Ambauen-Meade is excited to join this group of businesses dedicated to redefining what success means to for-profit businesses.
"We are so proud to be joining this growing force," Ambauen-Meade says.
While the team at Scratch and Peck Feeds continues to connect and contribute to the community in big ways, such as with the Whatcom Humane Society, they just made a significant move to a new facility in Burlington. The new mill is larger and allows for Scratch and Peck to have their own silos for grain. This move creates additional efficiencies and ease in their process to create the highest quality products.
Ambauen-Meade and her family call Bellingham home and look forward to continue to show their love of animals through the contributions of sponsorships, feed, education and labor to the Whatcom Humane Society.
Scratch and Peck Feeds continues to connect the community through collaboration and education. The values and beliefs of the company are seen in their activities, their team and their products.