When Village Books and Paper Dreams founders Chuck and Dee Robinson – who owned and operated the iconic bookstore for 36 years – decided to sell, they knew exactly where it should land: with longtime employees and managers Sarah Hutton, Paul Hanson and Kelly Evert.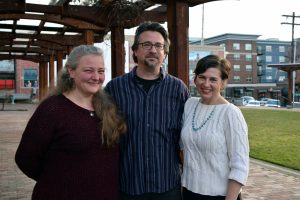 And though the new ownership team has been in place for nearly two months at the time of our conversation, it's all still feeling quite new.
"It's only just now beginning to sink in," admits Kelly, as the four of us sit in her snug office tucked at the back of Paper Dreams.
"I've spent my career in middle management," says Paul. "So the idea that there's no longer somebody else I'm passing things along to who makes the final decision? That's a big change."
All three new owners agree it's both an exciting and stressful time.
"It feels awesome – and terrifying," Sarah says with a laugh.
Sarah came to Village Books in 2005 as a bookseller and became Store Manager four years later. Paul Hanson and Kelly Evert, who are married, joined the stores in 2010; Paul originally as Community Outreach Director, and then General Manager; Kelly as Gift Buyer and Merchandise Manager. All three have extensive backgrounds in bookselling and retail.
Dee Robinson retired in 2014, more than two years before Chuck joined her. All three admit Dee's retirement was the first big step toward the changes in their roles and selling the stores.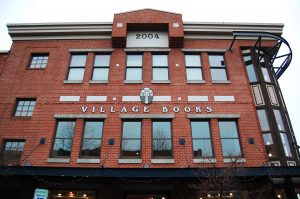 Soon after Dee retired, she and Chuck went to Asia for a month; they promoted Paul, Kelly and Sarah to join them as the store's Leadership Team shortly before their vacation. And though they didn't let on at the time, they later admitted they weren't sure what they would find when they came back.
"They wanted to see if the three of us could work well together," says Kelly.
Paul nods. "It was sink or swim."
The trio swam.
"We did some good things while they were gone," Paul continues, "and it helped us gel together even more as a team."
The three began making hiring decisions and running the store day-to-day.
"I think [the idea to sell] really started jelling after they came back from a big cruise last spring," says Sarah. "Once they were able to spend some time together traveling, they realized this is what life could be like."
"And, once again, we didn't burn the store down while they were gone," Paul interjects, and everyone laughs.
Open communication has always been key to the team working together so well.
"The three of us talk a lot," says Kelly.
"Our text stream is amazing," Sarah adds.
"And I don't feel like there's ever been a time of battling egos and authority," Paul says.
Kelly interjects. "Well, egos always come in. I've gone crying to Sarah many times," she says, as they all erupt in laughter.
"We both have," Paul jokes, and the laughs kick up louder.
"It's possible that I could be seen [from the outside] as a third wheel," says Sarah. "Here's a couple and – oh, here's Sarah. But it's not naturally just Paul and Kelly, it could be me and Paul, or me and Kelly."
Sarah explains that each combination of team members has its own dynamic and understanding and ways they work together that make each other – and subsequently all three – even stronger.
Chuck remains intermittently involved as a consultant; particularly with marketing and building bridges for the relationships he's forged in the community over the years.
"Chuck and Dee are still very much invested in and care about the success of the store," says Paul. "They're going to do everything they can to help us during this time."
Though the Robinsons used to live above the Fairhaven store, last year they moved to Lynden. Whenever Chuck is out and about, he's still doing what he does best: building relationships with the community.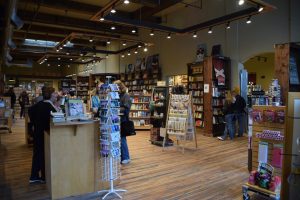 "What we do best is community building," Paul says. "It's the cornerstone of the decisions we make and our guiding principle, and we're going to continue to do that."
Making the transition from employees to managers to owners has been a dream come true in many ways, but not a path without some growing pains.
Kelly likens the experience to getting a new pair of fabulous shoes, "You really wanted them but they kind of hurt, and every so often you question why you got them. But I'll break them in and it will be all good."
The group has come up with a simple yet powerful symbol to describe their ownership group. "We're a three-legged stool," Paul says. "It's very stable – much more stable than a two-legged stool."
Many people have asked about changes now that the stores are under new ownership. Paul is quick to point out that an over-arching principle at Village Books has always been that change is not only good – but also necessary.
Village Books has always been nimble, making necessary changes to remain relevant and succeed. Paul believes it's the reason they've thrived, even when some corporate bookstores have failed.
"Change has always been the order of the day and will continue to be so, when appropriate," Paul says.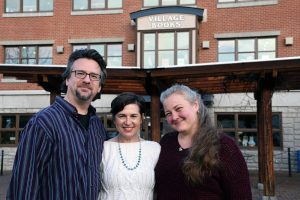 Some changes have been visible to customers, such as last year's reconfiguring of the main counter and front floor plan at the Fairhaven store, and adding cushioned chairs and a large flat-screened television to the readers' gallery.
Looking ahead, other modifications will be invisible to the customer, such as streamlining receiving and tweaking systems and operations with staff.
But coming through the doors, it will feel like the same fabulous place, whether customers are in Fairhaven or Lynden.
"And that's how it should be," Kelly says.
Chuck and Dee were with the store for 36 years. Where do the new owners see things 30 years from now?
"Well, I'll be 80!" Kelly says, laughing.
"You're pretty spry," Paul jokes.
"Our roots are here," Kelly says, getting serious. "Our families and homes are here. We're here for the duration."
"This place is such an institution for the community," says Sarah. "It's a family of staff and employees, but also a family of customers. To know that I now own a part of that is humbling."
Paul agrees and stresses that they also feel something more than just the great responsibility of owning such an iconic business.
"We very much realize our role is to take it as stewards in this time we have it and make it even better for the next generation," says Paul. "There's that sense of continuity – it's ownership, but mostly it's stewardship."