Whatcom County is one of the best places for mountain biking. With Whistler to the north, Stevens Pass to the east, and Issaquah to the south, well-loved trail systems surround us, making access to riding easy. There are myriad options for Whatcom County mountain biking trails, the main hubs being Lake Padden, Galbraith Mountain and Chuckanut.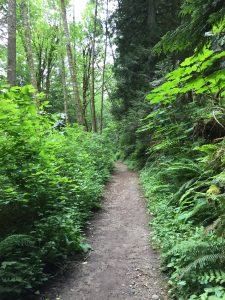 There is a pump track (a circular track with small mounds, where you use your body weight to propel yourself forward, possibly using the mounds as jumps) at Whatcom Falls and a full jump park with a small pump track at Civic Field. And, of course, riding up the mountain means surrounding yourself with ferns, tall evergreen trees, beautiful rock faces covered in moss, waterfalls, birds, squirrels, lakes and creeks. Not to mention beautiful views of the ocean, islands, mountain ranges and a tree-covered landscape.
It's not just a local lore that mountain biking here is amazing; biking enthusiasts, professional riders and even Olympic athletes have traveled here from far and wide for our trails. So, of course, within a year of moving to Whatcom County, I found myself on a bike, staring down a mountain.
Jumping on a bike and riding down a mountain sounds intimidating but with the abundance and variety of trails you can ride here, it's all about where you go. Grab a bike and sturdy shoes and hit the trails!
So there I was, unstable and inexperienced, with my helmet tightly secured and fingers hovering over the breaks. Every little twig, rock and downhill magnified before me, becoming treacherous and dangerous obstacles. "No, I'm not doing anything crazy," I thought to myself. That was when I found the beginner's dream: Lake Padden.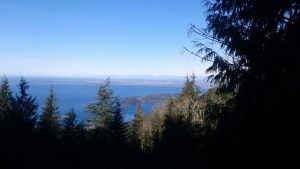 I had no idea this other trail system even existed. I'd only ever walked around the lake and picnicked at the tables. Yet there they were, two loops perfect for an introduction to trail biking.
Once I could race down a hill, take a corner confidently and keep my front tire going in a straight line, it was time to try some downhill runs at Galbraith. Entering from the South, you ride down Galbraith Lane and find yourself on Gate & Switch. Crossing the beautifully made bridge, you are now officially on the mountain.
You'll soon find yourself at one of the many kiosk and map centers, each with a unique checkpoint name. Here you can find your location, and plan your next routes.
The WMBC has a great description of how to access Galbraith on their website: "There are two main points to access Galbraith, the northside or the southside."
Northside:  "The northside accesses the mountain at Birch St. from downtown Bellingham off of Lakeway Dr. with a parking lot and on street parking or park in Whatcom Falls Park and ride to the entrance. The Miranda trail gets you onto the mountain and from there you can access a number of trails options."
Southside:  "The southside is accessed via Samish Way with a parking lot directly across the street from Galbraith Lane road. Park here or at the Lake Padden parking area near the dog park."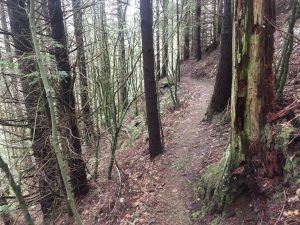 When you are just starting out, try sticking to some of the easier-ranked trails. Dog patch is a wider trail with fewer roots and rocks than most, and it crosses a stream on a beautiful bridge. Dog patch runs into Lost Giants, which you can then ride on to Mole Trap for a good beginner route. Lost Giants and Mole Trap are both out in the open, without trees to worry about hitting, and are more cross-country. If you like the cross-country trails, try Pony Express.
Pooled from a variety of local bikers, with a special thanks to the women's Joyriders club, here are some of the top trails for you to try:
All levels:
Jack and the beanstalk: A good and exhausting cross-country climb into Galbraith.
The Three Bears: Papa Bear, Mama Bear and Baby Bear are three connected trails that offer a great cross-country ride.
Intermediate:
911: With a BMX style flare, this trail is one you can take at your own pace and has plenty of stuff to play with- some table top jumps, step downs and a long skinny log ride (optional) to name a few.
Wonderland: Nestled at the top of Galbraith, this is a fun and fast ride that doesn't have the intimidating jumps of other downhill routes. Ride this to Naughty Nellie for a longer ride.
Whoopsie Woodle: One of the longer trails, this cross-country classic is on the technical side with roots and rocks but can be enjoyed by everyone.
Oriental express: Exclusive to downhill bikers, this route offers jumps and riding it fast is a great way to enjoy it.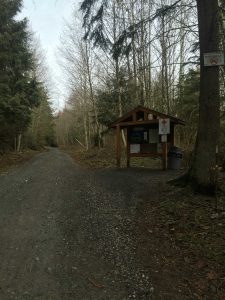 SST: One of the coolest trails due to its mix of items; it's fast, flowy and has drops, jumps, berms, rocks and roots.
Atomic Dog: This fast, flowy trail has jumps, berms, and, most importantly, a sweet rock face wall ride. Be careful- some of the jumps have gaps.
Bob's: Jumps, log rides and drops in this trail reminiscent of SST; the bottom section has been logged so it no longer has the beautiful forest, but is still a great trail!
Unemployment Line: It has a lot of jumps, all with tabletops- so you can roll over them if you need.
Expert:
Irish Death: A downhill-only trail with drops, jumps and plenty of roots and rocks, you can ride this one even in the rain! The downside is that it is a short ride.
Evolution: Ride this downhiller for jumps, ladders, drops and a long log ride titled "the Stinger." There are tabletop jumps and ride-arounds for harder sections.
Canyon Ridge: This trail is located at Mount Baker and is an adventure ride. For miles and miles, you ride up a road and find yourself in picturesque, French Alp reminiscent mountain terrain. Spend all day on this track and it'll be worth it.
Double Black/Double Down: This Chuckanut trail is a one that people travel to from all over to ride- it's a raw trail, not as refined as Galbraith, with a wild feeling best left to expert riders.
The sport of mountain biking has been exploding here in recent years and is showing no signs of slowing or stopping. Trails are being planned, North Lake Whatcom is being developed and new pump tracks and skill zones are in the works. Meanwhile, surrounding areas (such as Darrington) are expanding their own mountain biking areas.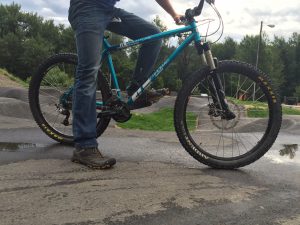 The Whatcom Mountain Bike Coalition (WMBC) has worked for years building, maintaining and protecting the land for recreational use in our county and is now being rewarded with "hundreds of volunteers amounting to thousands of volunteer hours for the trails." They work with youth, including but not limited to the Bellingham School District, Ferndale School District, Lummi Nation Tribal School, Mount Baker School District, and the Boy Scouts of America, to provide education and recreation.
This area has a bounty of varied, exciting trails to ride, and it's only getting better!