In March, the children of Whatcom County will get the chance to explore other worlds via the big screen. From the life of a friendly vegetable to the destiny of a news boy, the Bellingham Children's Film Festival is sure to delight. Produced and hosted by Pickford Film Center, the festival runs from March 10 through 19 and delights children of all ages.
According to Executive Director and Festival Organizer, Susie Purves, this children's film festival has pure intentions. "The mission of the festival is to expand the world for children, exposing them to culture, imagination and artistry from all over the globe," says Purves. "Our films have no marketing or merchandise schemes behind them. If we are trying to sell anything it's the magic of attending the cinema, having a shared experience with an audience made up of friends, neighbors and total strangers. And going places that are new and exciting without having to leave town."
This year's festival spans two weekends in March. In addition, PFC features special screenings throughout the week for schools. The programs include a gaze at indigenous cultures, ecological lessons about saving the planet and special programs for younger children beginning at age two.
The film festival showcases animation features, animation shorts by John and Faith Hubley, live- action features and live-action shorts. In fact, this line-up of films entices adults too. Purves aims to stimulate minds with the crème of the crop of international movies produced with astute children in mind.
"These programs are for everyone. They don't aim at the lowest common denominator or lull you to sleep. Children are children but that doesn't mean they aren't bright and inquisitive," says Purves.
Regular film festival goers will appreciate "Longing and Belonging: The Best Live Action Films from Children's Film Festival Seattle 2017." And the Bellingham Children's Film Festival will also feature two full animated shorts programs by John and Faith Hubley, "Driven by Children" and "A World inside a Moment."
The collection of Indigenous films co-presented by Longhouse Media captured my attention. At a time when indigenous rights are threatened, educating children about the beauty and strength of indigenous cultures is crucial. Cinema, when done right has a way of shaping our minds and opening our hearts.
Purves mentions her favorite highlight of the film festival. "The programs 'Driven by Children' and 'A World Inside a Moment' contain nothing but beautiful, hand-drawn animation from Faith and John Hubley, masters and innovators who received seven Academy Award nominations for their work from the 1950s into the 1970s.
"They were true artists living and raising a family in New York completely outside of any studio animation system. They would record their preschooler's conversations and then animate a drawn world to the dialog or they would work with some of the most dynamic musicians of the era to make visual responses to musical improvisation. A bit wild, often funny, arty, beautiful, I recommend these programs to everyone," says Purves.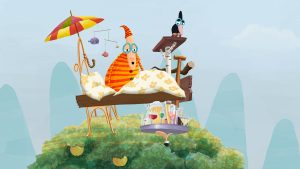 With so many children's events on-going in Whatcom County, attending at least one day of the Bellingham Children's Film Festival offers both education and entertainment. Why not attend opening night which showcases a sneak preview of Clyde Barras' "My Life as a Zucchini"? And in the PFC lobby, families can enjoy an Ice Cream Social and Root Beer Garden sponsored by Trader Joe's. (Opening Day Ticket Prices: $5 for kids / $7.50 for PFC members / $10.75 general admission).
According to the PFC Marketing Director Lindsey Gerhard, Pickford has presented the film festival for several years. "It began as one weekend showing a feature film run and two shorts packages: the best of the festival live-action and animation from the Children's Film Festival Seattle. In the past two years, it has grown to encompass two weekends and a wider age range. It includes international feature films, an opening night party with an ice cream social and root beer garden and activities in the lobby."
The stellar film line-up derives from a partnership with the Northwest Film Forum in Seattle.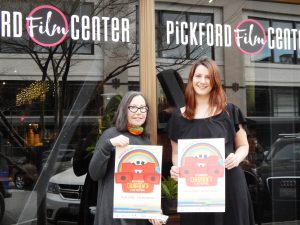 "We work with master programmer Elizabeth Shepard who showcases selected shorts and the 'Best of the Fest' from the Children's Film Festival Seattle. Liz works hard all year to find amazing films for kids from all corners of the world," says Gerhard.
Most adults can recall movies from their childhood that shaped their lives. And most adults pass their love of animated shorts and features to their children. In this brave new world, cinematic traditions continue. And not only are the kids alright, so is kids' cinema.
The Bellingham Children's Festival opens on March 10 and runs through March 19. Sponsors include Trader Joe's (Ice Cream Social and Root Beer Garden) and Piper Pediatric Dentistry.