Bellingham has the most artists per capita next to Santa Fe, New Mexico. And while the city has many artists showing up at galleries, art walks, studio tours, the Chuckanut Writers Conference, and open microphones, I have encountered Nancy Canyon at all those types of gatherings.
Similar to many artists who settle in Whatcom County, Canyon has an affinity for the natural surroundings. A visit to her studio located on the second floor of the Morgan Block Building in Fairhaven immerses visitors in supernatural beauty. When I visited Canyon's studio, she mentioned that she mainly paints reflections of trees in the water.
"I like to keep a tight focus," Canyon shares with me as she sips her herbal tea. "However," she reconsiders, "I would like to paint landscapes in the future."
In an earlier interview, Canyon reflected on her inspiration found on nature walks. "I love color, patterns, light and shadow. I'm in awe of nature. When I walk the path past Scudder Pond each morning, I'm thrilled by the colors the brush is taking on: red, chartreuse, beige and black. It's amazing. And the sky reflecting in the pond makes me almost swoon. That sounds old fashioned but I don't know how else to say how the beauty of nature affects me."
Canyon keeps a busy schedule between balancing time she spends with her grandchildren, teaching writing classes at Whatcom Community College, painting and writing fiction. Despite the distraction of Bellingham's trails, Canyon manages to stay focused.
A look around her studio filled to the brim with her foliage and reflection paintings and Spirit Boxes, causes me to wonder about her secret for success.
"I write all day Mondays," Canyon says. "Tuesdays I do Pilates, and then I work in my studio in the afternoon. Wednesdays and Thursdays I have my grandsons, two boys five and ten years of age. On Wednesdays, they work on art in the studio while I paint. On Thursdays, we're at the house so they do crafts or watch a movie while I write. Friday, I'm in the studio. Sometimes I write in the studio on Fridays and sometimes I paint."
Canyon began exploring art when she was in grade school. And since that time, she has taken the route of a lifelong learner. "By fourth grade I was penning the beginnings of novels," Canyon recalls. "I completed three little stapled chapters, one book called "The Mystery of the Tin Box." I imagined I could be a novelist when I grew up. Later, I mainly made art. Then in 1997, I went to Natalie Goldberg's workshop in Taos, New Mexico. That was the true beginning of becoming a writer. After that, I took a novel writing certificate program at the University of Washington. Then I earned an MFA at Pacific Lutheran University."
Life circumstances caused Canyon to relocate from the Kitsap Peninsula to Bellingham in 2005. "My marriage was failing and because of my husband's popularity on the Peninsula, I decided I needed to either move to Bellingham where my daughter lived or back to my hometown of Spokane," remembers Canyon.
"My daughter and her husband were talking about having children, so it was a no brainer. It was a big move for me, as I only knew one other person besides my daughter. So, I made a goal to be outgoing, meet people, go to readings, lead workshops, etc. Since I was in a creative writing program at Pacific Lutheran University, I started a weekly writing group to help generate the pages I needed. It wasn't long before I had a large community of writing friends."
Canyon wears many hats. She is a modern Renaissance woman. I first met Canyon at the Chuckanut Writers Conference in 2013. Like many authors in the city, she exudes a passion for her craft.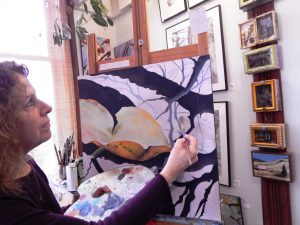 "I love to write most anything," Canyon says. "I'm partial to the novel and have written four. Currently I've almost completed my memoir of the two years I spent tending a fire lookout tower in the Nez Perce National Forest in the 1970s. I also love to write poetry. I have a good publication record of poetry and my poetry book 'Saltwater' was locally published by Independent Writers Studio Press."
Learn more or see what Nancy is up to at her website.