Some of us remember waiting for a letter from a friend. We remember receiving letters from pen pals written on rice paper or emblazoned with "par avion" across a blue envelope. We recall the sound of the metallic mailbox opening and closing as we grabbed the letter eagerly awaiting its contents.

In the age of instant delivery, many people find themselves returning to an age-old tradition. This leaves me wondering what Jane Austen or William Shakespeare would have done with e-mail.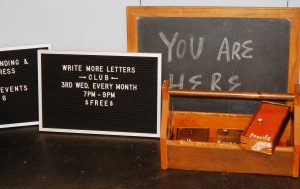 In Bellingham, we have ample shops to purchase stationery, pens, art supplies and rubber stamps. Some letter writers make their own postcards using watercolors and others try their hand at calligraphy.
Bison Book Binding and Letter Press (112 Grand Avenue, #101) hosts the Write More Letters Club the third Wednesday of the month from 7:00 to 9:00 p.m. in the back of the shop. Stampadoodle (1825 Grant Street) offers on-location crafting workshops which spark inspiration.
And for specialty cards and stationery, try Paper Dreams (next door to Village Books in Fairhaven and Lynden), Cresswell Boggs (corner of Holly Street and Railroad Avenue), Spruce (1422 Cornwall Avenue), Dakota Art (1322 Cornwall Avenue), Bison Book Binding and Stampadoodle.
First, we start with paper. Wendy Schwartz, the owner of Stampadoodle, showed me a variety of paper ranging from letter size to imported paper measuring one meter. Some people send a standard letter written with a regular pen while other writers create collages or craft a letter.
"We sell a variety of lightweight papers that have matching envelopes and cards with matching envelopes. These can be enhanced with rubber stamps in designs as well as monograms. Stickers are another quick way to add decoration to the writing paper. We also sell seals and wax which can be used on the stationery as well as to seal the envelopes," says Schwarz.
Brittany O'Brien, owner of Spruce, specializes in elegant paper, think wedding invitations and specialty cards. "We can create almost anything people are looking for in the way of personal stationery for letter or note writing. We carry an array of ready-made note cards, letter writing kits and 8.5 by 11 text weight papers," says O'Brien.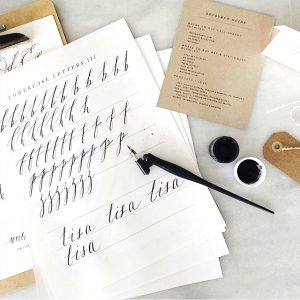 O'Brien addresses the conscientious letter writer as well, "Our papers are at least 30% post consumer waste with some as much a 100% depending on the color offered. Our papers also come from mills that practice sustainable forestry and use renewable energy sources, such as hydro power or wind power."
Bison Book Binding/Letter Press also offers custom-made cards. I especially enjoyed browsing through the bicycle-themed cards, which no doubt have popular appeal in Bellingham. Over at Dakota Art, a serious letter writer has choices of watercolor postcards and specialty paper ranging in colors of the rainbow or sporting exotic designs.
Whether a writer prefers a fountain pen, a calligraphy pen, a brush pen, or a parallel pen, the shops offer a variety of options. Dakota Art Store Manager Alan Weydert mentions specialty pens as a draw. "We get a handful of people asking about traditional writing supplies, usually asking about fountain pens. We don't carry the high-end fountain pens as most of our customers are looking for art and drawing pens. However, we have a small stock of cheaper fountain pens as well as, dip pens and nib for those that want to go that route. We get inquiries regarding calligraphy supplies. And I think that decorative writing and calligraphy are going to be trending," says Weydert.
When I spoke with Schwartz she showed me her favorite pens, including a parallel pen, originating in Japan and brush pens.
"Personally, I love the LePens, these are a very fine felt markers. The range of colors and fine tip makes them an ideal tool for letter writing as well as, drawing. Parallel pens which are a type of calligraphy pen, are a wonderful unique pen that makes anyone's writing look fabulous. One of the most popular pens that we sell are the Uni-ball brand, which are a very smooth gliding ink that comes not only in black, blue and red but also gold, silver and white," enthuses Schwartz.
Letter writers range from age 20 to 80 according to Schwartz. "Who doesn't love opening a handwritten card or letter."
O'Brien mentions the importance of the envelope. "There's nothing more exciting when sifting through your mail then coming across a beautifully addressed envelope. It's the icing on the cake! And we offer calligraphy and brush lettering workshops so folks can step up their addressing game. Add some quirky or vintage postage and you're all set!"
You've got mail.