The recreational marijuana industry is still relatively new in Washington State, so retail companies and product offerings are evolving. But a 2020 Solutions Buyer, Jackie Munoz, noted that women are playing a larger role in the recreational marijuana industry and new products are now being geared specifically toward women.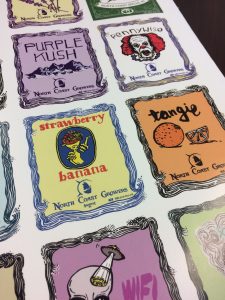 "I've been in multiple meetings and multiple locations where everyone in the room is a woman," Munoz said. "Women work in extracting, growing, managing businesses, owning businesses and as budtenders."
Munoz worked for years at a major hardware company but started to feel stuck as her opportunities for advancement stalled. She noticed that her equally-qualified male counterparts were offered promotions that she wasn't. "I worked for a very male-heavy retailer and I did get pushback," she explained. "There was a glass ceiling there."
She moved into the recreational marijuana industry on a whim and, while she loves the product, it's been the opportunities for advancement that have truly ignited her passion for the work. "The industry is new, so there's more breathing room for women to create things on their own," Munoz said. "Other industries were started by men and operate under more traditional systems, but here there's none of that. Here we get to start something from scratch."
As Buyer for 2020 Solutions, Munoz is introduced to many new products from companies looking to make their way into the burgeoning industry. She's noticed an uptick in products being created for and targeted specifically to female customers. One such product is a new line by California-based company, W!NK.
"It's made, created and marketed by women," shared Munoz. The beautifully designed pens are discreet, portable and beautifully packaged. Their low-potency and fruity flavor profiles might be a draw for women who have been hesitant to try marijuana before, but it may not be the right fit for longtime consumers.
Munoz suggested that, rather than focus on the potency of a product, customers can have a better experience with cannabis if they focus on the naturally existing aromatic compounds called terpenes. From fruity to lavender, marijuana strains have a variety of scents to please a host of preferences. The shop's Budtenders are happy to help customers navigate these products to find the right fit – whether they're geared toward a specific gender or not.
"There are so many products coming out now, but one of our main goals is to make sure our guests are educated," shared Munoz. "They can ask as many questions as they want, because education is our main goal."
Originally from Palm Springs, California, Karry Johnson has been working with 2020 Solutions for about two years now. Johnson is the Store Manager at the company's Iron Street location, but because her father is a cannabis grower she's been connected to the industry for her whole life.
"I use cannabis medically and I use it recreationally," Johnson said. "I use it for everything." Johnson is passionate about educating people with regard to the stigmas associated with recreational marijuana use. "I'm a working, single mom. I work 60 hours a week and regularly use cannabis. We're not lazy."
Johnson likes that 2020 Solutions takes care to provide a good experience for anyone coming into one of their locations, regardless of gender. "This is the most nonjudgmental slate you could possibly have," she said. "I'm glad we're not geared toward anybody. We have an open floor. That's how it should be."
The most fulfilling part of her job is getting to connect people with products that will help them medically or recreationally. Her knowledge of cannabis is vast, but she's ready to share it with anyone who wants to learn. "This is my favorite job I've ever had," Johnson said. "I love people, I love talking about cannabis. I get myself worked up over it because I'm so passionate about this. It's a wonderful job and my whole team is phenomenal. We're family."
2020 Solutions has two locations, 2018 Iron St. and 5655 Guide Meridian. It is the largest marijuana retailer in Whatcom County with almost $11 million in sales in just over two years.
Sponsored